"A.I.C.O. Incarnation" Murata Kazuya Director & Mechanic Design Takeshi Takakura Interview, What is work production pursuing reality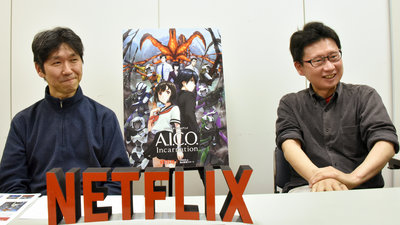 From Friday, March 9, 2018, Netflix created original animation "A.I.C.O. IncarnationWorld exclusive distribution begins. "You are now ... not humanTo supervise this work with a shocking catch phrase called "Gargantia on the Verdurous Planet"Director and"Correct answer CadHe served as general director ofMurata KazuyaMr. This time, I cooperated with Mr. Murata on mechanic designTakeshi TakakuraI got an opportunity to interview him and asked a detailed story, such as how to create this work, why that part is ah.

In addition, the story is diversified in the work, there is no story that "the last scene will be like this", but I also mention the talk of mechanics that will not come out in the first half.

A.I.C.O. Incarnation
http://www.project-aico.com/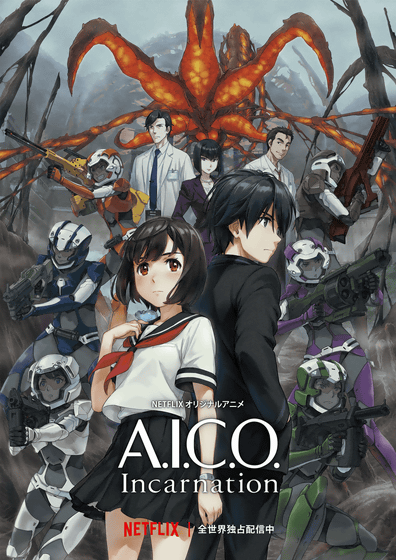 Q:
Please tell me about the planning start and how it was supposed to be delivered by Netflix.

Murata Kazuya Director (Murata):
At the beginning of the project, development of the work started as a TV series. I think that we can capture the bio-science story of "the story of a girl who has lost a body regains its body" previously thought about the subject "action by the team" got from the producer ... ... Then, it is inevitable that it became SF. I thought that the place where ordinary school girls get involved in big things is fresh and made the hero a high school girl. Netflix's delivery was decided on the way, but since Netflix received an intention to distribute the format of the TV series as it is, there is no particular change. It is no longer the case that the broadcasting frame is decided in advance like television, so it was very much appreciated at the worksite that we could interchange on a scheduled basis. Moreover, I think whether there is no restriction on expression. As long as it is decided that distribution priority works from the time of development start, there may have been a difference in the way of talk of one episode and the number of talks.

Takeshi Takakura, left: Director Kazuya Murata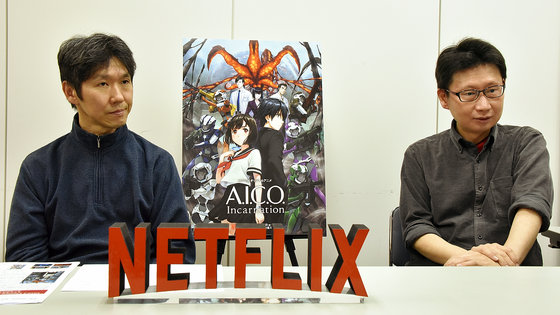 GIGAZINE (hereinafter referred to as G):
Although there was a story about expression on regulation, was there anything in this work that I thought specifically "was not regulated?"

Murata:
It is a part of entanglement between Matter and humans. For example, some people whose body has been eroded by matters will come out, but I'm just thinking if I can draw as a television or if I should refrain. If it is a late-night anime recently, there is something in which the cruel expression is being drawn as it is, so could it be the expression of this work? I also think (laugh). But if it is a television, "Would it be better to stop expressing to this point?" Even in the scene where a braking is required, "Would it be better to check in advance if you can check in advance?" If you are a Netflix, keep the idea as it is I think it is easy to make with.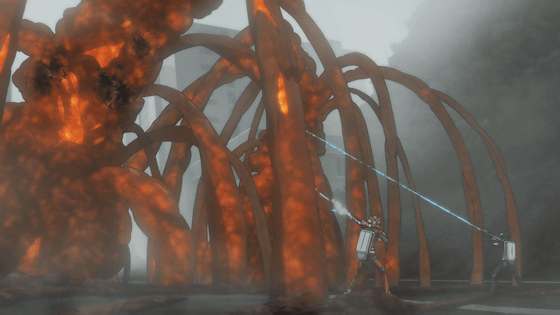 G:
In an interview posted on Anime Hack before "Correcting Kad" started, "As a producer, "Gargantia of the planet of the sky" was emphasizing "everyday feeling"I answered ", but is there anything that emphasized in this work as well?

Murata:
After all, it is "everyday feeling" "real life feeling". Since I thought that I wanted to feel this story as an event on the extension of contemporary Japan, I pursued the "reality as a person" and social reality of each of the characters. For example, the movement of the government, the daily routine of the occupation called the diver, the people of the school, what the developing members of the artificial living beings are thinking, what they were doing with the government, such parts are "likely" It seemed to be a feeling of being likely ". Development members of artificial bodies developed under the aim of "to be useful to those who live earlier in the future". This motivation is "likely feeling", is not it? If it is outright it will be a mere special case of mad scientists who use science to satisfy their desires.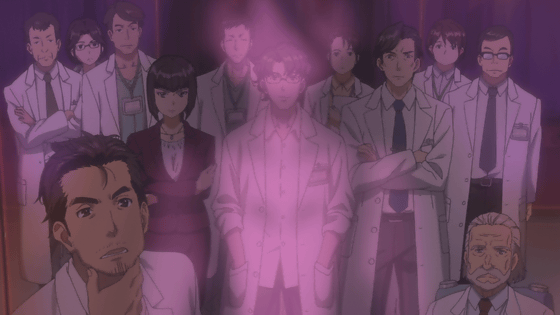 G:
It is very convincing that "I feel like it". Next, I would like to ask Mr. Takakura who was in charge of mechanic design as well. When I was watching the director's story, I had the impression that the mechanical design was also asked for reality, but where did Takakura started designing from this time?

Mechanic design Takeshi Takakura (Takakura):
I think that it was a suit at the beginning but I think that the weapons they possess and the Beetle (six-legged car) and the bipod (two-legged car) are all roughly side by side and think that they have put their hands in a while I will.

G:
Amid progressing the design, does the director give a request to "This is like this"?

Murata:
At first I gave the purpose and image sketch "I want a mechanism like this" from me.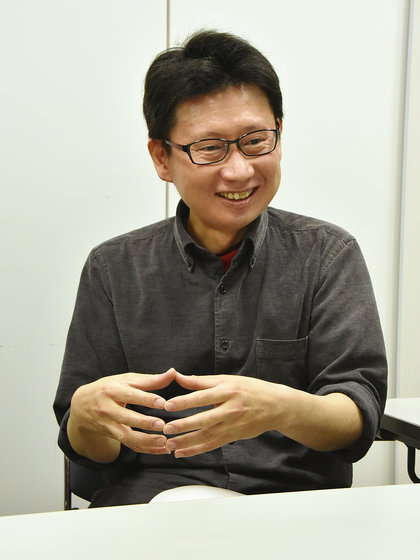 Takakura:
I felt like flesh up based on Mr. Murata's image sketch. There was a specific visual that "I want to use this, I want to operate" among Mr. Murata, and there was a strong production requirement, so I worked on shaping it.

G:
What kind of directing requirement were you?

Takakura:
Detailed about each ... ....

G:
finely! (Lol)

Takakura:
It is already finer, (laugh) Although it has decreased recently, I received an order like a robotic anime in the old days of a strong era. Operation method, usage, size, shape, material ...... As I am stuck with "being in the making era and how it is being produced", taking into consideration the technology under construction, it is said that "it is assembled with the technology of this age" Did.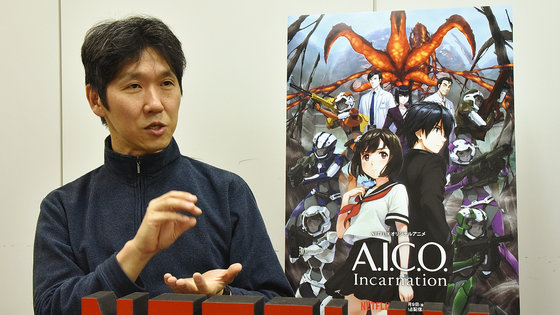 G:
Although it seems to be hard work just to ask a story, is there any reason why the director is ordered to such a fine detail?

Murata:
It is animation, so if you do not specify anything, it is freely available, but at the same time being freely freedom is also that it does not become a form. "Anything OK" can be in any form, rather it is too vague that you do not know what shape to do.

G:
indeed.

Murata:
So, first of all we will define the application. In the case of this work, it is used for work to get rid of matters while entering the eroded area of ​​Matter, stepping over the matter. Because the ground is a bad place in a special environment, it can be thought that correspondence is difficult with just a crawler belt, so when you think about moving around freely, the first thing you need is multi-legged type. Sometimes you can run wheels, sometimes you will have the freedom to run anywhere like an insect with one leg at a time. The other is that the style as a vehicle is on an extension line of the heavy machinery but it is an intermediate form that also possesses attacking abilities like tanks. And since exercise performance superior to the present age should have been realized, we asked for heavy equipment plus tanks further above it.

Bipod & Beetle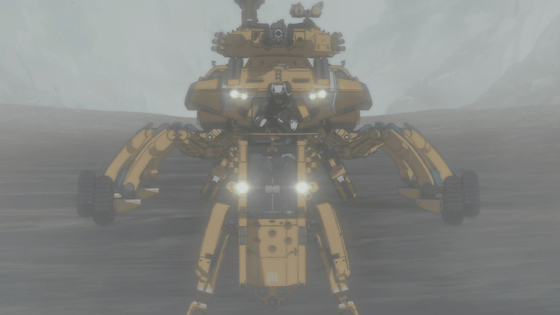 G:
Plus, and even above that (haha)

Takakura:
That's right. Also, as an instruction, there was not much, but as I talked with Mr. Murata, I realized that I have a "medical image" as the foundation of the major premise. Therefore, the image like an ambulance was further added. Although it has a shape like a weapon, the thing that looked like a weapon is a developing system of a syringe, and medical access is done to an organism partner. As it gradually became visible inside me, the corners were removed from the design, and from the aggressive image, the medical image was taken into account.

G:
I was watching and received an impression like product design, but that's correct answer.

Murata:
To Takakura's thoughtness, "PlanetesI sympathized with you. Mr. Takakura said when he worked together at "Planetes" that "industrial products as an" industrial designer who lives in the work world "want to be their own design" It was. Even after "Planetes", I work together with several works, but this way of thinking is consistent, so I am very easy to do as well.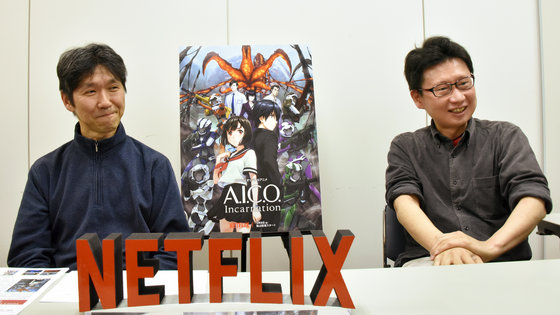 G:
In the interview after the end of the broadcast "Director Murata Gargantia"Although intelligence is also the power to produce technology, when technology evolves, it is said that the evolved technology is "what meaning and value are for human beings" "How to master it is the best for mankind Is also the power to think about ""I felt that this work is exactly the theme of such intellect and technology. The official website's "WORLD"Just a page of" artificial living organism "" cell assembler "" carbon nano · structure "and so forth, the futuristic settings line up, but where did these things get inspired?

Murata:
This is what I've accumulated over the years (laugh). When I was doing "planetesu", I was warming up thinking about becoming "the gargantia of the planet" and the story of becoming "A.I.C.O. Incarnation" later. In doing a new project this time, you can see the story that "a special mission team will enter the closed space where a bio-disaster occurred, the birth of a closed space," you can go warm up at that time? I thought that, when I skewed the basic setting I dragged in and it was like ......

G:
In this work, the Kurobe gorge and the dam which exists along the canyon are set as a slightly strange setting. Why did you decide to set the stage as a stage?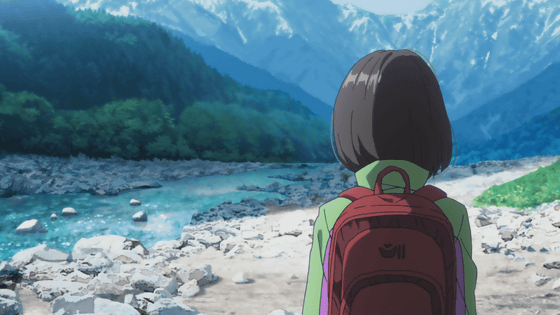 Murata:
One reason is that if you place a place where a biological disaster occurred on a flat ground, for example Tokyo, the area you have to express will expand infinitely. For example, when saying "I can not get inside the Yamanote line", what is inside, what kind of stance the Tokyo citizens and the Japanese citizens are facing confrontation, too much talk It becomes a social drama, a crowd play. Also, since I thought of wanting to do action things, I thought that a limited space would be better for emphasizing individual actions. So, when I looked for a nice place, I came up with Kurobe Canyon. Originally I liked Kurobe and it is a closed space, and still it is difficult to go on foot by being called Japan's secret border, and there are some leading dams in Japan. I thought that it was attractive as the stage of the work. Moreover, the dam can be used for countermeasures against matters.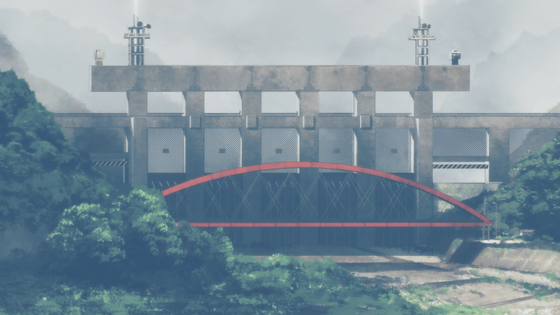 G:
That is why it has become such a way of being used.

Murata:
I tried various things (laugh)

G:
Also Takakura-san is asking questions, but the electric shock hobby Web posted "Site of 'Captain Earth' designIn the interview called "It is also my own binding (rule) to target a fictional shape to the extent that it is permitted" came out. Even in this work, is there any part that "Tied" to Mr. Takakura san?

Takakura:
Mr. Murata's order was "real thing", but I thought that it would be different to make real things as real life as it is. Anime is a world in which manga things are moving, so even if you make real things, you need to go through "manga filter" once. On top of that, when you see it as a work you have to sublime it one step where you feel the reality. Besides, simply making something real in the world of the work does not get caught by the heart of the person who saw it, so I will make a hook that I feel something interesting and try to catch it. In this case, people have the brain function of looking for faces when looking at things, so I thought about making a part that looks like a face in a suit and a bipod.

Thanks to the "face", both the suit and the bipod are charming designs.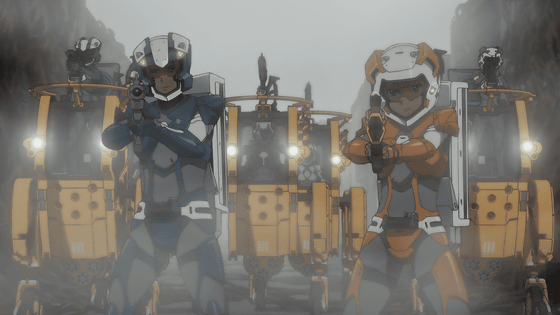 G:
While watching "I am a very funny design, I thought why I feel interesting now," but it may have been caught in that hook. As I was told ... .... By the way, when this design came up, how was your impression as a director?

Murata:
It came "I came!" "Oh yeah! This!" (Laugh)

G:
When the director 's waiting thing is finished.

Takakura:
However, it is a promise that there is an additional order after saying "Oh yeah!" (Laugh)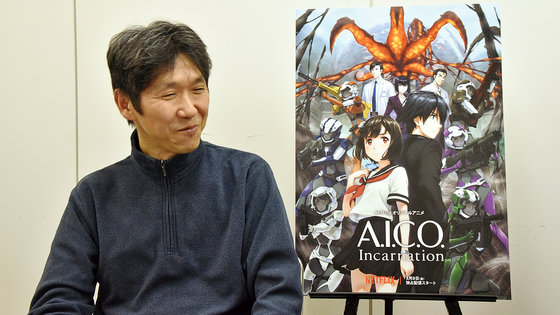 G:
In addition (laugh) In Beetle, I was surprised to create parts freely like casually 3D printer.

Murata:
I forgot what timing I came up with, but Beetle is a mobile base. Before the occupation of divers was established, even though the government was still actively trying to get rid of Matter, even if the biosuits were damaged or other troubles occurred while working within the area, the production inside It is to be able to do. It is something like "artificial living body 3D printer" (laugh)

G:
I thought that there was an amazing thing loaded.
There was a mechanism by which the opening image changed from the number of talks in the middle, but was that from the beginning that you thought "OP image will change like this from the middle stage?" Or was it decided during the production?

Murata:
It is something I thought about while cutting the OP's storyboard.

One cut in the OP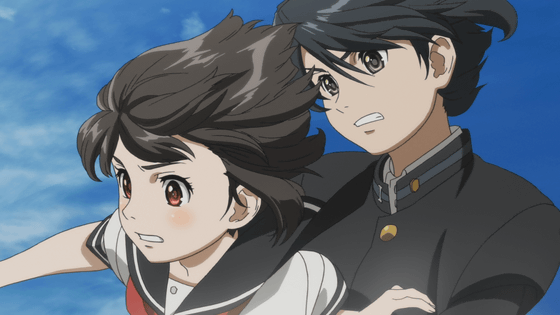 Murata:
Since the setting is complicated, I thought that I would like to convey the world view and preconditions in an easy-to-understand manner with the OP, but in some cases I have not yet reached that stage as a talk, so at first the mystery We decided that there was a lot, I felt like I would show the part that was revealed in this volume.

G:
At the time of the "Corrective Cad" mentioned earlierAnime Hack interview"In the TV series, it is necessary to satisfy the desires and expectations the viewer first held in the work each time the story goes forward, so avoid turning the rails once laid out from the root once. We talked with each other ". While seeing this work, there was a feeling that "I understand newly per good story everything is good," but how did you allocate "desire and expectation" in all 12 episodes .

Murata:
Is it allocation ... ?. First of all it is the biggest mystery, there is "the mystery of Aiko" which is the consequence of the work and the prerequisite, so I went back from there and thought that let's try to make it as far as it can be understood .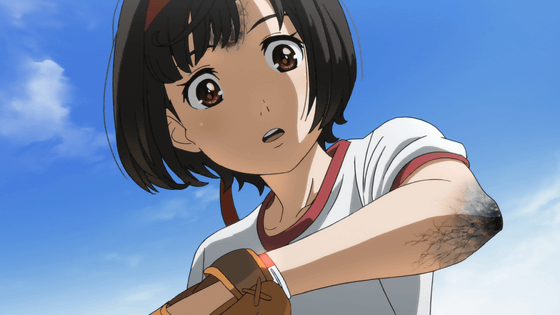 G:
Did you decide the 12 episode composition from the beginning?

Murata:
This is the order of the producer. In the story of "one cool thing" from the planning stage, the broadcasting frame at that time was 12 episodes.

G:
I see.
Takakura-Interview with Dengeki Hobby WebSo, I was thinking about past "organic grip design", "I thought that I was drawn by myself" I'm not cool "but if a very good animator drew it, it was cool already At that time, I thought that there was something meaningful - there was a certain difference between design and drawing, "he said. In this work, the suit is blatantly moving, but how was it when you looked at the movement?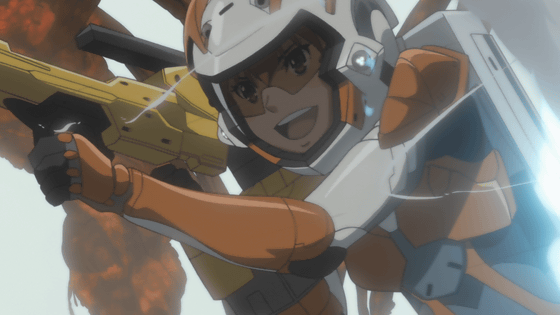 Takakura:
It was fresh. I am also thinking about designing various things, but there are limits to the camera in my head. However, directors and drawing men are professionals who use that camera, and it is fun because they show things that they never thought of. For example, speed and timing, I do not have so many variations in me but I feel that everyone else wanted me to show Columbus' egg-like idea. Regarding the design, if you hand it, it is ok with it as it is already OK, since it is OK to destroy and blow up at the end (lol) Some people say that it is not easy for people to blow up what they made I do not think that if you can blow up in me, it is exhausted as a mechanic designer.

(All lol)

G:
This time, which number of stories was the hardest of all 12 episodes? What was also tough?

Murata:
This ... .... It was hard all (laugh). Among them, the fourth episode is the number of stories that the battle with Matter first occurs when the main characters enter the area, and the number of stories impressed the staff "This is serious" (lol)

G:
From the staff also raised the voice saying "This is kinda serious!

Murata:
I heard it flickering, and it did not rise quite easily, sometimes I did not go on. There is no doubt that the work itself was serious from the first episode, so this can only be said as "sorry" (laugh). Synchronism occurred that the character thinks "This is serious" and the side making it thinks "This is serious". Even after this, it will be much harder ... ....

G:
Finally, please give me a message to those who watch the work from now on.

Murata:
If you are interested in the mystery presented by the story, you can enjoy "riding" the rest of the work to the end. I hope you enjoy having fun.

"A.I.C.O. Incarnation" filled with the idea of ​​director Murata is composed of 12 episodes and is currently being exclusively distributed worldwide at Netflix.

A.I.C.O. Incarnation | Netflix official website
https://www.netflix.com/jp/title/80161848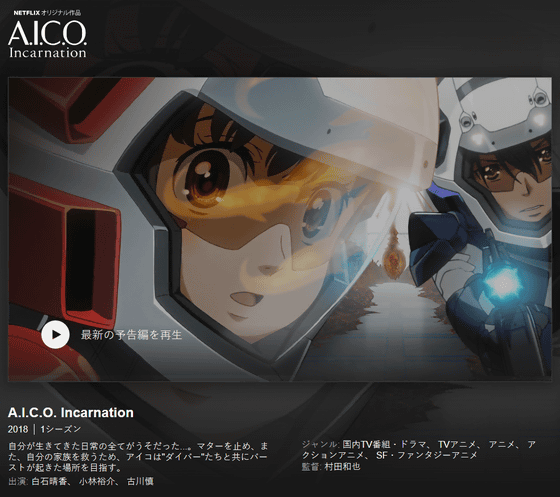 © BONES / Project A.I.C.O.