Interview with director Toshihito Chunichi of 'Sod's Guy The Animation' freely made without the "original bastards, this is no good" from the original author and the production committee


As the original animation of Netflix, in March, 2018 "B: The Beginning"A.I.C.O. Incarnation"Continuous distribution of the work has begun, decorating the end of March is a series of manga" Monthly Heroes "serialized"Sword Guy Koki"(Character design: Keimita Amemiya, original work: Toshiki Inoue, drawing: Kine woman / Currently Chapter 2"Sword Guy Evorve"In the series) as the original"The Animation"is.

It is the original author and also responsible for the series compositionToshiki InoueIs a person known for writing numerous special effects dramas and animated screenplays. Character design is known as "Ranma 1/2" "Hakuoki"Atsuko NakajimaI am in charge.

This time, I was in charge of the production of this workNakajitoWith director,Landgg StudiosofKenji WatanabeSince I got an opportunity to interview an animation producer, I have heard about the circumstances of animation of this work, stories about actual production etc.

"The Sword Guy The Animation" Official Site
http://swordgai-anime.com/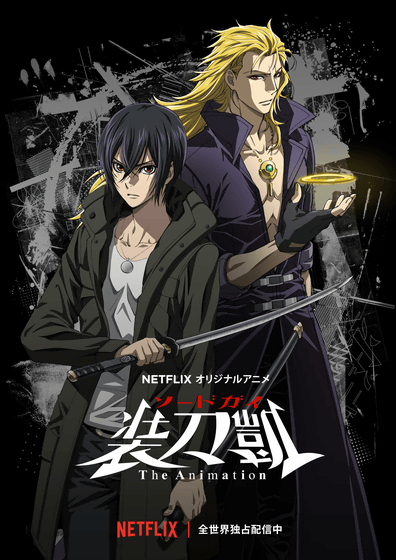 GIGAZINE (hereinafter referred to as G):
What triggered the animation of this work?

RANDECK / STUDIO Kenji Watanabe Animation Producer (Watanabe):
We got a story from Mr. DLE.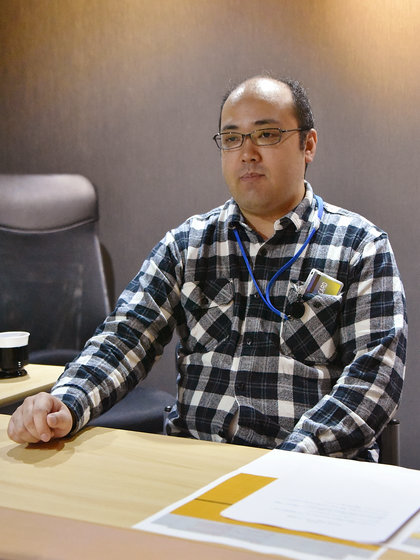 DLE Saito Masahiro Producer (Saito):
At first it started from DLE saying "Let's animate this original." We are known for flash animation making "secret society hawk's claw" and so on, we consult Production IG with that it would not be possible to make Suzuka with flash anime indeed, I took a story with him.

Watanabe:
Well, I think that it was early in planning.

Director Chieko Nakajin (below, middle):
I participated at a later timing, it was about the third time we had a meeting.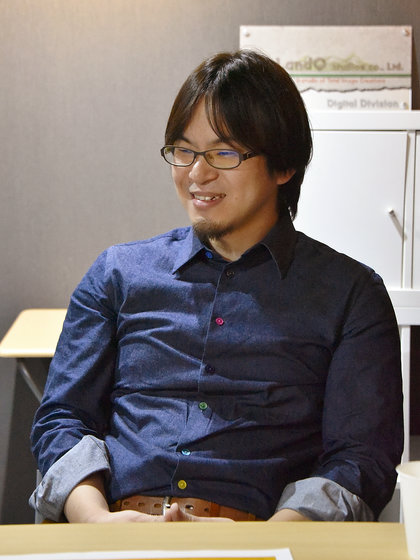 Saito:
Since the original was an action like ah, how do you consult with the original author Inoue and how can Inoue participate in the work? As the plot came up as soon as I was telling the story, "It is time for Inoue to go through the series composition".

Watanabe:
Well, Mr. Inoue was pretty motivated, initially thought that it was only a plot, but Mr. Inoue was able to write various scripts, so I decided to write a lot. The meeting is also basically participating. When I got a plot from Mr. Inoue, I understood that it will be different from comics.

G:
Since I read the first episode after reading the original, I was surprised that "the content is totally different!"

Watanabe:
At the beginning, I thought that it was an animation with an original, but as I packed up the contents, another "sword guy" was born apart from comics.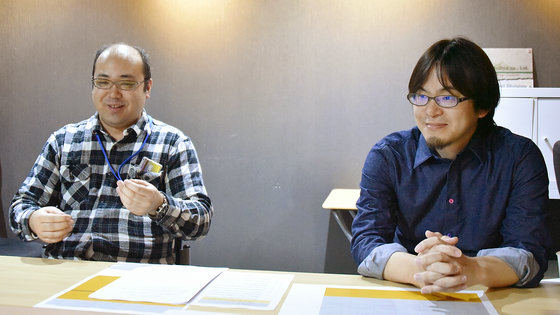 Saito:
About the thing that changed significantly from the original comic was the original writer Inoue's plot was triggered, but there are times when I made a target to a woman.

G:
The original is "Monthly Heroes" series, it is for men completely.

Saito:
I saw the original and I thought that I wanted to make it like Masked Rider. In the Heisei Masked Rider series, Ikemen such as Junin Boy is appointed as a protagonist, while on the other hand it is a drama with many action elements, but young moms are sticking to each other.

G:
So "To change without noticing the original work" to?

Saito:
Mr. Inoue accepted the original, and it was decided to do so. In the first half, it is a composition that puts a spot on the part of the relation between Ichi and Kai rather than the original.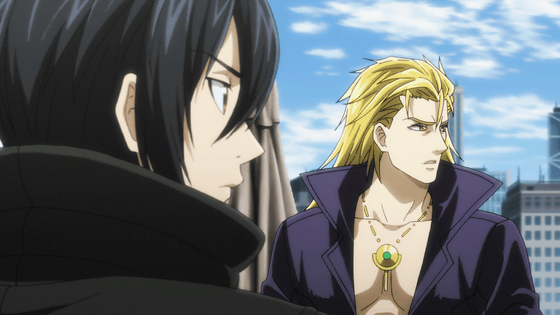 G:
Although the original character also comes out rapidly, is that also due to Inoue-san?

Watanabe:
That's right. As you read the screenplay, the name of the character that was not in the original comes out, so "Oh, is this this?" Inoue-san is writing a script by himself, so it's a feeling that there is reworking at the stage one step from the plot. Even as a worksite, I had a challenge with fresh feeling during the main reading (script reading work).

Saito:
Normally, it takes 3 to 4 hours for the main reading, but in the case of Sword Guy it was 30 minutes as soon as possible.

G:
30 minutes? Why can you finish in such a short time?

Watanabe:
Because the script written by Mr. Inoue himself was written, "This is what is like this" comes up.

During:
Strictly speaking, the main reading itself ends in a short period of time, but after that it arranges for the site.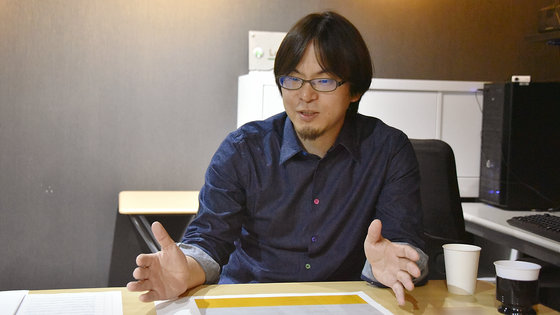 G:
What kind of thing is "for the field?"

During:
The biggest thing is the surface of the volume. In addition, as Inoue's taste, I think there is a part like a kind of dandism where characters are being consumed more and more. So, I am doing work that adds an interpretation about why this character was like this and what I was doing in such a way. It is a part that seems to make a back side setting so that everyone can have a common recognition about part not dared to be talked about in the script.

G:
Oh, I see.

During:
Sometimes we get a screenplay of a large volume of 27 pages for the schedule of anime's screenplay as opposed to 20 pages, and as expected it will be over 30 minutes as it is, leaving scenes and meanings While adding an arrangement.

Watanabe:
We also supplemented the battle scene. On the screenplay, the battle scenes are written simply as "fighting armed demons" and "fierce fistfighter", but in order to visualize, it is necessary to explain to the people who do the story work is. Then, it will increase further from the original 27 pages.

Saito:
Mr. Inoue's taste is that there are also many scene changes.

During:
When the location switched, it was necessary to put a little explanation cut on the video, so we also organized that around well and adjusted it.

G:
It means that we have done quite a sort of selection work. Is it that the first episode was a very different form than the original from the point of plotting? Or was it added later?

During:
This is a shape that has been rising in order as plotted. The first episode is a birth announcement that is independent of the second episode and beyond, as you will see, "Where is the hero's Kai?", I think that it is also Inoue's "removal" technique I will. Mr. Inoue was also in charge of the latter part of the main part at the same time, and when I read what he came up I was amazed at the conclusion that "it will be like this".

G:
It feels like there is a slightly different part from the production of normal animation.

During:
I wonder if it should be expressed as "live feeling", I felt that kind of thing.

Saito:
Mr. Inoue was the original and cumulative series composition, although there was also a part that proceeded quickly, it is the impression that there was also a part suffering only by that.

G:
Looking at the official website, in the column of staff, 'Overall Director' is divided like Takahiro Ikezoe and 'Director' is Mr. Tomohito Naka, what kind of roles were you responsible for?

During:
Although the stage of this work is in Japan, for example, even if there are people with blond hair, it seems to be a bit more stateless as it does not feel uncomfortable. With Mr. Ikeda of the coach, we worked together in pre-production such as parts related to such view of the world and parts related to the first scenario. It was a form that we leave the work on site to ourselves.

G:
While the character of 3DCG is moving this time, the character "Is this a 2D drawing?" Comes up and there is a scene that fights in the same action scene came out. How did you make up that? Even just watching, I thought this was going to be tough.

Watanabe:
Actually it was serious ......

(All lol)

Watanabe:
As with ordinary 2D drawing, we have the layout and rough original drawing drawn and match CG motion there, but in the drawing and 3DCG the timing of motion and the way of attaching parts will differ, so we made it with 3DCG After that, I returned to drawing again, and it was the form that I made corrections of drawing characters.

G:
Is it the form that they mutually agreed.

Watanabe:
I agree. There was good drawing ability in drawing, I thought how about making it to 3DCG so far, I worked hard at drawing.

Saito:
Although drawing is going to be a character of Atsuko Nakajima's design, the armed devil is divided from 3DCG, but Kai has a slightly half-timed period.

Watanabe:
Initially, I transformed Kai and thought about going to battle with all 3DCG, but as I read the script, "This is not the case."

Saito:
Looking at only the faces and thinking that "I have not transformed anymore", I reconsider the time series, "Knowing this is the middle stage in the image?" And do with 3DCG in painting I think that it was serious as a worksite.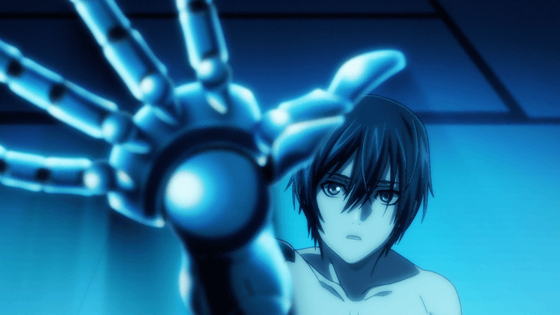 Mr. Naka issued the word "statelessness" earlier, but this is a part I aimed at Mr. Inoue "I want to give out a chaotic feeling". If you say Japan, it will be small, but there are aims like "bite the bluff" by making it a place you do not know where you are.

Watanabe:
I talked with Mr. Ikezo and Mr. Chubu and dared to aim for Hollywood's "Eze Japan".

G:
Certainly, there was such a feeling when looking at it. Listening to various stories like this, it seems that the part where "?" Appeared at the time of viewing is melting away.

Saito:
I think that there is also a part that I do not know just by seeing it. Since there is Netflix, I think it would be better to see it over and over again.

G:
There is also a place where Kai does not come out from the first episode and there is a place to think "that?", And the word "live feeling" that came out earlier that the character gets steadily appearing and exits as if it exchanges soon comes true I will.
By the way, this work is decided at the early stage that Toshiki Inoue who is the original authority is in charge of the series composition, how did the staff members decide?

During:
Regarding character design, I decided to have Atsuko Nakajima finally do something like competition afterwards.

Saito:
As in the Heisei Masked Rider series, there was a concept that I wanted to be a character design for women to receive, so it was that Mr. Nakajima was a competitor after having made a name competition with Land Kook Studio. Regarding other staff, Mr. Chu and Mr. Watanabe decided in order.

Watanabe:
Regarding the design of armed demons, there was a draft of Keita Amemiya drawn for the comic by Otomo, so we proceeded with it. However, since armed demons that are not even in comics come out, I thought that "I wonder if this is added to this" with reference to Amemiya's design. The design of "Death Dragon" also has a part that is different from comics.

Saito:
Unlike manga with animation, there is movement, so there was a part to tune up. I think that there is a premise that "It is faithful to the original" if it is a recent animation, but in the case of this work, Mr. Inoue who is the original author himself joined himself, I made it quite freely .

G:
At the timing of the new PV release of Sword Guy,I would like to draw attention because the battle between armed demons and their shaping has been heavily restrained"The comment that has been announced. What is the most important part about it?

During:
There is a theme for each weapon. For example, a Japanese sword, Franbberge who read as "dying dragon" with a motif "dragon" like a letter, imagines a flame with a Western sword. While arranging it as a common series when side by side, we ordered the design, thinking that we should be able to put in the image of the background and culture of each weapon.

G:
This time, original characters also appear one after another, is this like orders in line with something similar to weapons?

During:
First of all, based on the character character which I read from the script, there is something, but as I said before, I told Mr. Nakajima that the male character should be a handsome anyhow. Since the character that comes out in manga has a base, I have it arranged for animation. For example, in the case of Kai, although it is a young man in manga, in anime it is a boy to have "I want you to be weak".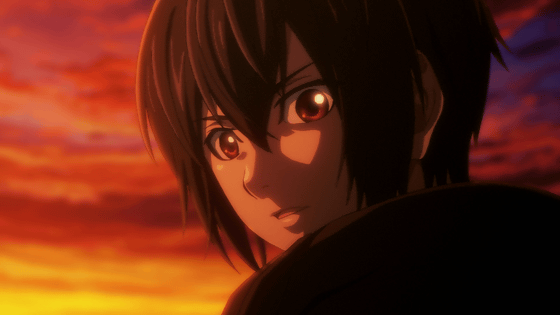 During:
On the other hand, one article is an adult male, and I have it designed according to the position of the character 's standing position. The giant female character Tanaka Yasuko is a design that has already surprised me, Inoue is also my favorite character.

G:
I thought this would be difficult at the stage of reading the script, but do you have a scene that worked as well as you made it?

During:
There was an episode in which weapons were introduced in various ways, and I felt it was difficult to visualize scenes telling the legend of weapons among them. There is a huge amount of setting to do properly, and there is a considerable volume even by the legend of "Death Dragon", but the axis shakes as a story saying that we spend so much time on that part There is also a fear of it. So, different picture expressions were composed in a picture style different from the main story, such as picture-story style, shadow style style, but I feel like I was hooked as a worldview when I try it.

G:
Indeed, I felt that I was looking and had an easy-to-understand composition.

During:
Still, there are also episodes that had to be dropped crying, there are also some episodes that I should have done a little better.

G:
So, I thought it was hard work, but did you have a part that was really hard worked on?

During:
It was hard work ...... Although all was serious (lol), personally I can not explain to the scene unless I understand it in myself, so read the screenplay and say "Kai is this motive It was hard work of interpretation to summarize the story with "I did this kind of thing." First of all, I made something like "Concha Container" and made it into a container from there. Perhaps I think that I spent the most time on this task. I did not go through setting up and camping, but I worked intensively with a little basket.

Watanabe:
You did it all the time.

During:
Although it was hard work, it was an interesting work.

G:
I will talk a bit, but how did the director enter the animation industry in the background?

During:
I'd like to say "I want to do video" or "I want to make animation".

G:
Is it influenced by the animation that I saw when I was little?

During:
Although I was watching a lot of animation, it is normal (lol) Looking at Miyazaki Hayao's work, I thought "awesome". When I started rental video, the first time I borrowed was "Lupine the Third Castle of Cagliostro" and "Laputa of the Castle in the Sky", before that I was watching "Future Boy Conan" on TV, but this 2 It might be a chance to think that it was amazing, interesting to see the book. At that time, there was also OVA heyday in the 1980s, so I thought that the video expression of animation was interesting.

G:
In this work he is in charge of the director, did you aim to "Become a director of animation!"? Or was it "becoming a coach if you notice it?"

During:
"When I notice" is not it. The first piece was the new movie version "Initial D" (Legend 2 · 3), and in Legend 1 it was deputy director, but he took over the director with Legend 2. As for the series, this work is the second work.

G:
That means that this work is the first to work as a director from the beginning. Why do not you direct a job as a director?

During:
It is serious ...... (laugh). In this work there is a special place in the process, there are many parts that you can let me do as you like, and in a sense there are also a lot of parts being tested

Watanabe:
It is an unusual work that almost never was said to be said "Do not do that, you should not do this" from the original author and the production committee.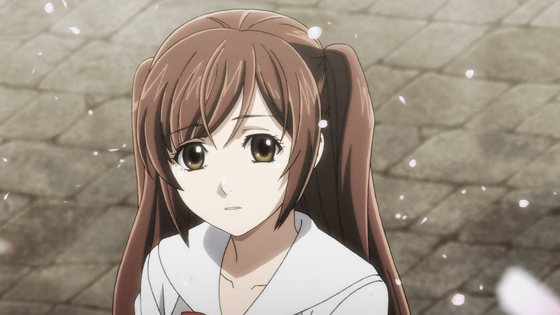 During:
It is not easy. I think that it is natural for the production committee to order "Please do this work" on production, and for the original author, the part that seems to be "I do not want to change the wording" is I think there is. In the meantime, I think that this work was free because it was free.

G:
Is there anything that "Because I was free, could you do something like this?"

During:
The point that "can interpret" is big. Originally, the scenario decided by this reading should not be changed.

Saito:
This time, Mr. Inoue said that "I do not mind being able to do it so that the site will be easy to do if it does not change even the axis."

During:
I was thankful for being able to be adapted to the direction of directing. As for the dialogue, there are also parts that have been changed to what it means "depending on what you capture you can interpret like this".

G:
This work is exclusively distributed with Netflix, so what is the part that I particularly want you to focus on here?

During:
In the meaning of Netflix I think that there is "freedom of expression", so it is possible to express some cruelty.

G:
By the way, it was a considerable amount of blood from the first episode.

During:
Personally, I thought that "This is too hot" when putting the sound, as it was the content at the time the child was born.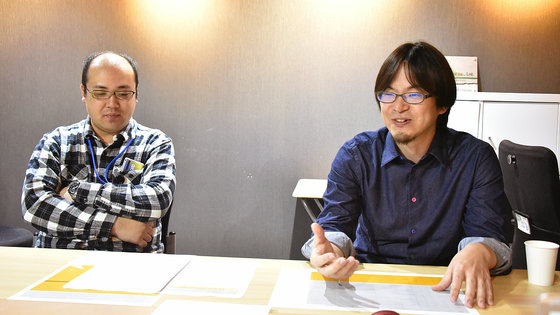 G:
It is about "energetic" contents ....

During:
Although there are parts that are just barely visible (laugh), it expresses that it is a character placed in such circumstances. There is Kai as the hero, but there are also a number of stories that do not come out, and there was a story called "I want to show it as a group image play" from Mr. Inoue, so it is a part I want you to see how each is facing weapons . Also, because it is a weapon, it kills people, it hurt, but originally I needed power to protect something, it seemed to have appeared in the form of weapons, I began to fight to protect something Because there is a flow that Kai also notices that it is not, I think that you may pay attention to the growth of the character. On the other hand, there are a lot of characters falling down in the midst of challenge, it is also one reality, not everyone goes well, but weakness is sometimes swallowed by the weakness of the weapon sometimes you can also see that part together I think that you can understand that it is such a story in the big swell.

Saito:
Mr. Watanabe, you better notice the appeal of 3DCG?

Watanabe:
It was already hard, anyway ... (laugh)

During:
Now 3DCG has several stages such as "Celluk" and "Real Closer", but in this work it is half way between cell and real, and it is familiar with the cell while having a texture. It was said that the armed devil was a special existence, and I had him make it in the order of "I can feel discomfort within the screen". The surface is painted when it is a cell, but this time it is made to have texture like embossing.

Watanabe:
Although it is a real taste, I have put a main line in it, and it is somewhat different from other works "Real Closing 3DCG". When I made it for the first time, there was an outstanding 3DCG feeling, but because of entanglement with the cell, I aimed at a place where the amount of information is not too low while dropping details. Because if it drops too much information it will become cellulk with cell shader on. By doing it with Cellulk, it was the goal that what can not be expressed unless it is 3DCG so that it will not be "to escape in 3D with what you can do even if you do your best".

Saito:
Motion was made at a very early stage, but it took quite a bit of texture.

During:
I also devised various things in terms of design and model. Since I draw hand-painted on paper, I lie to the structure.

Watanabe:
Because the designer makes a three-sided figure, if you make it three-dimensional, "Oh?" And (laugh) Because there is a projection on the shoulder part, I can not raise my shoulder more than a certain amount.

Saito:
Nevertheless, I think that it was difficult for the design to be destroyed despite the fact that it is inorganic, but to the end.

G:
I see. I understood various things by listening to the story this time. Thank you very much.

"The sword guy The Animation" is exclusive delivery at Netflix.

The Animation | Netflix (Netflix) official website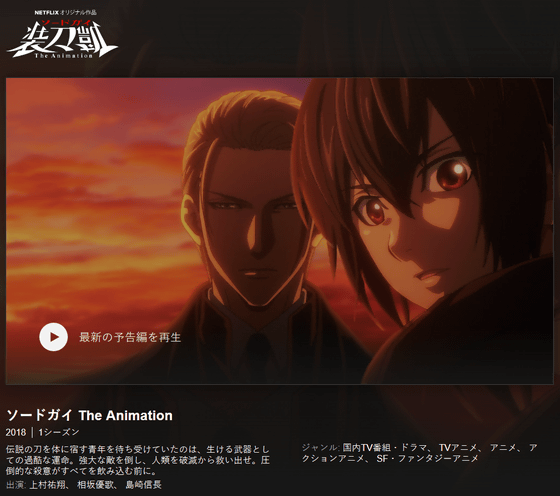 © Keita Amamiya, Toshiki Inoue, Osamu Kinee · HERO'S / Sword Guy Production Committee