Interview about "DEVILMAN crybaby" to Director Nagai & Mr. Masaaki Yuasa, "It was supposed to be the essence of Devilman" and Daigo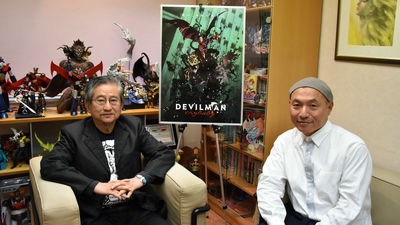 Distribution of Netflix original animation "DEVILMAN crybaby" began on January 5, 2018 (Fri). This is a work celebrating the 50th anniversary of Mr. Atsushi Nagai's work, and it is said that it is impossible to completely visualize cartoon version from its development, etc. The work actually visualized until the last scene is this There was not until. The challenge to this challenge was "in the song of the roar telling the dawn"Acquired Annecy International Animated Film Festival and feature film Grand PrixIt was directed by Masaaki Yuasa. To the director Yuasa Nagai and the original author, I was talking about the story about this work.

DEVILMAN crybaby | Official website
http://devilman-crybaby.com/

Q:
Director Yuasa mentioned earlier that he wanted to make things about devilman "if he was about to do it by myself" by interview, event and so on. Why do you think that "I must draw myself" the last of the devilman's manga version now? Also, I think that I was talking about "drawing something behind the work", but what was it like?

Masaaki Yuasa (hereinafter referred to as Yu):
I agree. "Devilman" is a very favorite work, but ultimately it was a feeling of being "scary". It seems to be difficult to make, but I wonder if I can do it well. But, as long as nobody does it, it is OK, but I thought that I wanted to do what someone would do, and I had not yet imagined that "I do not want to do it like this" , I did not think about anything concretely at that time (laugh), but I challenged with the feeling that I could show it.

"Things in the back" means "I like you" and "I was shocked," but I did not understand, probably the last Satan's scene. I think that I was talking about the feeling that "I wonder" about it. As Satan's feelings, it was last described that "I did not want to lose the immovable Akira", I thought that I hope I can draw it this time.

Q:
At the seminar stage of "AnimeJapan 2017", Mr. Nagai noticed that "My main character was completed" in the second half I am also drawing, so I brought back my death to life.This story, Mr. Yuasa I have not even done a meeting with. " When the two of you first met, what kind of story did you talk about?

Go Nagai (hereinafter, Ei):
Since I thought that I wanted to put out what I wanted to put out at the time of drawing the work, "How to cook it is free" (laugh). Devilman has become animation etc in various forms in the past ...... Although there were various kinds (lol)

(All lol)

Ei
I thought that it would be good if I offered the material, I would like to say, "I will leave it to you" because it is a person who does not care about how it is cooked. Anyway, "You can do whatever you want" (laugh). If there is something I want to change, I can change it, whatever it takes, I am happy as myself.

Q:
As Yuasa directed, how was the meeting?

Yu:
Already with this heavy feeling.

(All lol)

Yu:
There were lots of things I want to hear and I do not understand, but when it is told like this, I do not want to hear any more (laugh). Since the work has already been completed, it is said that "Wakare" (laugh)

Q:
"Wakareha" (laugh)

Yu:
Mr. Nagai saw a lot of other works since it was painted a lot after "Devilman". From autobiographical work's "Shun man!", "I see, this scene is so", "Was it thought like this" or "I wanted Devilman and Sirene's fuck scene to be drawn" (Laugh)

(All lol)

Yu:
I think that there is also a part that I added interestingly to "Sugan Man!", But since things that were thought at that time are also drawn as it is, "I guess it was wanted to do more at that time. Well, maybe we should do more, "I imagined and made it.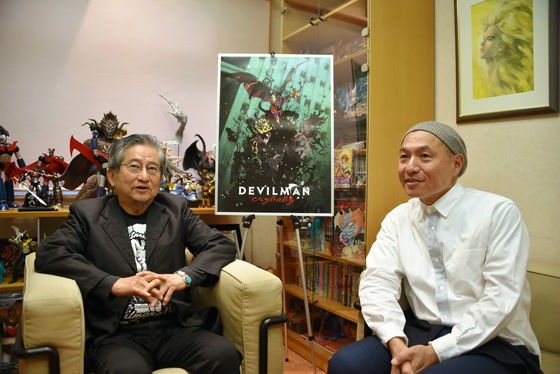 Q:
While watching the preview, leaving the taste drawn by Mr. Nagai, I also felt that Mr. Yuasa's writership was very out. As Mr. Yuasa, what kind of place did you think to leave and what you thought about trying to change when making a devilman now?

Yu:
Basically I thought about the direction of "I want to give a feeling when I was a high school student I read." At the time I read it was still a year since Devilman came out and it did not feel uncomfortable that the 1970s is the stage, but in making it now, "This is the story of the 1970s" It is somewhat strange to preface. At the time, as it was drawn as "a story that may have happened at the present moment", I thought that it would be better to take the stage to the present age and changed it. After that, when I was shocked, I drew it as if I felt it was interesting, while I was reading it in the part I did not understand, it was a scene I could understand "that was how it was this" I made changes so that I can easily understand. Since animation basically goes and goes in one way without going back and forth, "I made this by thinking that it is easy to understand myself of that time if it makes it like this?"

Q:
Basically it means that you are adding an arrangement while taking advantage of the original.

Yu:
For example, there is a scene where the Bancho group comes out, "There is no Bancho group that is related to this kind of wind now."

(All lol)

Yu:
I thought that the current warls were lurking in the far part and would not come out from the table much by myself. Well, instead of this Bancho group, I thought what would happen if I got a message from myself, and thought that if I was a rapper who looked like a teacher, I would send my opinion. It's not just like a wallet, but because I reveal my true intention, it is also a reason for me to follow a person who thinks "This guy is a guy who knows" like Miki-chan, not strange. Then, I thought that it would be good for the rapper to come. I will explain the things like 'This is an era now' '(lol) and will also play a role in bard poetry so replace it with "I should do it in this way if I do it now" It was.

Q:
I did not know it when I read it first, but what exactly did you understand while reading it?

Yu:
For example, it is a scene in which Silaine, Kaim, and finished saying "There is no love". I say so in the mouth, but actually there is love, Rise itself also clearly notices that affection. I made this part consciously to understand even if I saw it at that time.

Q:
Please teach Nagai sensei that you saw "DEVILMAN crybaby" or scenes that you thought was good. Also, since this work was born in a new form of Internet distribution called Netflix, I would like to answer Mr. Nagai and Mr. Yuasa about what kind of impression it had against Netflix.

Ei
First of all, it was "interesting." I was watching "Song of Ru singing dawn" and "Short walking evening in the evening", "I thought that this director would make it rather surreal". The story which jumps into the world of the devil which does not exist in reality is that it seems to be a lie even if it makes too much to make it like a real horse, so it would be nice to forcibly make it abstractly in this way, I thought that it might be noticed that Devilman himself is drawing abstract things closer to himself.

When myself drawing a devilman, I felt that "This is the form of the development of human weapons in the form of devils". "To demonize" is the same as being told to be taken to the battlefield suddenly passed a murder weapon and "to kill how much". He says that the draft recruited under the draft system, those who were caught up in terrorism gained weapons, and everyone was driven into battle as a "devil". The army corps of God comes out in the form of "ball of light", but that is drawing hydrogen bombs and nuclear attacks in the form of groups of angels. In order to notice that it was such an abstract thing, I thought that the animation style like Director Yuasa might be the most suitable.

Q:
Netflix is ​​one feature that there is not much regulation of expression, it is possible to draw on a free stage.

Ei
That is the best thing. That's it, the Banban sex scene comes out (laugh). This is something I could not do before. People who think that they can not "see" do not have to see them, so it is only necessary to see the people they want to see. I think that it would have been a work that can not be created in the presence of many constraints.

Q:
Does Mr. Yuasa participate in these works, do you have impressions?

Yu:
Because there was something that can be done only because the degree of freedom is high, there is no definite rule on the 尺 itself, so it was also good to be able to adjust various forms of the ending for every episode. If you draw it as a story of now, you still can not avoid the things of the net. It is unprecedented that we can provide such a story in the environment seen if people in the world want to see it. I have never been seen by so many people, so I will do this big title titled "Devilman" and I think that it is good to be seen by people all over the world for distribution (lol)

Ei
Devilman is a work that I made 45 years ago from now, there is no net, there is no smartphone, it can not imagine the present era. That has become an internet society like this, and criticism and fire blowing exist only in the net. Beyond that there is a possibility that a tough, dangerous world will be waiting. I also thought that director Yuasa properly painted such a place and that the direction which I wanted to do with "devilman" has made me understand well that I can pass it even in modern times.

Q:
One of the features of this work is that it tells the story "devilman" to the last minute. Another one, the character setting called "Land section" and the expression like "Join the baton" came out, I felt that this was a "hidden taste" that Yuasa adhered to ... ... .

Yu:
I wanted to express "difference in power" with a picture that runs on land, easy to understand. He who is fast is strong, and he who is late is weak. Humans run slower than dogs and cats but they somehow run hard for some reason. I imagined seemingly meaningless ambition as an ideal or love for the reality. And a child named Miki who has the ideal is a child who "I do not want to abandon the ideal whatever the situation becomes", so I draw it using land.

When thinking about what kind of story is "devilman", I thought whether it was "telling a story about love to Asuka." Why does Miki like Akira, why Ming likes Miki, why does Reiko like Ming? So, in order to notice at the end of the end, it is already noticed that the lights are already aware of it, so that the lights are pushed down by reality, but they do not throw it away and let them know I used a form called baton relay to indicate that "

Even if I do not do it, it will be conveyed to other people, that person will continue ...... I think that it is the same with the spread of the net, but if it is one person it is not so powerful, but if it spreads it will become power. It might be a stinky idea like John Lennon's "Imagine", but the possibilities are not zero. Even when making realistic judgment, I think that it is good not only to judge circumstances but also to judge the situation with ideals, so slightly as a idealism the feeling of "Complet the love of Mings" to the baton It is an image that I give you with committing.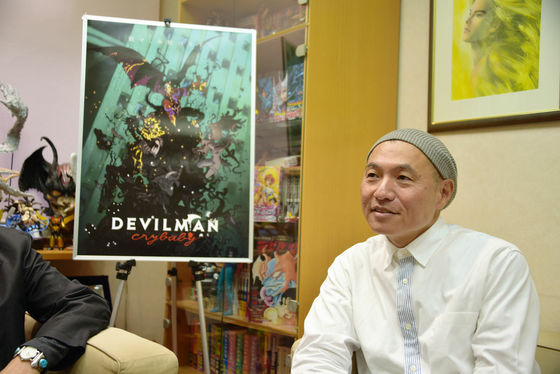 Q:
It is a question to Professor Nagai. In the interview at the time of "Cyborg 009 VS Devilman", against the story saying "I heard the story from Shirane and Devilman later on in manga" later, "I thought that in the mind Actually, it would be tough to do such a thing (laugh), I knew that it was impossible for the editorial department to do so, so I did not expect to do so until then, but in my mind I'd like to try "I really wanted to draw", "I really wanted to draw" (lol) "I answered. Director Yuasa was exactly that (laugh), there was a scene of tremendous eroticism full opening. How is your impression of seeing it?

Ei
First of all "I did it" (laugh)

(All-out laugh)

Q:
"Oh, did you finally do it?" (Lol)

Ei
Like "I wish" (laugh)

Q:
"How nice"! (Laugh) What kind of feelings did Yuasa directed as that scene, or sexual depiction which there are many works being done?

Yu:
After all it is because Professor Nagai says "Please do it".

(All lol)

Q:
There is no direct request, is it?

Ei
I have not made a request (lol)

Yu:
Because it is a delusion. As I do not draw such a direct one, I think that that is about the limit.

(All lol)

Q:
I think that "death of Miki" is a very symbolic scene, but if I read the commentary by Mr. Nagai about 20 years ago, "I was in a trance state, I read that later and was dead I was surprised, "I saw that it was written that it was written. What kind of thought did you draw that scene at that time?

Ei
I can not go back anymore on the way. On the story, if devilman helped without letting Miki die, it would become ordinary manga. I thought that the author would deny the development of the work so far. It is true that the situation has been driven to the situation that "I do not want to die but I can only die".

Q:
It is a very symbolic scene, I think that this was an important part in the series even at DEVILMAN crybaby. For that reason, was it that we had to be the original figure alone?

Yu:
There are 4 stories and 9 stories that I'm doing alone this time. Five story is also well done by one person. I also wanted to do it myself because it was the most impacted scene, but I drew only the story and asked him to do it. Because if you leave it alone, you can ride more than that. I am also directing, but I thought that I had crossed the line, so I expressed it as "God" (lol)

(All lol)

Yu:
That was the first point I read the "Devilman" for the first time and it was said that I will draw until the end in "DEVILMAN crybaby", but I can not go to the end to not be able to draw this Miki's death I thought. So, while thinking that "I hope I can draw it properly", I was doing it, but it was good, as I got in touch and something like "I could draw it" came up. Miki's screams also caught up and it was painful to see it many times during dubbing (lol)

(All lol)

Q:
It is also the scene where Miki is killed, but when Mr. Yuasa draws, battle scenes and sexual scenes are not as intense as "grotesque" and there are places to remember even a little cute feeling including devils' shaping. Mr. Nagai said "Abstract" earlier, were you aware of the neighborhood?

Yu:
At first I was thinking that I should do it with a more linear and stylish feeling, but I liked the original by Oshikayama Kiyotaka of devil design, there was feeling that it would be pretty roundly drawn cute. Linearly, when drawing it stylish, I feel a little impatient and I feel like I do not feel texture. Not only is it cuddly, it feels a bit stupid or fleshy. Since the touch of an amazing original is also curvilinear, I am doing as it is with affinity.

Q:
In an interview with the official website, Director Yuasa thought, "I would like to make it by myself as much as they can be done by others." (Omeno: That's why there are a lot of hardships making it so much now.) But what is the most difficult part of making "DEVILMAN crybaby"?

Yu:
Is it the part that I wonder if I can draw it in the spectacle as the last situation spreads to the world, how can I draw it? In terms of quantity, perhaps if you do it properly, you can not draw it to yourself, so do not try saying "Draw only a part and make the atmosphere as if it is happening all over the world" I was worried that there was a part I do not know. However, I think that I could draw somewhat if I finish. There may have been a better way, but I feel that I am doing "I can do it with a lot of precision."

Ei
Anyway, up to the details, from what side of the character it has changed from various things, but since the essential part of 'Devilman' has been kept in order properly, it surely became "devil man" properly (Laugh)



Yu:
Thank you very much. I got a good one.

(All lol)

Q:
Both of you are active creators of Bari Bali, though, drawing a manga, deadline occurs on making animation. Do you have something of mental attitude and technique to protect deadlines?

Ei
Already, "There is no matter how hard it is until you head there" But that's all (laugh)

Q:
(Lol)

Ei
Although he passed away, Ken Ishikawa said, "Although this job is a messy job, I wish I had never had a deadline, I wonder how much fun it is" (laugh). Even though I say "I guess that's the way it is", "But I guess it might not be possible for manuscripts to close" (laugh)

(All lol)

Ei
Because I want to get more and more steady. I have to release it somewhere, I can release it because there is a deadline. Even paintings, although I could draw more time if I spend more time, what I am going up was "I thought it was a good idea to do a bit more properly" "It was not a while" only the story, I always thought that kind of story.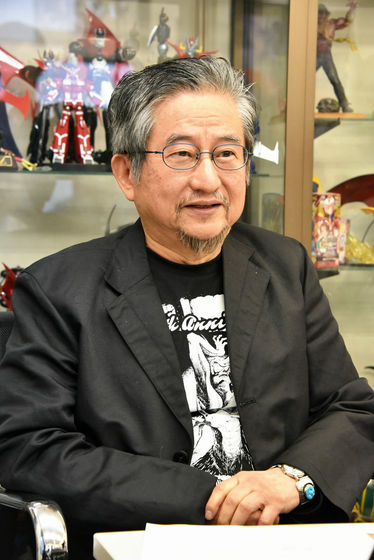 Q:
How about if you are directed by Yuasa. Two films are released in 2017, and in 2018 DEVILMAN crybaby starts delivering at a high pace that delivery starts.

Yu:
Well, I also want to do it endlessly if I have time.

Q:
I want to do it endlessly! (Lol)

Yu:
Since there is a deadline, there is also a feeling to do. It is because the next person is easy to do when he / she defends the deadline, and if it ends at the deadline it will not cost extra budget.

Q:
(Lol)

Yu:
As it turns out, I think that everyone will be pleased with it as a result. Even if I do not reach the ideal, "I wanted to do so far" I think that I will make use of it when I do the next work. I am a stance of "keep the deadline" (laugh)

Q:
(Laugh) Thank you very much.

"DEVILMAN crybaby" is a total of 10 episodes, and it is under world exclusive distribution with Netflix.

Nagai 50th anniversary commemorative work "DEVILMAN crybaby" Nagai Kohei 29 seconds - YouTube