Masayuki Yuasa's "DEVILMAN crybaby" directed by Masaaki Yuasa "Making for the Last Scene of the Original" and "Drawing Asuka" are expected to be "I want to see it soon"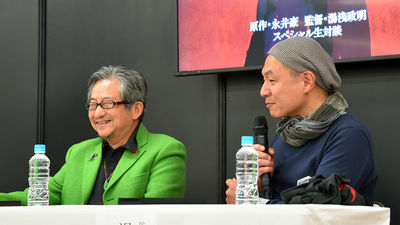 On March 16, 2017, as a memorial work of Mr. Atsushi Nagai's 50th anniversary debut"DEVILMAN crybaby" production and Netflix announced exclusive distribution to 190 countries all over the worldIt was done.AnimeJapan 2017In the same event held in the autographed autographers Mr. Atsushi Nagai and Masaaki Yuasa attended the event. Mr. Nagai is directed by Yuasa, a work directed by Yuasa on April 7, and after watching "Utagoya walking in the evening" and "Song of the roar telling the dawn" released on May 19, this director will make "Devilman" I pressed the drumming that it was perfect for.

DEVILMAN crybaby | Official website
http://devilman-crybaby.com/

Event MC is in charge of Nippon Broadcasting Announcer Naoji Yoshida. Mr. Atsushi Nagai who is the original author appeared in a green jacket which is devilman color. Yuasa also said that he planned to be on the shirt "DEVILMAN crybaby" accordingly, but because it was a cold day it was like this.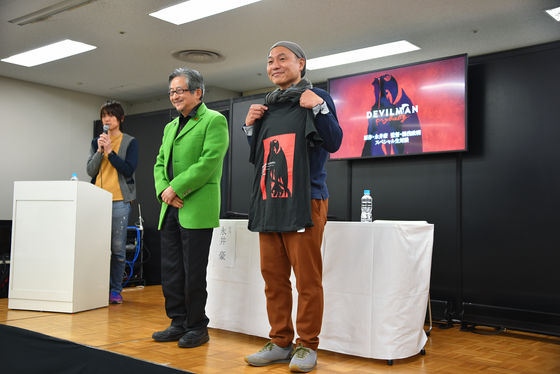 The series "devilman" series began in 1972. In the era such as the student movement and the Vietnam War, newspaper articles that posted fighting battles have been posted in the newspaper, while feeling the air, you have to stop somewhere as you go escalating Mr. Nagai says that she was depicting her work as if she was not. At the time there was a feeling that it was transferred to something and was drawn, and when I read Gera, "Why did I draw this?" "Where did this line of speech come from?" I thought that there was something I thought.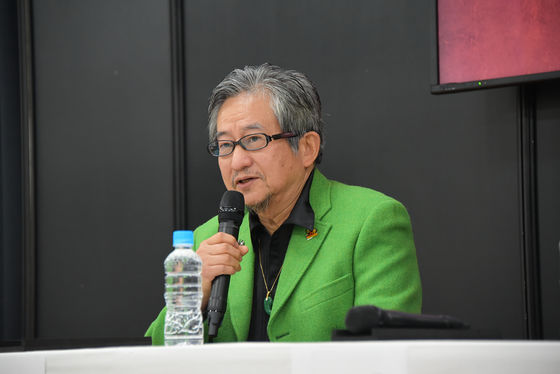 Director Yuasa was watching anime version "Devilman" and he said he read manga when he was a high school student. In high school I was talking about animation and manga by a member of the art department, and at that time everyone liked "devilman" and Nagai's short editing. Although I was amazed at the depiction of the devil from the beginning, I heard that the development in the second half was particularly shocked. In this animation making, I decided to make a work focusing on this last scene.

Originally "Devilman" has an animation project, Mr. Nagai makes a story and character setting and provides it to Toei animation. In animation, Mr. Tsuji and others were in charge of screenplay. Since animation production takes time, after that, the serialization is decided, starting to start a little earlier than animation. However, a part different from the setting that I gave for animation from the first time came out, and it seems that especially as for Asuka, the producer of the animation said "It is such a character, is not it! However, although this TV animation was broadcasted in a frame that could only take one digit as the drifters reigned that the viewer rating reached as high as 50% as a counterprogram, it seemed like taking a two-digit rating It became popular work.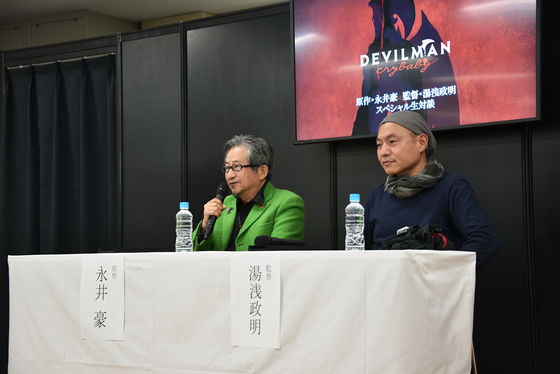 After this TV animation, "Devilman" made two OVA which traced the development of manga relatively faithfully in 1987 and 1990, but because it was not completed, Nagai says "This time (DEVILMAN crybaby ) I am expecting to go to completion, "he says.

Director Yuasa with his expectations. When I got the name of "devilman" at the planning meeting, I thought that it was difficult to visualize from the fact that everyone knows the work, but I thought that it was difficult to visualize but because I felt that I also wanted to do it, I raised my hand. I also read autobiographical manga "Musume Man!" By Ms. Nagai, I am completely Nagai and I am thinking about making up thinking, "If you make it now, is not this or not?" .

As for Mr. Nagai about the offer to the work, "I am OK if anyone who challenges OK", even if I can do something different from my work, animation is animation, the original is Stance of letting you like in the original. For comics as well, if he has an offer to draw, he says he responded "I can draw as you like". Mr. Nagai says, "Each person has personality, I think that it is to make it if you want to do it. If you can do something nice, you do not have to match me, so if you do it Director Yuasa smiled, "More pressure will be applied" to the word "Too much pressure."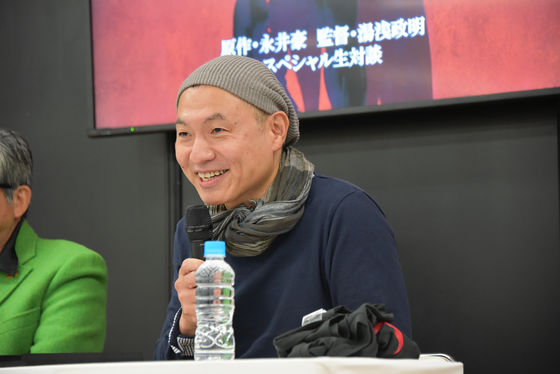 "DEVILMAN crybaby" is the stage where the work "Devilman" is present. The demon's design that also appears in the toeser image served as a director with "Flip Flapper's"Kiyomi OshiyamaHe said that he is in charge. The subtitle "crybaby" has the intention of director Yuasa, but in fact the content is not yet known to Mr. Nagai.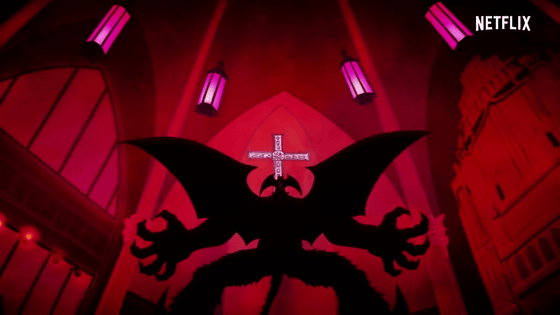 And what is worrisome about the visualization of 'Devilman' is image expression. In this time, Director Yuasa said that it can be made with the Netflix distribution, even with expressions that are not allowed if it is on television, so that the violence part of the Nagai work and the erotic part can be made to the limit .

Mr. Yuasa, full of all the power of Yuasa's full effort, during the event, Mr. Nagai who had been showing her happy looks many times, will be released as soon as Director Yuasa's movie "Night is a short walking girl" and "Dawn's Rou no Uta" He said that he felt that he was a person who could draw Devilman 's surreal world.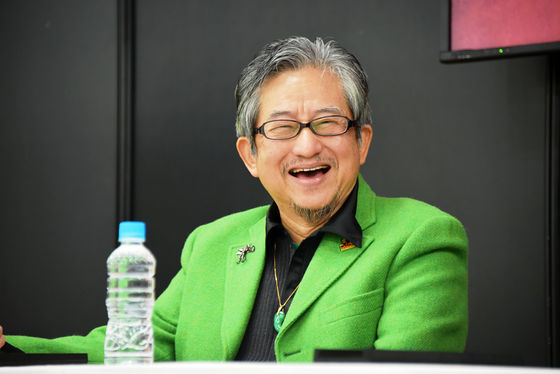 At the same time that "Make it to reach the original scene in the original" and at the same time, Yuasa's thought is "draw Asuka's completion". Yuasa seems to have felt that Devilman was a buddy of Fudo Akira and Asuka, and also as a story of Suzuki, and he did not seem to have done much in the past video work.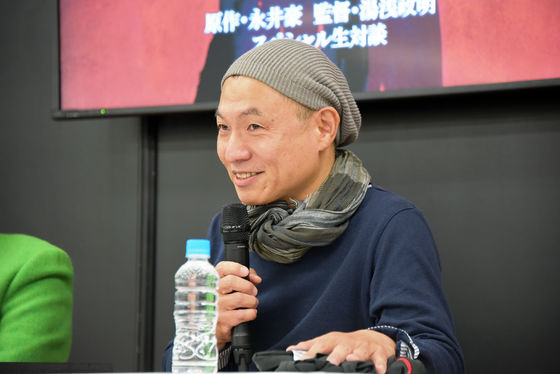 When Nagai san also drew it in the second half that he felt that "the real hero is finished", again again it seemed satisfying that Yuasa coached the core part .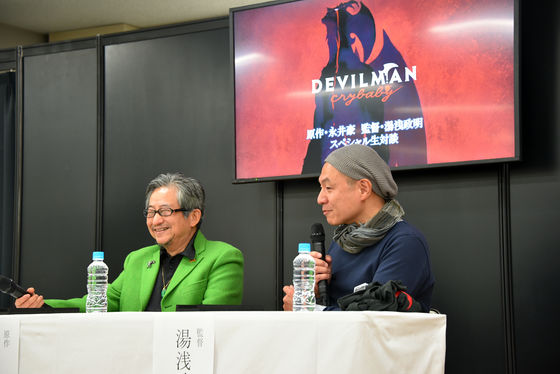 The scale of the work is "about 1 cool." Screenplay and music are coming up and casts are decided but this will be announced at a later date. The delivery time was "About the first quarter of next year (2018)".

"Because I do not have any pressure, I think that I will be able to fly next year, but to Ms. Nagai that" I want to see it quickly ", that's it (laugh)", Mr. Nagai's I think that it is a good work that adds to expectations. "" I want to see it as soon as possible, "responding Yuasa.

"DEVILMAN crybaby" made for the original scene by master Yuasa who understood the core of "devil man" is worldwide delivery (nine languages ​​dubbed / 25 languages ​​subtitles) with Netflix.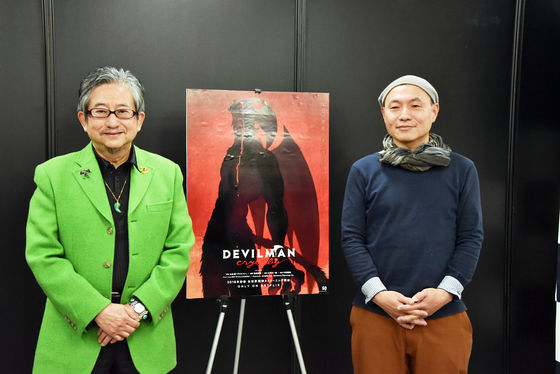 "DEVILMAN crybaby" In early spring of 2018, Netflix decides worldwide exclusive distribution! - YouTube

© Go Nagai - Devilman Crybaby Project