Interview with Director Nakazawa Kazuo of "B: The Beginning" animated cartoons pursuing pleasantness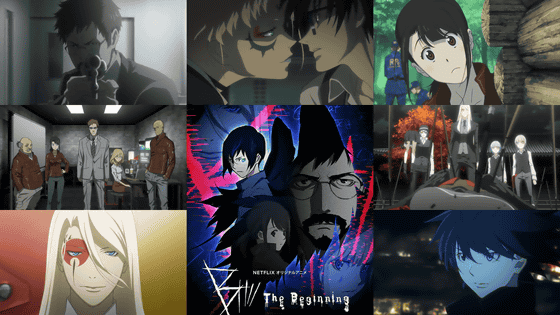 From Friday, March 2, 2018 Netflix original animation "B: The BeginningExclusive distribution of "begins. Director is known for "Kill · Bill" animation part etcKazuto NakazawaMr. I have heard various stories such as how Mr. Nakazawa made up the work and where I am committed.

Director Nakazawa (self-portrait) who responded to the interview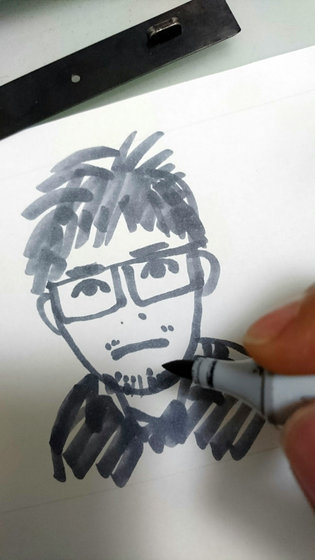 Q:
How did the project start?

Director Nakazawa Kazuo (Nakazawa):
When the previous work was over, Kuroki producer came "I have this kind of work", so when answering "Yes, anything is okay", "I want to make dark hero stuff," , "Yes". It is such feeling.

Q:
It was such a light feeling (lol) When I saw the work, I thought that the route was changed from dark hero to climb suspense.

Nakazawa:
As for me, I intended to make something of dark hero (laugh) First of all, I was "painting", I do not have a theory to fundamentally create a theory of direction and a story, and I am not interested in the first place (Laugh) I draw original drawings as drawing, I thought that drawing the screen itself is also about making any work, so I combined memory, experience, technology inside of me, When the image floated, I was going to make something that accompanies it ... It was like feeling. Finally it seems like crime suspense is "It's painful to draw actions" (laugh)

(All lol)

Nakazawa:
As I mentioned earlier, because I am "drawing", I have to paint even "director". I have not had a vocabulary to tell various people, because there were many things that my work was basically all alone .... Although I said "I understand, I do, At the beginning I was talking "Director, who is not?"

Kuroki kind producer:
Did. That's why I was invited to Yamakawa Yoshiki. Try not to let Mr. Nakazawa alone.

Nakazawa:
When I calculated the amount of work, I felt "This can not be destroyed", I thought that I wanted to make it a system that I can care for when I get it. Also, I had a feeling that my will was not so strong and that I could not bring out to the world unless I checked it with someone. While that kind of thing is total ... I still thought that it would be the same as a psychological drama or an action as a feeling of tension, although it is still "drawing actions, I'm hurt" (laugh). When the character called Keith was finished, it became a character in a direction difficult to take action, such as "Motor nerve is bad" in the conference room. As he moves, it will be a serious thing (laugh)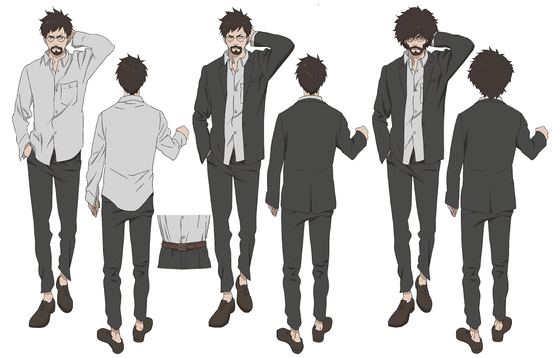 Q:
About two years ago this work "Perfect BonesAn announcement was made with the title of " How did the title and contents change?

Nakazawa:
Originally the story began from the point that "anything is OK", and at the planning stages I was titled "How about with" Perfect Bones "? However, as I made it, the story became different from when the plan was written, and as a result, it was changed to "bone, irrelevant?" I did not decide the title with myself, so I consulted with producers, etc., and became this title.

Q:
Compared to the plot announced at that time, there are settings that have not been changed, while there are settings left like artificial weapons. Did you decide to "keep this here certainly"?

Nakazawa:
I did not think about it finely, but what I had to leave was "Kuroba". Originally, the reason I thought that I wanted to make this as a motif was Kuroba, and I was saying to put "black" in the title as well, but it was decided not to enter, reflecting the social part .

Q:
I see.

Nakazawa:
I thought that "Kuro" of kimono 's formal clothes was black to some extent, but it seems to be black when mixing all the dyes of various colors. I thought that "I get mixed with various things and become black", I do not understand it seems to be understood. When I was doing oil painting, I recalled that my teacher got scolded by saying, "When graying a cloud, when gray paint is put out," Gray mixes various colors. " Anyway, since I felt that the sense that "various things mix blacks" is interesting, I feel like I was putting it in an important place all the time while making this work.

Q:
Even in the process, there was an expression "Mix all" about how to make black, but in oil painting and kimono, do you express black as "the color of the king"?

Nakazawa:
I'm sorry, I do not know that (lol)

Q:
What triggered the fact that "B: The Beginning" became its present form, what part became liver?

Nakazawa:
In the process of proceeding with the consultation, "Would it be better to do this?" Rather than "making from the desire to make a story", it takes time, budget and people to make a work, but it is limited I thought what kind of making way to show it as pretty as possible in time and effort. You can make a mistake, so proceed and try to fix it if you fail. As a result, it is now in shape.

Since the head and the end of the talk are fixed and the root itself is a very simple story, is it interesting if you put on a kimono there? I thought. When I see the topic of how to make a Ferrari engine in some program, a person who is repairing "Why is Ferrari making such a complicated way" as "Can make it complicated" answers I got a point of intersection with this. If it produces the same result, it does not matter how you get there. I wonder if all the straight roads are correct.

Q:
Does this mean that it was possible by having members and environments that can be complicated all together?

Nakazawa:
I have that side. In recent years, simplicity is popular, but I was wondering where "Is it so?" "Because it is simple" "Because it is complicated" It is not a genre difference. In the case of animation, I have never seen much something that human relationships have been kneading a bit, so I wonder if I do not have to understand it. I had a time when I was fascinated by progressive rock in my school days, but honestly, I did not know well when asked. Even if I try to ride the rhythm, I can not ride "men?" (Laugh) But I feel that I was very comfortable. Just like that, while there are lots of simple and easy to understand things, if you were thinking about something slightly different, the story changed more and more. Actually it was "just solving the mystery", but by putting "heart of men", absurd appeared steadily ... .... When thinking that "I am living in absurdity", I got points to all and got to "feel a sense of incongruity" making it "a convincing story". However, just trying to clean only the picture. I think that it was good that the painting and the sound were made beautiful and that it would be nice to be excited even if you do not know the contents well while touching the work.

Q:
In this work, landscape, background, accessories etc are thoroughly detailedly drawn. Miori Tsuzaka and Ms. Tomoko Tomita as Prop Design, and Mr. Itoi was credited as art design.

Nakazawa:
The first motif was a city called Cremona in Italy. Antonio Stradivari, famous for violin, is a town with a shop, but it was not an extreme tourism landscape compared to others, I thought that Italy is also interesting. The rest is Cuba. I basically like old cars, and old cars are running in Cuba as normal. I thought that such designs around the world would suit countries and towns that are excellent.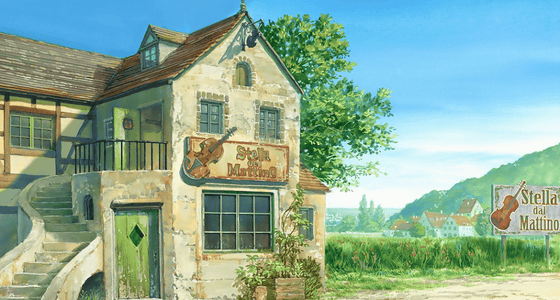 Q:
Did you tell me that the director wants this to be the content?

Nakazawa:
Because I could not put it into words well, I told that "Somehow such feeling is good". It is a feeling that the container itself has been hardly repaired, and eventually the various ideas that came out were put together. Although it is a manager 's job (laugh), I thought that various people like various things. Actually, I really want to go to various countries, but I'm sorry that I can not go because I am not good at flight.

Q:
Did you have any orders from Netflix in this work?

Nakazawa:
I gave a meeting several times and answered "yes" all. I do not remember details (laugh)

Q:
Did not there any strict regulations?

Nakazawa:
Regarding regulation, I was there and it matched it, so I do not mind.

Q:
There is a high degree of freedom of the scale, is it easy to make?

Nakazawa:
After I started making, I knew that it was necessary to complete a complete story before delivery "I'm afraid, I was in trouble" (laugh) And then, for each story I thought about "What will happen next week?" Although it was made, it was delivering at once (laugh) But, as I started making it I just pierced it because I can not change it now.

Q:
As a director, is there an idea that I want to make a continuation of this work? I saw till the last episode, but I was worried because there was a pull called ... ....

Nakazawa:
I think that various interpretations can be made, but I think that any story is only part of a big story. I thought that "This story continues" as my feelings, but I do not know if it is ... or not ... (laugh) In myself, as a continuation is not it There is what is called.

Q:
Although it is not a terrestrial wave but a delivery it can be a cruel expression, but how about that?

Nakazawa:
Regarding this work, I myself have not done much in that direction, and people in other cones are doing it. It was a feeling about "I say when it is not good, I will fix it" (Laugh) Because I can do anything cruel even in the context, when I make a picture, I can quit if it is not good. The producer said "I'm ok" (laugh)

Q:
Do you feel that you did it freely without setting a limiter?

Nakazawa:
The most troubling thing so far is the popular "Pokemon check". It is a measure against light expression with pakapaka. Since lightning etc can be expressed neatly, I heard that it can be used, I thought "Hiakho!"

Q:
Overseas drama-like dialogue spinning was also impressive.

Nakazawa:
Not limited to "B: The Beginning", I have that kind of commitment. I do not want to use a woman because I have not heard of "I wonder" or "wonder" at the end of the word in my daily life, and it is the stance that it is fundamental that everything is colloquial.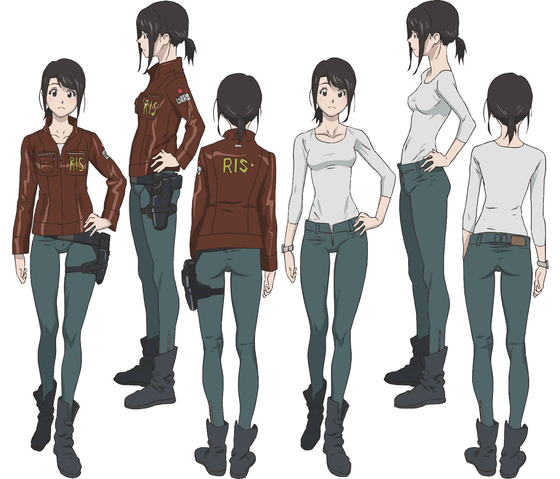 Nakazawa:
The atmosphere itself is also aimed at those conscious of overseas dramas. If you are told, "Please do something like this," I will study what I learn and think that I can incorporate good parts into animation. I think that I have to convert it to intelligence and then output it. For example, when I worked for "Kuroko's Basketball" before, I watched a basketball game by frame and watched it "I knew it was such a movement". Because I was not in myself, I tried to study hard. In this case it is an overseas drama, but it was fun to look at, but I was frightened that this was broadcast on TV every week and there were also things that were cut off from them. However, as I was able to see that I was doing various things while I was trying, I also tried trying it out. Originally, there are lots of things that I'd like to try and I've talked to Kuroki with "You want to do something you do not do", but what you could do if you were on an old television There are many cases that it is impossible to do so. I thought that I could show that it is "There is such a way in Japanese animation." If so, it may be connected next time.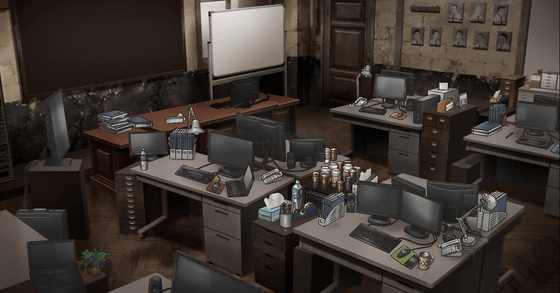 Q:
So, was this work a painful work?

Nakazawa:
It can be said with breasts. As a result, I thought that I was glad that I was not doing it. He added that he was connected next time. However, I also understood that this amount of work is impossible for me anymore (lol) I wonder why I thought I could do it (lol)

Q:
This time, Nakazawa is also in charge of character design and general drawing director, but which character did you start making from this character?

Nakazawa:
It is from Kuroba. Kuroba was the hero in me.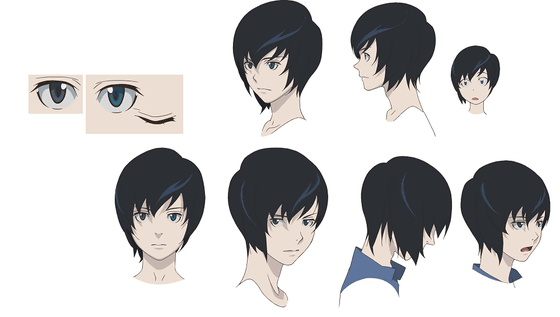 Q:
The impression of Kuroba when I was watching the first episode was "ordinary boy", but in the meantime I was forced to change my mind as "different, not ordinary!" Although it is a character that shows various aspects, how did you come up with it?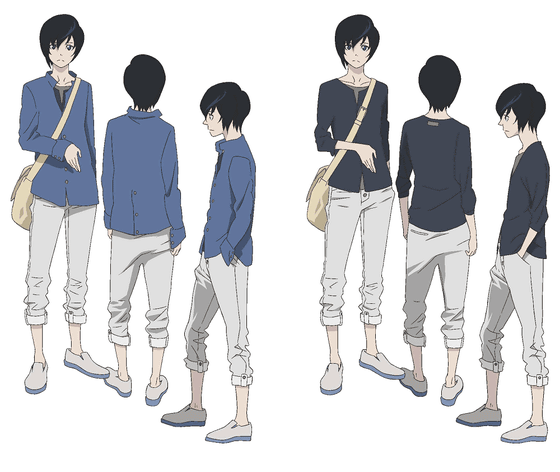 Nakazawa:
Speaking of the heroes of the dark heroes, it is said that it will be "aloof existence". From there, it reminded me of the word "empty sky", and if I was playing characters, "black feathers"Kuroba"I realized it would be. So I tried putting black feathers.

Q:
The black feathers that were also drawn in the key art that was first announced, was attached for that reason. On the other hand, Keith who is the hero is an uncle character, but it looks super cool.

Q:
At first it was a sub character. Normally, since the hero will not cut his hair (laugh), although Kuroba is pure, the world of the story has become an irrational feeling. I thought that it must be an adult to catch that absurdity and learn. So I started exploring various things, going to a mathematician called Dirac, looking at Dirac, a little keen feeling came out.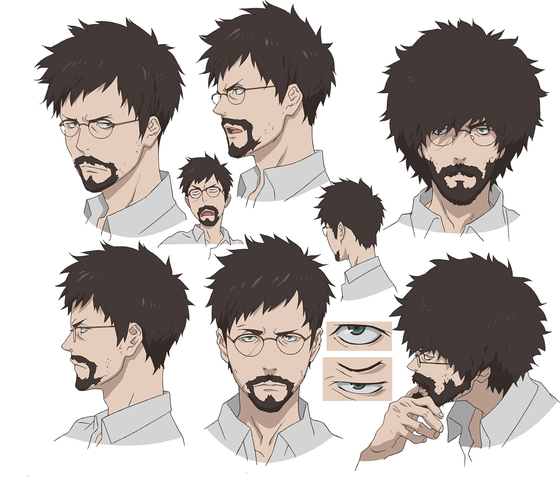 Q:
In the first half of the story, Izanami got down on the wall of the building riding the skateboard, and the scene is terrible which keeps fighting as it is. The goodness of action is orders of magnitude, but what kind of ingenuity do you do to make it look good like that?

Nakazawa:
It is 3 episodes. Thanks to that, the budget (laugh) ...... There is also an aside, but I am thinking that "I want to show a fight like that", making the third episode, the second episode for that and the first episode. Settings and stories are niches, but what you're doing is on an extension of traditional animation, so anyway, "Let's do persistently".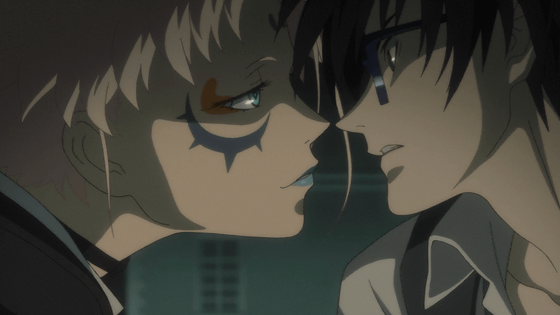 Q:
Certainly (lol)

Nakazawa:
Even in the car chase scene of the first episode, I knew that it was impossible to imitate it, so motion is done in 3D, but all the original drawings are painted by me and I applied 3D there. In other words, the movement itself is 2D, and it moves accordingly.

Q:
I bumped hard or thought that I had a unique movement.

Nakazawa:
As I said earlier, I am basically "drawing", so there is a thing called "I want to draw this" and I will search for things that accompany it.

Q:
So in the first episode you mean that you want to do a car chase with a tank?

Nakazawa:
I agree. There are places I think a bit, I decided to try, I tried, I got that shape.

Q:
However, Mr. Nakazawa said that it was "drawing action," but how did you get there?

Nakazawa:
Perhaps it may be different from the expected answer (laugh), but I am not good at action scenes that much. Well, I often receive the question "What kind of things did you want to make?", But I do not have much to say "what I want to make" rather than "what kind of things do you want me to make?" I am making it thinking. I do not know what to say, but I am not without self-consciousness, but I have awareness that I am minority, so I think that it will not work if I do not raise it to a certain place I have it.

Q:
Ms. NakazawaI was interviewed as an OB of Tokyo Animator College vocational schoolSometimes when asked, "What was the best thing about doing work until now?" "It is not words but I think that we could have friends who can talk with each other in a sense.We are saying" battlefield " It is a comfortable feeling that sensual conversation is so comfortable that you can create a common language after going through and do not explain it one by one. Even in this work, did you make a fight?

Nakazawa:
Both the producer, the person who painted the picture and the photographer, everyone who took part in the work is a good friend. Since I have few vocabulary, I can not put it into words well and I can talk to "This is something we can not manage in some way" or sometimes I say "let's leave it" in a bad time, but after accepting it as "I see," I It raises what I was thinking.

Q:
It's amazing, you know, Tu-ka.

Nakazawa:
Yes, it was very helpful.

Q:
The site of clappa!Trusting thoughts on images ~ Mr. Kazuto Nakazawa and animation ~"In the interview that when drawing a storyboard, when asked" Is it a feeling that the completed image is made in the head? "When asked" Well, I can do it. Of course it is case by case In the presence of the client, there are cases where only OK, as long as OK comes from the client, there are things that I think only about, I think that the storyboard only seems to be the beginning. How do you handle ideas in order to complete the video in your head?

Nakazawa:
"It's like this" "Become such a thing" is quite clearly a picture. Otherwise, it will not be a motivation for production. When asked "What motivation do you make?", I answer "I am inside of you". Because I feel bad if I do not spit out what is inside.

Q:
And although it has come so far and deviates into a side street unexpectedly, it was published "WEB animation style"Nakazawa Kazuo's "10 shocked animations""In the beginning of" AKIRA "as the work of the first eye, the scene of the reckless family is shown very shyly is drawn. "I see," the scene is, but why were you shy?

Nakazawa:
This is because everyone will choose there (lol) There is no exhilaration feeling beyond that scene. From the viewpoint of the whole work, the meaning of something is not put in the scene itself of that reckless family, and the work of AKIRA itself has an esoteric story, but anyway, it was pleasant. I think that it is a treasure that "I felt comfortable" in my memory.

Q:
Thank you for talking with us today. And thank you for the pleasant work.

"B: The Beginning" which can enjoy the "pleasant images" by Director Nakazawa is exclusive on the world exclusive distribution with Netflix.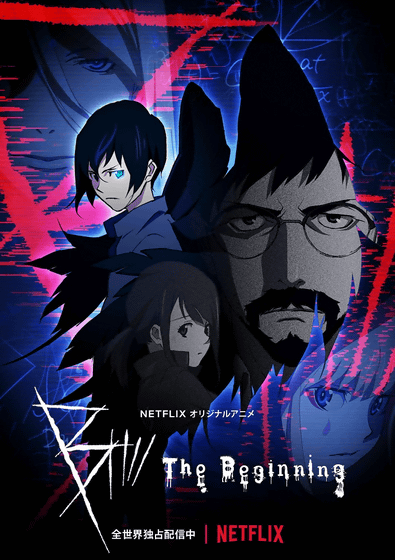 B: The Beginning | Netflix official website
https://www.netflix.com/jp/title/80097594

◆ Staff
Original: Nakazawa Kazuto × Production I. G
Director: Nakazawa Kazuto, Yamakawa Yoshiki
Producer: Kurogi
Series composition · Screenplay: Katsuya Ishida
Character design · total drawing director: Nakazawa Kazuto
Art design: Hisashi Ito
Mechanic design: Tsunobase Tsukagi
Prop Design: Miyuki Tsuzaka, Yuko Tomita
Color design: Sumi Sato
Art director: Tanaka Tanaka
3DCG Director: Koji Isobu
Photographer Director: Eiko Arai
Acoustic director: Nagasaki Jun Man
Music: Ikihiro Ike
Edit: Junichi Uematsu
Production: Production I. G
Copyright notation: © Kazuto Nakazawa / Production I. G
Official site:http://www.b-animation.jp/
Twitter Official Account:@ b_the_beginning

◆ Theme Song "The Perfect World"
Artist: Marty Friedman feat. Jean-Ken Johnny, KenKen
Producer: Koji Fujimoto, Marty Friedman

◆ Cast
Keith · Kazama · Flick: Hiroaki Hirata
Kuroba: Hiroki Kaji
Star name Lily: Seto Masami
Eric Toga: Hiroki Higashi
Boris Maier: Inaba
Yoshinaga Kaela: Ami Koshimizu
Brian Brandon: Toshiyuki Toyonaga
Mario Louis Zurita: Shintaro Tanaka
Jean Henri Richard: Atsushi Goto
Gilbert Ross: Tomoyuki Morikawa
Minotoki: Ishikawa Kokitan