Interview with the movie 'Promea' directed by Hiroyuki Imaishi & Screenwriter 'Kazuki Nakajima', 'Cool and Stylish' with 'Always Mad and Crazy' works born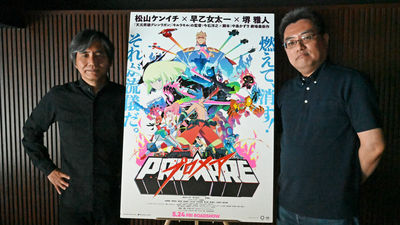 With Hiroyuki Imaishi and Kazuki Nakajima, the director who successfully completed the movie '
Promare
' with the heat and battle outside of the standard packed successfully and sent it to the world, frank impressions of completion and hard work until completion We talked about such things.
Since we interviewed them in February 2019, some people may be able to see, "What was that?" By comparison.
Interview with Hiroyuki Imaishi & Kazuki Nakajima, who have high synchronization rates near 'Pleass to Seek' about their original new theater animation 'Promare'-GIGAZINE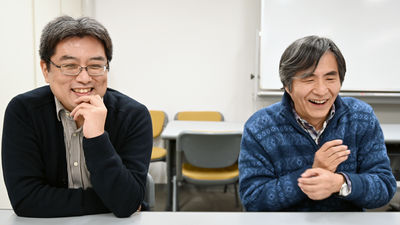 GIGAZINE (hereinafter, G):
What I
talked to Imaishi
and Nakajima-san before was still
before the production of 'Promare' was in the works
. The work was completed in this way, but how was the impression you saw it?
Director ・ Hiroyuki Imaishi (below: Imaishi):
As I was at the very end of the scene, I have not been able to be objective enough.
G:
As if you were still on extension of work?
Now stone:
Well, I can not objectively judge what I did in a true sense. You can achieve a lot of things you want to do, and there is a response that says 'Good', but I still don't know what this work is all about ... (lol)
G:
How long has it gone since I finished making the work, and will I be able to look at it objectively?
Now stone:
It was the TV series that I had created so far, so I had the time to fight. Being on air, there is a reaction from the customers, and the next talk, and so on until the final round of the cycle.
Screenwriter Kazuki Nakajima (below, Nakajima):
There is time from production to on air.
Now stone:
That's right. However, the film seems to be showing the first episode and the final episode at the same time in the TV series, showing the first episode and saying 'How?' And at the same time showing the final episode and asking 'How?' It's like that, so I'm not familiar with the film yet (laughs) I think this feeling will be used in the future.
G:
As the theater is just like showing the first episode and the final episode at the same time, Nakajima-san thinks that such experience is abundant, how was it?
Nakajima:
This is already 'Mr. Ima, I'm amazing!' It was shown when A part was completed about 70%, but I thought 'It's wonderful!' I did not think that it would be like this.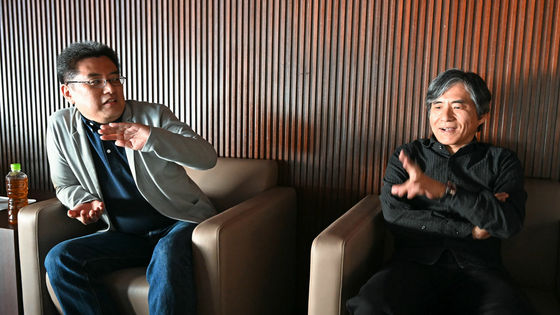 G:
(Laughs) Didn't this happen at the time of writing?

Nakajima:
When I'm writing, I think it's more ordinary, and I don't think that I'm so crazy, 'Sorry, I'm Hiroyuki now!' (Laughs) In the image in me, an international rescue team like Thunderbird rushed to the fire, and the professionals I intended to write a scene that would hit the rescue. It has been transformed into a scene where people who don't know what they are doing do not know what they are saying, 'I'm doing something amazing!'

Now stone:
(Lol)

G:
(Laughs) The original was a Thunderbird-like image.

Nakajima:
I'm aware that I'm going to do this in a direction like this, and I was shown a storyboard, but it's especially how to show and save information in the introductory part. I understand that it's pretty stylish but it's cool. At first I was surprised that Hiroyuki Ishikawa is cool and stylish.

Now stone:
(Lol)

Nakajima:
It is 'Cool and stylish Hiroyuki Imaishi is here!' 'It's Hiroyuki Imaishi, I saw it for the first time.' When it enters A part, it becomes 'Oh! It's always mad and crazy now Hiroyuki Ishikawa!' And it is pastel color! 'I may be trying to cheat with pastels, but I will not be fooled!' (Laughs)

G:
As a director now, do you feel that Aban was able to follow the aim of making it look cool and stylish?

Now stone:
It was childish when I said it, but I wanted to make it look like a movie (laugh)

Nakajima:
If you say such a thing, you will lose your body and lid! (Lol)

Now stone:
The main story is an exaggerated view of the world, but I wanted to put out a serious feeling that it was a story that was in the ground connection with us. At first, is this probably a dead person? You can think of it as you think, and when you get into the main part, you will see rough machines and so on. However, it is shown in a picture that it is a response when there is a serious fear.

Nakajima:
I really felt the intention to 'make it a movie now.' 'Wow, great! Mr. Imaishi, it looks like a movie director.'

Now stone:
Like a movie director (laughs)

G:
When I talked to Mr. Hiromi Wakabayashi from TRIGGER who is participating as a creative director in this film, I heard that Rio was the main character before it became the form of 'Promare'.

Nakajima:
That's right. I wanted to talk about Juvenile like ' Hick and Dragon ', and I was thinking about making a protagonist Rio, and thinking that a normal boy who is neither rescue nor burn will grow. Garo was a stupid and straightforward leader of the burnish. However, when I was stuck in juvenile, if I was thinking, Mr. Imaishi would verbalize 'I want to make a movie where an action scene comes out of nok'.

Now stone:
I didn't shut up on purpose, and I was wondering for myself, 'What is it that I really want to do?' I could do it in juvenile, but I thought there would be some more steps.

Nakajima:
It didn't fit well, and I continued to talk like 'Don't you go wrong?' So I try to get stuck with the question, 'How should I do it ...' When I was eating a hamburger at the Village Vanguard Diner near the TRIGGER, I was told, 'If it were, Hana and Juvenir would give up and it would be alright if I had a gosh clash.' Until then, I was thinking, 'Let's make it a juvenile, let's seal the craftsman', but 'Let's get rid of the ban, let's do it in a way to line up our specialty.'

G:
I see, there is a ban on it.

Nakajima:
If so, raise the age group, make Garo a firefighter, make Rio a burnish, and it is better to meet from Hana. The image of the opening action was almost the same, but initially the main character did not participate. It seems that Mr. Ishi is uncomfortable now, 'I want to put a protagonist'. The flow came out from there, and the feelings were connected, and I made an image up to the climax at once, and I made a note on the paper napkin of the store. After all, 'Hamburger is a hamburger. We were trying hard to make a rice burger, but we don't have to make a rice burger! We just have to do with bread, hamburger and a little more lettuce and tomato!'

Now stone:
Oh, with ketchup and mustard (laughs)

G:
That's how the work came up, but what is the point that Imaishi struggled while actually working on it?

Now stone:
It was something I knew, but it is difficult to use color, and ... (lol) I did something with designer Koyama and said, 'This should be done!' It is important to understand that it is important to be black.

Nakajima:
But it's a movie, and it's something new, when you see it.

Now stone:
I did not regret it because it was on the screen, but it was difficult. Because it takes 3 times more time than usual.

G:
3 times!

Nakajima:
It is difficult because I can not draw in black. It's like I'm writing a pen for every row, row, row, row, row and row, so it's like writing a row with a red row and a row with a green row, so it would take three times as much (lol )

G:
This time, with regard to casts, Kenichi Matsuyama, Taichi Saotome, Masato Tsuji and the theater company ☆ new sense line experienced people will be the center, and it will be a structure that experienced voice actors solidify aside. Mr. Matsuyama's appointment is that it is a form that Mr. Nakajima's request passed as it is, but in thinking of cast, was this a proposal to say 'If so, a new sense line experienced person'?

Nakajima:
We thought that we wanted to solidify by new sense line experienced person by any chance about 'it should be good with this'. As I was writing, I felt, 'This is a role that you always write to Matsuyama.' 'This is a role that you write to Saotome.' I also thought about Clay, 'it would be interesting if you did.' It is not a quote. So when I asked about the cast, I said 'I'm glad if I could do it with Kenichi Matsuyama, Taichi Saotome, Masato Tatsumi.'

G:

When I talked to Otsuka-san,
I received a voice performance, and I was told that the drawing team would inspire me to 'do not lose!', But Imaishi managed to control the movement of such staff Is it?
Now stone:
Do not stop, especially, 'Please do more and more.'
Nakajima:
'Keep only the delivery date', right?
G:
When I interviewed rush check, there was a scene where it was found out that 'the eyes were turning' expression in the scene where Galo was blown away, and it was found out that 'I came' and corrected it. When I was looking at it, I saw it for the first time after the director opened the scene with TVPaint, and I realized that it was 'That's it!'
Now stone:
That was an ordinary picture in a few checks up to that point, and I knew that I was able to suddenly play with my eyes because I remembered it.
Nakajima:
Is it animator playing?
Now stone:
The 3D animator has been prepared. 3D and drawing are different in the check process, 3D was 'I will not change later, so please fix it first,' I was going to solidify, but the other side was playing, 'I still can I thought '' (lol)
G:
So, everyone was a reaction like 'Ooh!'
Now stone:
When it comes to drawing, there are also cases where it was different when I tried to get it up, but since it is unusual in 3D, it seems that everyone has reacted.
G:
If "Promea" has been successfully completed and what can be conveyed to you in the past, what is it like?
Now stone:
'Take the contest fast'.
Nakajima:
That's always the case (laughs)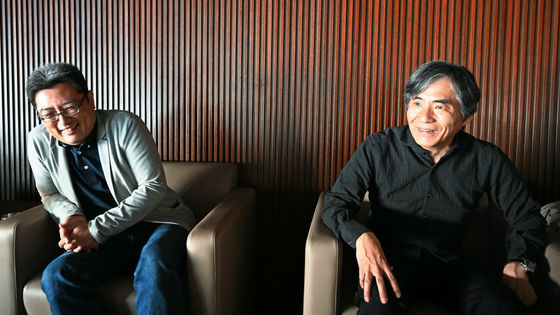 G:
(Laughs) What was the hard part of the Conte work?

Now stone:
In terms of making a movie using 3D, this time, for the action scene, we almost didn't step on the brakes, only the accelerator. In the case of TV animation, '2D and background video can not be drawn, so even if I'm going to make it a man who can draw,' even though 'I don't have to calculate this time,' the gap is off. However, it would be difficult to see if it was simply removed, so it would be difficult to know where to put the coolness back in order to make it easy to see, as it would be a good looking movie. It was very difficult that only one person could judge what was OK and what was NG, and the other staff would not know.

G:
It's just because it's a movie.

Now stone:
It's a movie and it's a single shot, so everyone doesn't know what's going on.

Nakajima:
Really!

Now stone:
In the case of the TV series, if you look at the first episode, you can understand that 'I see, what should I do like this?' But since no one is watching the first episode, 'This is an animation? 'I do not know,' and everyone worked hard.

Nakajima:
Because it is only in the head of Mr. Stone now.

Now stone:
That's why it's hard because it's only in my head and I can only judge.

G:
Hmmm ... in such a situation is there a lot of pressure?

Now stone:
The pressure is ... you can not live without desensitization.

Nakajima:
Yes Yes!

Now stone:
I can think of becoming sensitive, but I can not make things unless I turn on only that switch. If the director does nothing, it can be delivered first. I put something wrong with what came up from people, put a fix on it, delayed the conte, delayed the setting, and so on ... I didn't get in the way (lol)

Nakajima:
Movies can easily be done if there is no director!

Now stone:
I can, but I think it's not interesting (laughs)

Nakajima:
Even if I specialize in delivery (laughs), I understand that 'insensitiveness'. The reason is that new sense lines are always played with new works. It is a performance of about 1 billion yen if the ticket fee is 10,000 yen by mobilizing 100,000 people. But I have never thought about the pressure of 'one billion projects, I can not write it!'

(All laugh)

G:
I don't think anymore (laughs)

Nakajima:
Never thought (laughs) I'm in a small theater of about 300 people from 200 people, '
Inoue
because they continue to do with the feeling you're doing me ~, such interesting if?', Maybe you there is no feeling of the neighborhood It will be. Surely, it feels the same.
Now stone:
Maybe yes. The innocence is lost, and you can only express 'Ya-ha, Sin-shii' rather than 'Happy.'
Nakajima:
According to 'Promea', such partitions are divided at a large venue and interviews with casts and staff proceed simultaneously. That's amazing. It's not such a big deal ... 'I don't know, I' (laughs) When I wrote a book, I was not going to do this (laughs)
Now stone:
There are about 5 exhibitions (laughs)
Nakajima:
It seems that all coverage will be received in the TRIGGER's waiting room (lol)
G:
I think that the production was a lot of work, but are there anything that you have in mind to get over the shambles?
Now stone:
Conversely, you should not be calm. If you think, 'What am I doing?' I think I'm losing and I have to take care not to do so. If you start thinking, 'Is it really necessary?', It means that animation is not necessary for life in the first place (lol) How to make it in time without changing what you want to do, especially how to not lower the quality Will be Then, there is also that the moment is pleasant. It is said that everything takes precedence over work delivery.
G:
Oh.
Now stone:
In other words, it's the mood of the night before the school festival (laughs) I think in this industry, there are people who like it and do it. If I did not go home, I saved three more cuts, but because I did not do so, which one is better to be released with three cuts left unconvinced? It feels like you are making the ultimate choice every day when you have to do it.
Nakajima:
I do not have a lot of shuraba. As we basically keep the deadline.
G:
You used to say, '
If you pass the deadline, you will die
.'
Nakajima:
The deadline is also my own deadline. For example, even if December 30 is the original deadline, if I think that I have to do it by October 30 due to other work or other reasons, I will do my best to protect there.
G:
If so, is it okay if the deadline is approaching?
Nakajima:
As the deadline approaches, I always feel murky, but I say, 'If it's done at this pace, it's supposed to be over, and you just have to think.' I believe in myself. 'If you drive yourself like this, you should come up with it this time,' he said.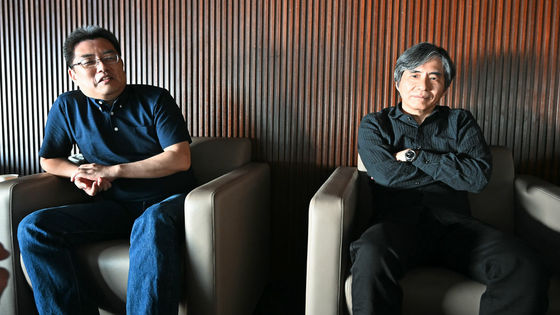 Now stone:
It feels like I understand it. 'There is a time when I can not draw a story,' but I can not do something I can not draw, and I can not but wait until I think of it.

Nakajima:
Anyway, for the moment you think you can write, you are going to control it there. What I am enjoying is that it is said that it is interesting to put it ahead of the deadline. I think I'm trying to do my best because I think 'It's cool that it's fast and interesting'. Personally, I want to throw a 160km forkball.

G:
(Lol)

Nakajima:
Throw it all, Stone in front of the batter! It seems like it falls. If the batter doesn't shake, it's a ball (laughs)

Now stone:
However, it is said that 'Oh!' Will be shaken without thinking that the great one will come.

Nakajima:
It is said how to fool the other party and shake it.

G:
I felt that 'Promea' is more intense than ever. Is there a part where the challenge went well here?

Now stone:
After all there is one thing at the beginning, but as a basis, did you care about what kind of tension it would be when you look through for 2 hours? Watching from the beginning to the end all at once is not so common in the TV series, so that's good this time.

Nakajima:
As for me, I'm worried that I'm not doing new things in books, and I'm concerned that I'm not opening up new places because I'm doing putting together in 2 hours and 3 hours if I'm new feeling line I However, since Mr. Imaishi did new things as animation expression, it is a new thing in appearance, and 'If yes, I would like a royal road if I want to make such an expression. If you don't see it, 'he says. I think that it is new because it cuts and it cuts and it is excess, that the balance is established.

G:
Well, that's true. Thank you for the story when it was finished and it took a breath.

Mr. Nakajima & Director Imaishi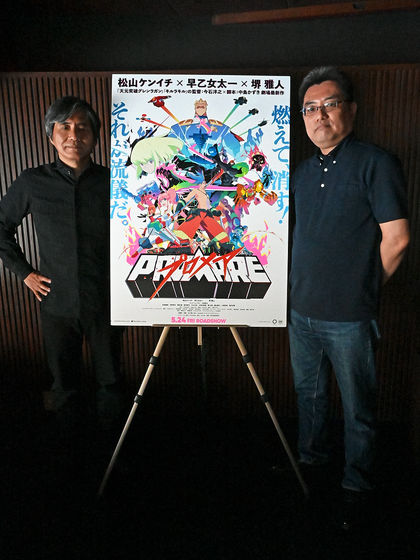 The movie 'Promea' is on display from May 24, 2019 (Friday), and from June 7 (Fri), 2019, a character with a serial code can see the previous day 'Rio Hen' as the second admission bonus. Card distribution will begin.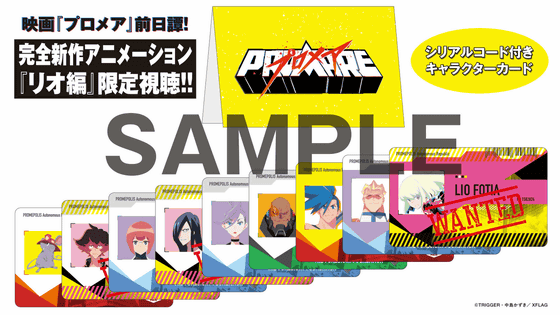 © TRIGGER · Nakajima Kazuki / X FLAG

In accordance with this, from June 4 (Tuesday) to June 17 (Mon.) 23:59 on 2019, ' Imaishi & Nakajima tag work' Theatrical version Tengen Toppa Gurren Lagann Gurren Rin '' Theatrical version Tengen The free delivery of Grenao's ' Glen Lagan ' has started.

Movie version Tengen Toppa Gurren Lagann Series | Animation | Free Video GYAO!
https://gyao.yahoo.co.jp/p/00548/v12339/

In addition, 'Promare' the day before 'Promare', which was the first guest privilege 'Garo ed', will be distributed free of charge at GYAO! From June 7, 2019 (Tuesday) to July 31, 2019 (Wed) 23:59 Will be

Promare Promotional Video | Animation | Free Video GYAO!
https://gyao.yahoo.co.jp/p/00799/v08897/

By looking at this 'Garo ed' and 'Rio ed' together, 'Promere' is said to be 'full version', so anyone who likes 'Promere' enjoys 'Garo ed' and 'Rio ed' by all means Please give me. Please be careful not to get a character card, as 'Rio Hen' is limited to the presents for visitors.