I went to Mixi Corporation which operates the industry's largest SNS "mixi"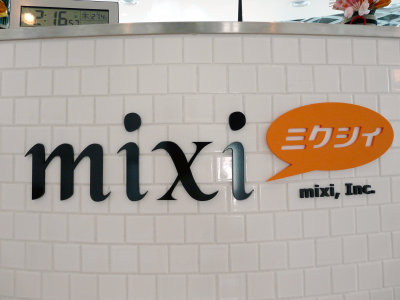 Since December last yearMixi"GIGAZINE's news is being delivered, but that triggered" mixi "as a triggerMixi CorporationI was able to interview.

I will introduce behind the scenes of "mixi", such as the atmosphere of an at-home company, while keeping in mind the management of the industry's largest SNS (social networking service) "mixi".

Details are as follows.
Building where Mikushi is occupying is rising in the middle.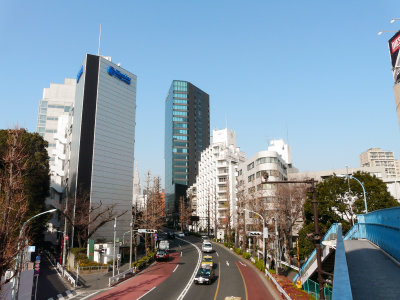 There is a strange form of apartment somewhere nearby.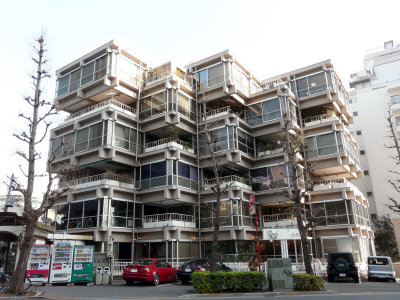 Also building of BS Asahi.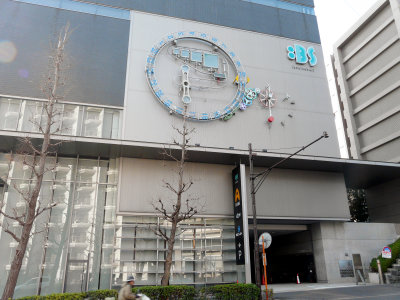 I approached it. It is more petty than I thought.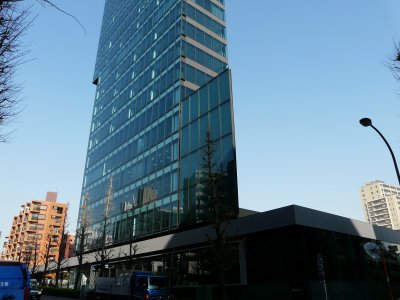 Mixi was in the 16 th to 20 th floor.



The receptionist is like this.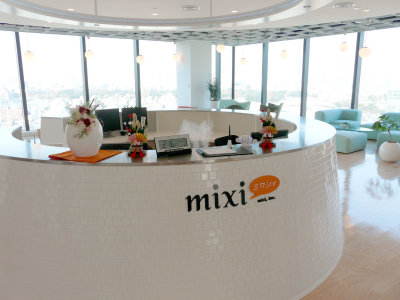 The "mixi" logo is nice.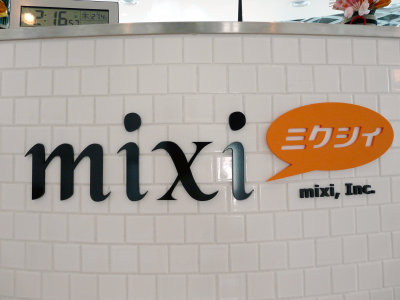 There are colorful sofas on the floor.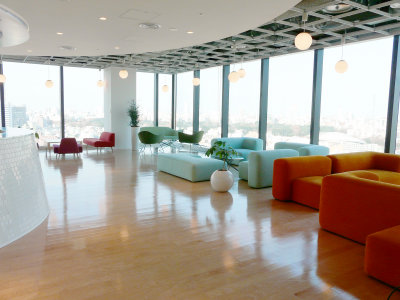 Outside the window is like this.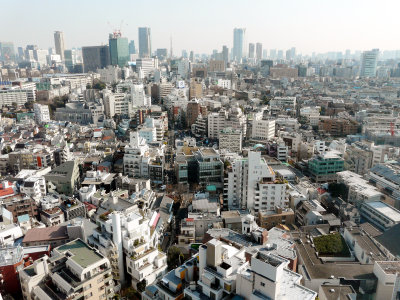 A monitor that allows you to see the location where the diary was written in real time using Google Earth's screen.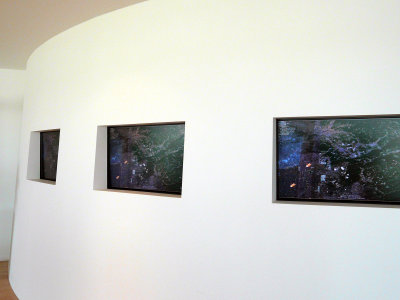 The meeting room is also very unique. This is a room with a normal sofa.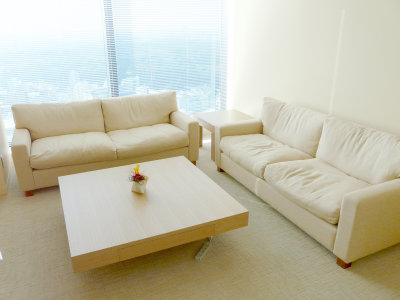 A corridor where there is a near future futuristic atmosphere somehow.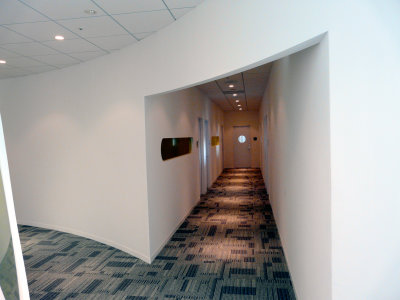 I can see the ball gravel.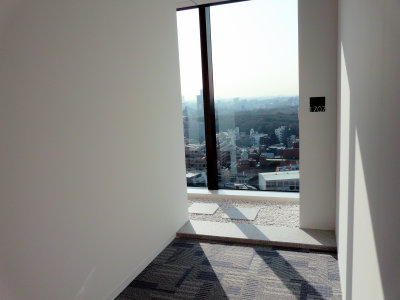 Suddenly it is a Japanese style atmosphere.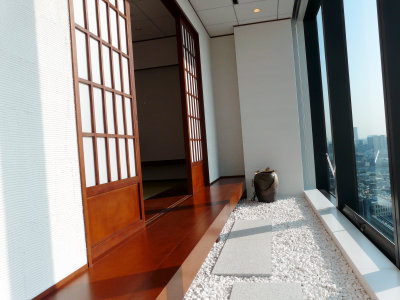 Is it meant to wash your hands ...?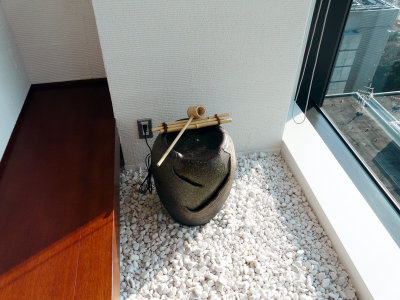 The interior is quite Japanese.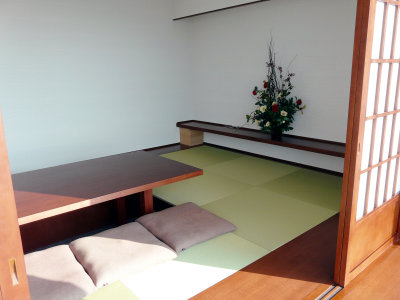 This is a conference room for holding meetings with a rather large number of people.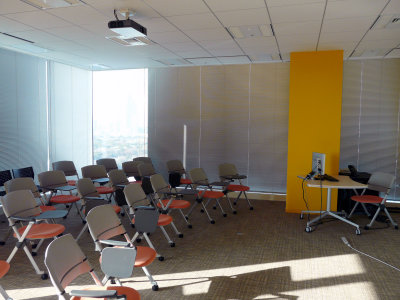 One side of the wall is a white board.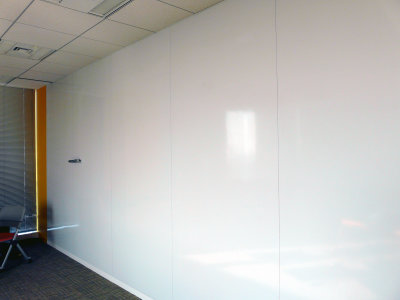 ■ What kind of company is Mixi?

This time I spoke to Mr. Kanoichi Arino of Planning Group Manager of Mixi Service Planning Department, Inc. and Atsushi Kawakita of Planning Group News Team Leader of Service Planning Department.

GIGAZINE (hereinafter abbreviated as G):
What kind of company is Mixi?

Ario (hereinafter, abbreviated as):
As a service, "mixi" of SNS (social networking service) and "job information site"Find Job!"I am working on. Initially, "Find Job!" Starts from, and "mixi" celebrates the 4th anniversary this February.

G:
How did you achieve growth after starting "mixi" service?

Yes
Not only did the number of users simply increase, but positively writing diaries in "mixi", making friends, interacting with various people in the community etc. Because I was active, I believe growth has become faster.

G:
The name of the company was changed to "Mixi", but when was that from around?

Yes
We positioned "mixi" as the core around February 2006, changed the company name to "Mixi", and then listed in September.

I got mixi's novelty goods.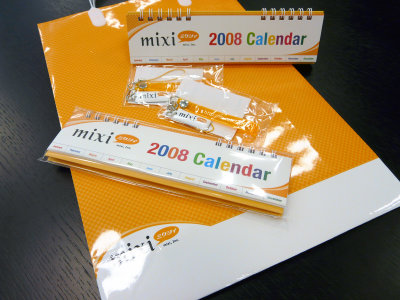 A calendar perfect for delicately empty spaces under the LCD monitor.



■ About people working in Mixi

G:
How many people do Mikushi's management staff manage?

Yes
As of December 31, 2007, there are 216 people including regular employees and contract employees. The company itself is a business division (service planning department) that is making overall service, development department developing "mixi" and "Find Job!", Support, "Business division of Find Job!", And management department It is divided into five, if it is broadly divided.

G:
What is the general general schedule of the day?

Yes
It's about 10 o'clock in the morning, at the end of 19 o'clock. The break time is one hour at my favorite time. There is a system called "ODF (One Day Free)" in the development department, which is a system that gives time to things other than main business one day a week. We are introducing it to engineers and can be used in various ways, such as development of new service applications that can be deployed on "mixi", development research of new web services.

As an example that was developed using this system in the past, there is "recommendation by reproduction history" of "mixi music". Mixi Music development professionals are big music lovers, other songs that people who are interested in are talking about are made from something that mostly meets the user's taste. Actually there are things that I refer to when I go to borrow a CD to TSUTAYA (laugh)

Also, "Recommended My Mixi" or "Recommended Community" as an indies function. It is a function that introduces the user called "My compatibility is good" though my Mikushi and its My mixi "It is not yet my mixi." We also introduce suggested communities in the same way. There are other i-appli such as "kirakira ☆ mixi" which can print photos taken with cell phones in a pre-claque style.

G:
How about lunch and so on?

Kawakita (hereinafter abbreviated as river)
There is a "collaboration space" where employees can take a break, there are people who eat and eat lunch boxes from outside and there are vending machines there, so some people are eating and eating there. There are other bento for home delivery, too. It's pretty rough. There are cafés and nice set menu shops with good atmosphere outside.

This is a collaboration space.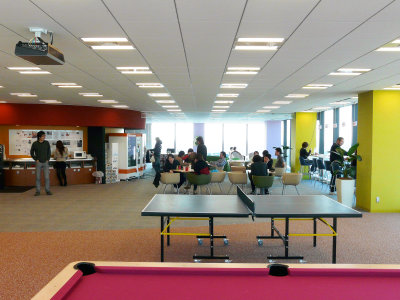 There are drink servers and microwave ovens.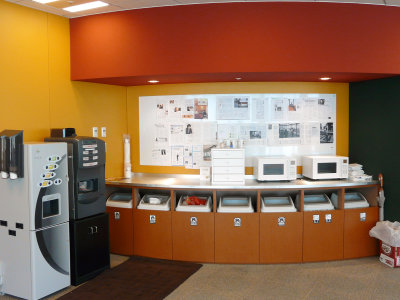 Estimated box for posting requests etc to the company. It seems to be functioning properly, not decoration.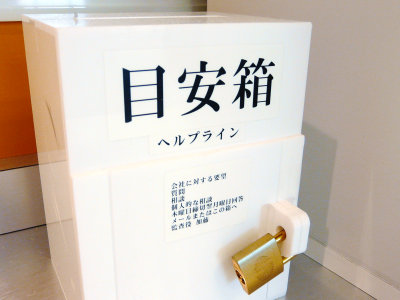 Also a vending machine with a logo of "mixi".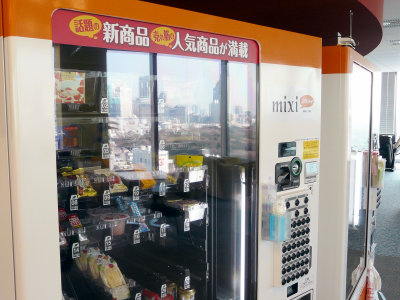 G:
Is there something that boasts of the company?

Yes
The whole company is that it has a homely atmosphere. Because time in the company in the day is quite a lot, it is considered to make that time as cozy as possible. "Collaboration space" also includes darts, billiards and massage chairs

There are billiards, table tennis tables, darts machines.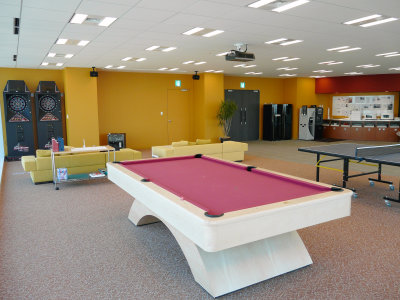 There is a slow line in front of the darts machine properly.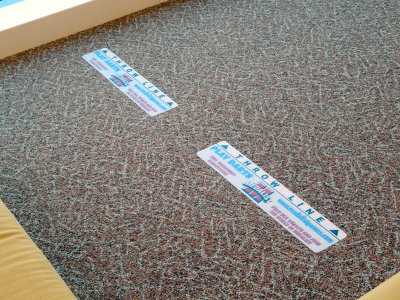 It seems that the Wii sports tournament will be performed, reflecting the Wii screen on the wall with the projector.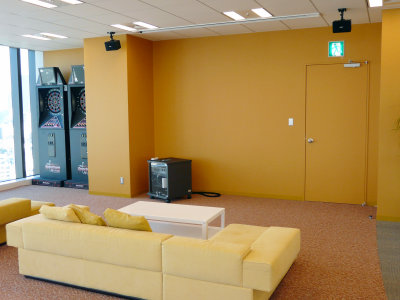 Yes
In the current building, the floor is divided for each department, and space is taken widely so that the exchange of employees does not decrease.

Magazines etc. are placed so that they can read freely.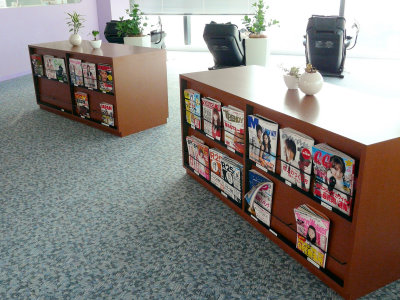 This is a newspaper.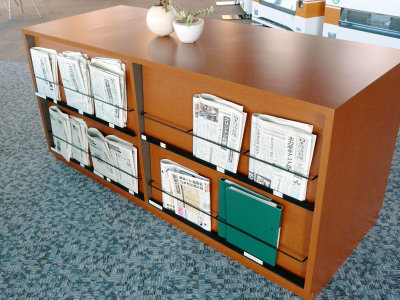 massage chair.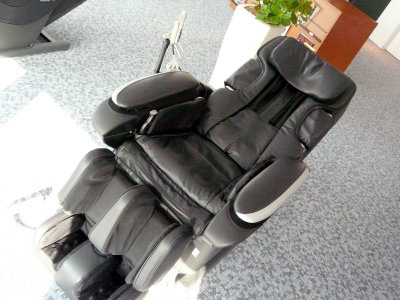 Apparently I'm in a chat.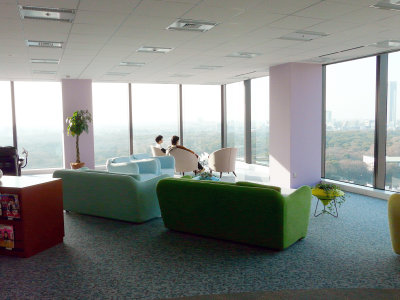 G:
Did you actually have any effect?

river:
Once a month, I do a monthly party with light feeling refreshments and alcohol, and I am playing table tennis by department.

Another thing is the circle system. There are not so many yet because the system itself has just been completed, but the most active futsal circle is more popular as it goes to training camp.

■ Know deeper "mixi"

G:
If there is a legendary episode episode, I would appreciate it.

Yes
Basically it is peaceful, so there are not many episodes that can be called "legends", but Mixi employees are all "mixi" users. As I wrote that I found a delicious shop in my diary, as soon as I get on the next day I get asked "Where is it?" (Laugh)

Another thing is that all employees are free to make feature requests of "mixi" at any time. In fact, it is often mounted in "mixi", for example "My Mixie application using QR code" is also due to functional request from inside the company.

G:
Why did you start "mixi news"?

river:
That's why to provide a story to write a diary. Especially for people who do not have writing story, especially those who just started "mixi" and do not know what to write "as well. I think that there are various topics when communicating with people, but decided to provide news as one of means for actively communicating.

In other functions as well, "mixi" is designed to make it easier for you to enjoy more communication, based on the concept of "cozy site" and "exchange of people with the same hobbies and preferences", planning and development of functions We are doing.

It does not change in advertisement, but by attaching a "Write a diary" button to all the pages of advertisement planning, it is made possible to write a diary. Also, in the official community, for example, as a user-participation type cup of Kinpin development plan by Ace cook, planning to participate in the user is done, and advertisement planning unique to SNS that you can enjoy also We are carrying out.

G:
Which audiences actually use mixi?

Yes
Early 20's are the most common. The gender ratio is about half of gender, but somewhat more female. I think that the fact that there were many women from the beginning of service also contributed to the communication becoming active.

G:
Are there things like tips on viewing and using the site?

Yes
Although basic usage such as writing a diary, adding legs, participating in the community and communicating will remain unchanged, communication is done in various ways of using photos and videos and making news story I hope you find them. Since it can be enjoyed even from mobile, it would be nice if you enjoyed it whenever you like.

G:
When considering use from mobile, is there a possibility of competing with Moba gate town etc.

Yes
I am not very conscious. The usage method may be different, and "mixi" as "mixi", I would like to continue to answer the needs of everyone's needs.

■ Where does Mixie head to?

G:
Finally, please ask about future policy.

Yes
We will continue planning and developing so that it will be a service that will enable us to enrich our communication.

In addition to providing APIs, we will expand the application and expand the service itself by providing a platform that allows third parties to freely design and build applications that run within "mixi". We will make every effort to become an Internet service that will become infrastructure for people.

Also, since the Internet society seems to move quite a lot, I am pleased to be a company that can respond flexibly to the movement of the world.

As we grow as a company, we are also focusing on securing talented people, so if you have a desire to create a new system and create a service that creates new value not in the world If you do, I would like to come by all means.