I've heard about Japan's strategy for "the world's largest SNS" Facebook "I understand that the Japanese market is special."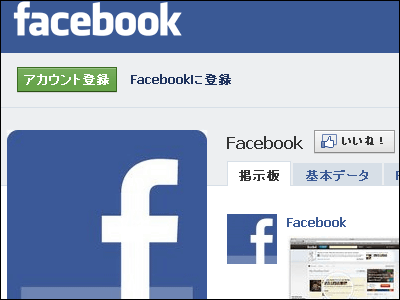 Mr. Taro Kodama, who took office as representative of the Japanese corporation at the social gathering for the press performed by the world's largest SNS "Facebook" talked about the current status of Facebook and how he will disseminate Facebook in Japan It was.

In Japan, the image that mixi (Mixi) is the main force is strong in SNS, and in recent years Twitter spread widely all at once but both are services that can be registered anonymously, which is quite different from Facebook where real name registration is basic I will.

Mr. Kodama, based on the fact that the Japanese market is special, has revealed that there is a schedule to announce "service for Japan" and that the company is moving strategically towards popularization in Japan I reveal it.

Clues to learn Facebook's future vision aiming to capture the Japanese market are as follows. Mr. Kodama Taro who took office as Country Gross Manager (Japan corporate representative) of Facebook appeared, explanation begins from the part of "What is Facebook in the first place?"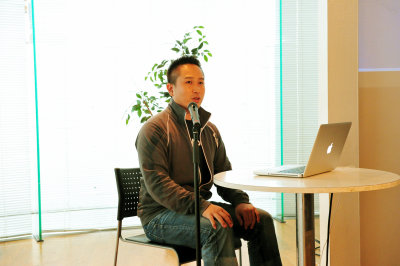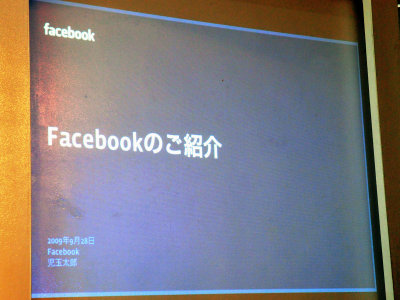 Facebook is a website aimed at promoting open communication among friends, family members, colleagues and other colleagues, through a link to real-world people called "social graphs" drawn on slides, Things to share memories of travel and events from events. Facebook has access to the Internet from PCs, mobile phones and smartphones that can be accessed for free, and it is now possible to interact with friends and acquaintances in a reliable environment.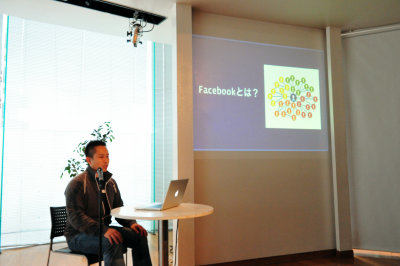 "People can easily share information and provide an environment in which open and connected worlds can be built" is called "Global Vision" of Facebook. "Give people the power to share and make the world more open and connected. . It seems that the goal is not to connect the world to the world, but to help users around the world become the principal, more conveniently and efficiently connect, and to share the various events more happily.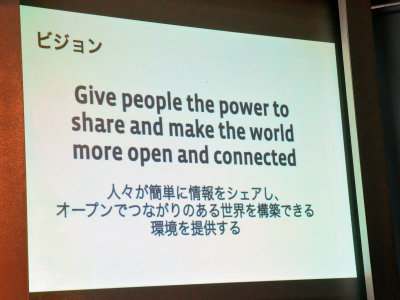 Facebook was a service made for students at Harvard University in 2004, and since that time was based on real name use from this time, we hope that from the fun of discovering my friend's acquaintance account spread quickly I will.

From 2004 to 2005, official applications such as diaries, photos, schedule management etc. are released. "News feed" was released in 2006,It displays the latest information that is happening around my accountIt began. Also, it was around this time that Facebook, which only college students could use, began to register openly.

In May 2007, the Facebook platform was opened, allowing developers and companies to participate in application creation. In 2008, Facebook, which had been strengthening its power based on the English-speaking world, released a translation application, so that anyone can join in translation as a translator, it seems that it got closer to a more natural translation.

And, in March 2009, we realized real-time news feeds that we had lacked immediacy up to now, and we have steadily evolved.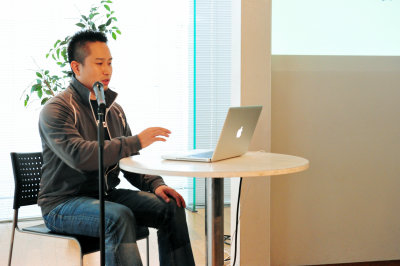 Beyond the country, language and race barriers Facebook has been steadily increasing the number of users, finally in July 2010 the number of monthly active users exceeded 500 million people.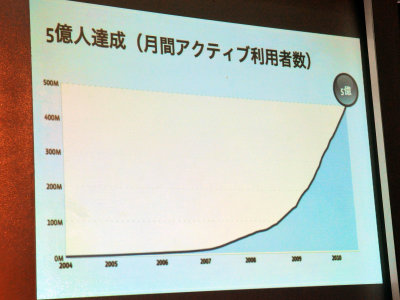 Pie chart of user's age distribution. It is beautifully divided into 4, which is characterized by not being able to see too much bias. By the way, it is said that the highest growth rate among these is the part over 35 years old indicated in red.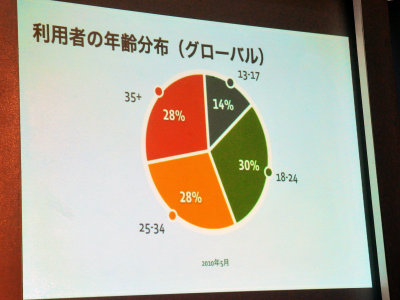 From here we will explain what we can do with Facebook.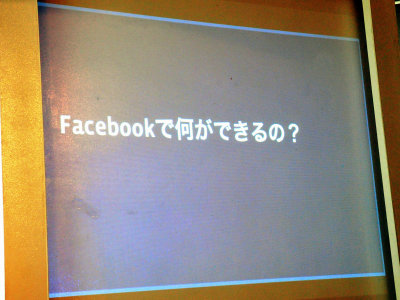 The one used most frequently in Facebook is "homepage". In Japan there are many services called "top page". It is "News Feed" that is placed in the center, real time updating will be done about the update situation of friends with a feeling close to Twitter's timeline.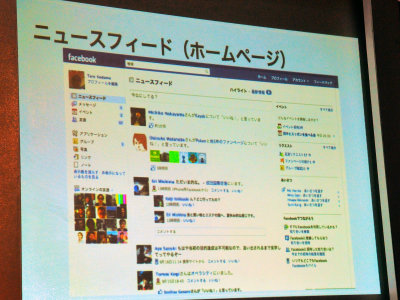 The most frequently used page is the profile page of each account. In this example, the displayed profile is the one of Mr. Kodama's friends, and the content is the content judged that the person can show to Mr. Kodama Only it is displayed. There are many people who have used this function in domestic SNS such as mixi etc. Comments on photos and videos, writing to bulletin boards, real time chat, etc. can be made from this page.



Facebook already has support for mobile phones and smartphones as well. What is displayed is the home screen of the iPhone application, but it is a bit worrisome whether mobile = smartphone is recognized or whether you are putting more emphasis on smartphones than mobile.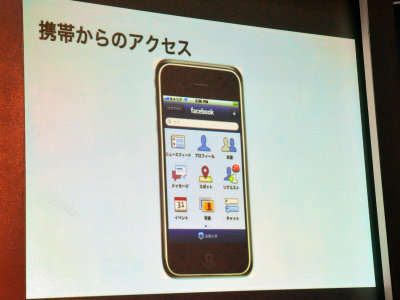 From the privacy setting screen, you can set how much information to disclose for each category, such as friends, friends of friends, all users. Moreover, it is possible to set detailed settings by grouping human relationships such as best friends and colleagues, childhood friend and so on, and it is possible to set such as "show it to your childhood friend but not to colleagues". Because it is a real name registration, everything is a strong Facebook with an open image, but the privacy settings around here are finely possible.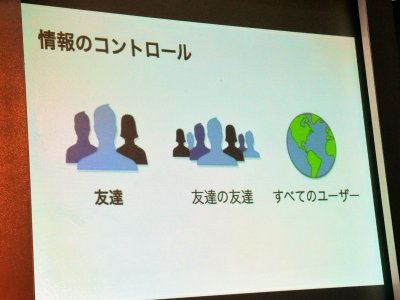 Next is what the user is doing on Facebook.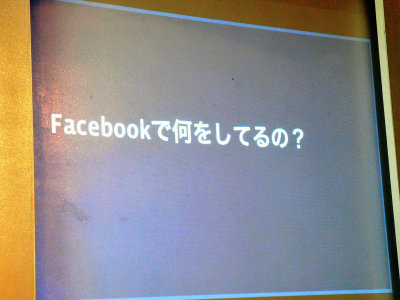 More than 30 billion pieces of content (everything that you can share, such as your recent status, links found, blogs and notes, videos) is used every month. In addition, more than 1 billion chats are exchanged everyday, and more than 1 billion photos are posted monthly. Each user posts and shares on average 90 contents on average in some way.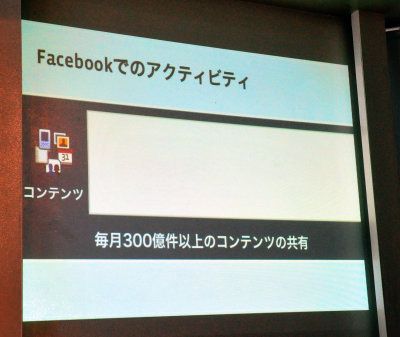 More than 150 million users are accessing Facebook from mobile every month (including in combination with a PC). It seems that Facebook mobile service is deployed to mobile carriers in over 60 countries.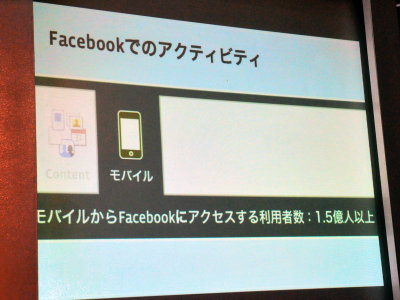 It is deployed in more than 70 languages ​​and over 300,000 volunteers participate in the translation program worldwide. Which translation is adopted will be determined by voting, so anyone can participate regardless of translation experience or skill.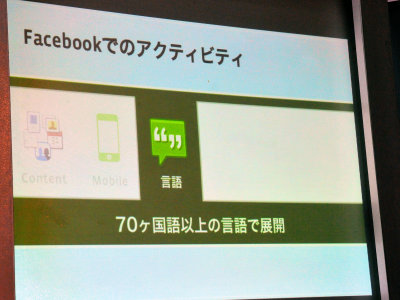 Of more than 500 million Facebook users, more than half have access every day, more than 30 million people post and share their recent status to an average of 130 friends every day. Together with all users, 70 billion minutes are spent on Facebook activity every month. Also, it seems that 70% or more of users reside outside the United States, spreading to each country as a service originating in the United States.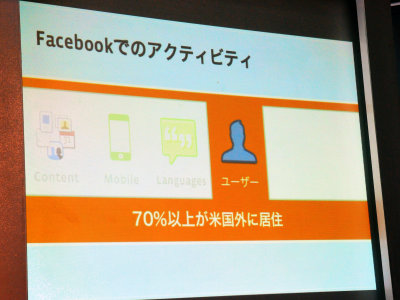 A function called "fan page (Pages)" which was made after the fans created and enjoyed the profile of a specific brand and artist is also used a lot. He seems to have registered on average 80 fans pages for each person.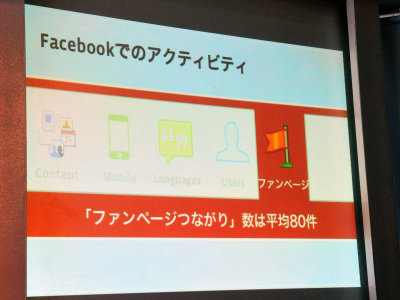 More than 1 million businesses and individual developers worldwide have started developing Facebook applications. More than 70% of users use applications developed by these companies, etc. Currently more than 500,000 applications are published. In addition, it seems that more than 1 million sites in the homepages all over the world are trying to socialize their site using the Facebook platform.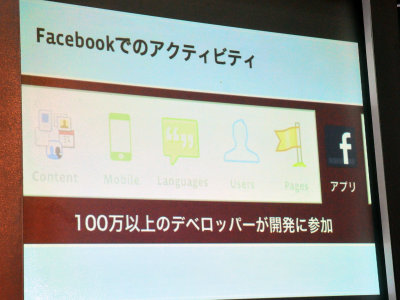 Finally, Facebook, which has experienced this rapid growth in the world, will announce what we will develop in Japan in the future.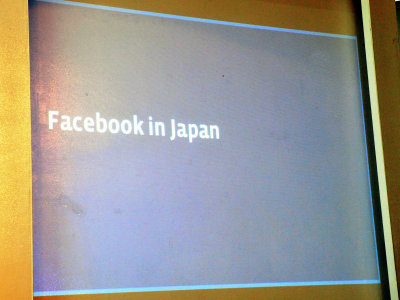 Facebook has opened an office in Japan in February 2010 and decided to aim for deployment with feet on the ground. We are planning to develop special functions and specifications that will be accepted including the particularly good engineers of the US head office, feeling the environment of Japan and including unique mobile circumstances in collaboration with the head office in the US. We will support Japanese developers and companies to make use of the Facebook platform.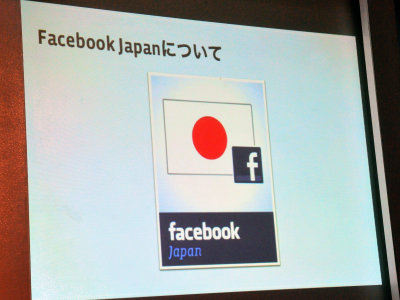 Responses / developments made to Japan by this day will be announced. 'Facebook Spot' is a service that shares where myself and friends are now with GPS built in the smartphone, the second in the world after the United States, the second in the world.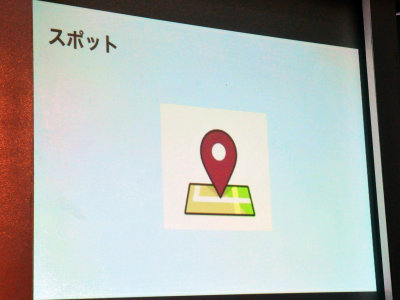 It is available from the Facebook application for iPhone and various smartphone browsers.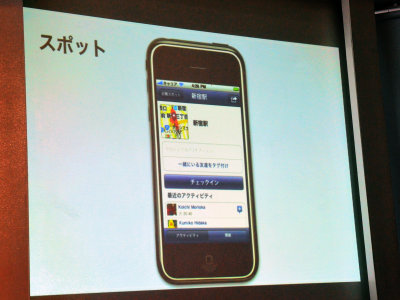 We are also considering correspondence to Japan's unique mobile phones and smartphones and confirmed that Facebook can be used without problems with many models of all carriers. We changed the process of registering accounts to a flow familiar to the Japanese, and in Japan we are removing the function on the premise of a short message that is not used so much in Japan and advancing emoji correspondence, It seems to be preparing for. Also,We are promoting the development of functions specially planned for users in Japan and will be announced soonabout it.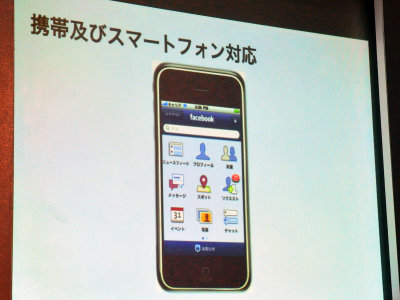 Below are the interactions made during the question and answer time. All Kodama representatives have responded.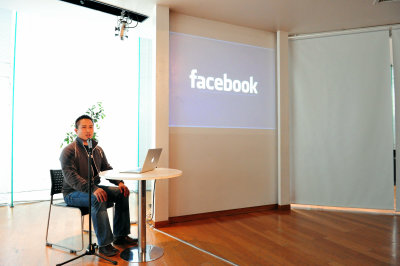 · Do you persist in real names in Japan?

It is still true that it is based on real names in Japan. I understand that Japan is a special market, but I am not planning to change the core idea.

· What is the promotion plan in Japan?

There is no plan yet for the future. First of all, it is an important process that a customer who experienced Facebook after experiencing the beauty of Facebook first calls others a steel plate. Although we may do PR as necessary, the core thing is to carefully think about it by creating systems, services, functions and usability that you can use.

· What is the growth rate of the number of users in Japan?

The goal figures are individual numbers in Japan and Korea, but Facebook does not disclose these figures. But surely growing. And I am preparing to have many people use it.

· What are you planning to do to make the real name the principle in Japan?

I'm thinking about how to actually develop in the future, but there are many real name based services among the things people in Japan use. I believe that if Facebook matches the usage scene in it, you will feel the wonderfulness of real name based services.

· What is the difference in usability with the American version?

There is nothing to show as numbers, but the ability to interactively share Facebook photos and videos is used. I would like the customers to use it in such a way in Japan and want to feel more convenient. Tag photos, plan events, create guo loops and share information there. There is a way of using besides just simply updating up-to-date, but there is not enough penetration in Japan yet. That is the difference from the US, and I want you to know the part first.

· Are there policies such as increasing engineers in the future for dissemination in Japan

As for the staff, it is very fluid and we will adopt it as necessary and build a structure. We will adopt it if necessary for growth, but we will not increase people at a stretch, and we still operate with a small number of elite at present.

· When a company wishes to use Facebook, there is a window in Japan

Currently, we are talking to most companies with no problems, we have a window.

Receiving a series of presentations, again the most interesting part is "development of functions specially designed for users in Japan", which is already being used extensively in Japan Services such as SNS and Twitter Whether or not it will be a chance to deprive us of market share is a concern for future trends.