More than 30% of browsing methods of blogs and SNS, "only from mobile phones"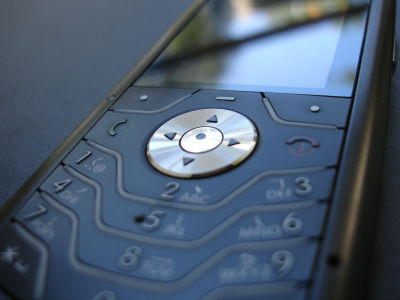 According to a survey carried out by the Internet survey company InfoPlant on the i-mode site "Touch Menu", as a method of browsing blogs and SNSs,Only from mobile phonesIt is said that the result that it was the most was the result. Since it is targeted to i-mode users, it is natural that the ratio of mobile phones will be higher, but everyone checks them from their mobile phones any more than I thought.

Details are as follows.
InfoPLANT - Survey on 'blogs, SNS'

Survey was conducted by Internet survey company InfoPlant for i-mode users on the i-mode site "Taking a menu". The effective number of respondents was 3709, of whom 38% was male and 62% were female.

According to the survey, "people viewing blog sites" is 70.4% of the total and 29.5% of "people who do not see the blog site". In women over 50s, 53.7% answered that they did not see it. However, 30.1% of those who do not see it in men in their 50s and over have age, so they do not seem to not see blogs. The woman who is watching the most blogs is 19 years old or younger, and only one in 20 people does not see it.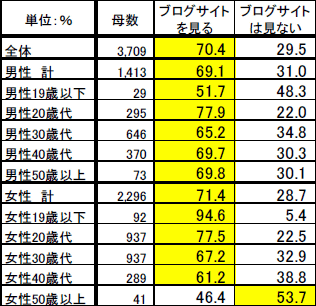 As for the method of browsing blogs as a whole, "only from mobile phones" is top with 31.5%. "Only from PC", "PC · both mobile but PC center", "PC · both mobile but portable" is 22 ~ 23% respectively. Looking at individually, it is conspicuous that female under 19 years old "only from PC" is 0%. It is a survey exclusively for i-mode users, but it is said that no one of 87 people is ....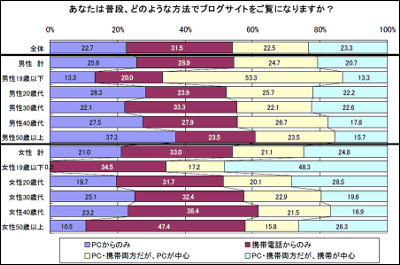 For SNS sites the numbers are comparatively wide, with about half the people who do not see and see. It is slightly surprising that 50.6% of people are over 50 years old. As women aged 50 and older do not see 70%, do the university of the world adapt to blogs and SNS pretty much?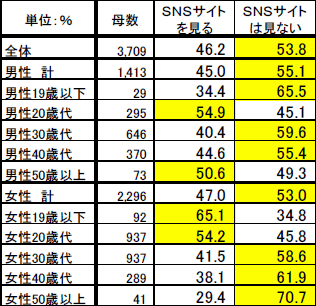 The frequency of viewing blogs and SNSs from PCs is about 40% of those checked at least once a day. If you are a person who checks once a week or more, it is 80%. I feel the numbers are not so big.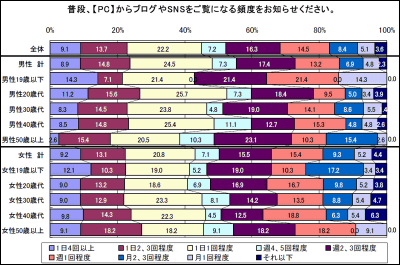 When it comes to viewing frequencies from mobile phones, more than 4 times appear more than 4 times a day. 60% check once a day, females under 19 years old, checked more than once in 67%, many times a day. Is it checking something when a little hands are empty?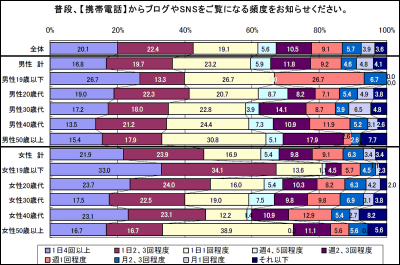 In such a situation, one quarter of those who have opened a blog. 54% of women under the age of 19 have established it, but most other people have not opened and they do not seem to want to open in the future.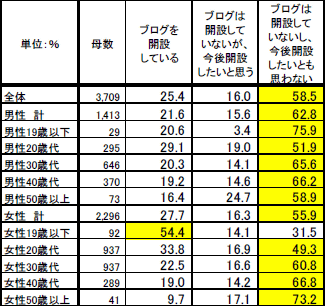 The content of blogs and SNS people are watching is overwhelmingly "diary · column", then "movie · TV · music ·", "news" feeling. People read their diaries, but there are many people who do not want to write themselves. Or because I am satisfied with SNS, I may not feel bothering to open a blog.