80% of those who think that there is credibility in writing blogs and SNS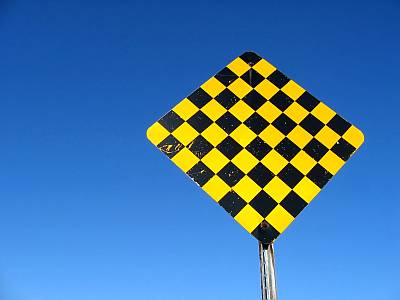 It seems that blogs and SNSs are 83.7% and 89.4% thinking that it is credible to write blogs and SNS. It is quite expensive. Is it a bit expensive if it is a newspaper or TV?

In addition, the purpose of browsing blog is "to obtain information on hobbies and entertainment" is 79.7%. Furthermore, blogs and SNS are used as "media that tells someone about the product after purchasing the product", and comments and trackbacks to blogs and SNS are both 70% utilization rate. About half of the blogs and SNS advertisements have been clicked, it is said to have resulted.

Details are as follows.
Opt and cross marketing, "Blog / SNS usage survey" results announced

The purpose of browsing the blog is 79.7% in the 1st place for "getting information on hobbies and entertainment", "second for information friends and acquaintances" is 63.0%. The third place is "to kill time and to browse somewhat during idle time" is 55.3%.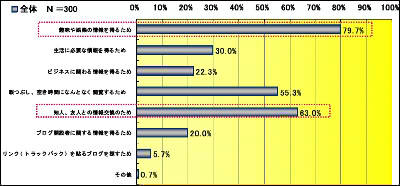 About "Do you think that writing content of blogs and SNS thinks it is credible?" To sum up "I think there is something" or "I think there is somewhat", they exceed 80% each. It is highly credible.




55.4% answered that "Why do you think that it is credible" because it is a blog of acquaintances? "The content of the blog is detailed" is 39.4%. I can not think of trusting information without contact by the networks of acquaintances and friends, but recently it is not so?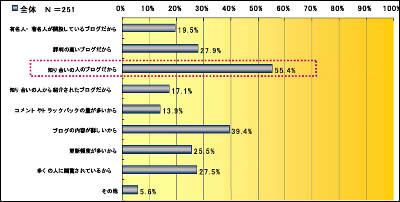 So, what about media like television, magazines, newspapers, radio, etc., is like this.

In "Knowing products", 72.0% of "TV", 58.0% of "Net advertisement" and "Magazine" accounted for a high percentage, 50.7%, "Understanding the contents of products", "Net advertisement" 46.7% "Magazine" is 45.3%. In "Tell someone about the item after purchasing the item", "blog" is 64.0%, "SNS" is 54.0%.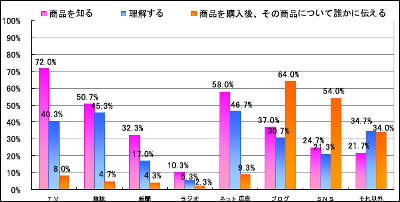 So it seems that the influence of the net has increased considerably.