Google accidentally gives out cash to users, Google has to get the money back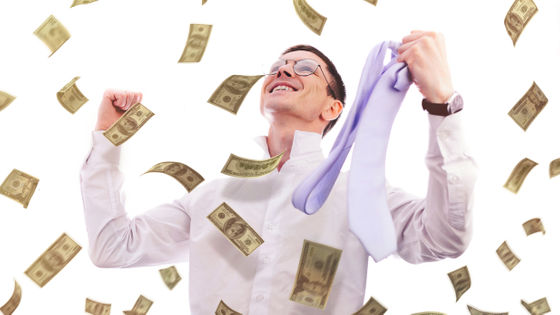 It turned out that Google had mistakenly deposited cash up to around $ 1000 (about 130,000 yen) to users of the payment application Google Pay. Google has taken steps to cancel the erroneous transfer, but has announced that it will not ask for refunds from those who have already received the money.

Bank error in your favor: Google Pay bug accidentally sends users free money | Ars Technica

https://arstechnica.com/gadgets/2023/04/bank-error-in-your-favor-google-pay-bug-accidentally-sends-users-free-money/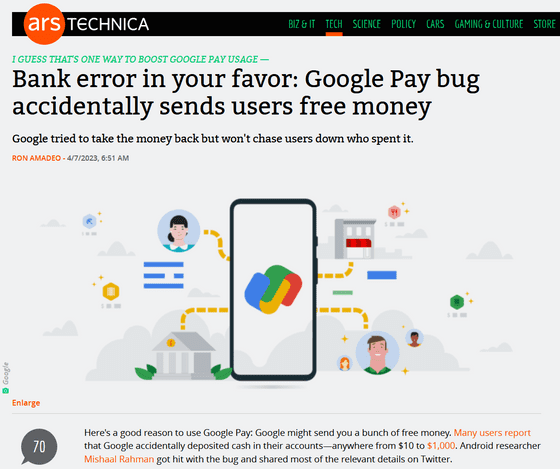 GOOGLE ACCIDENTALLY SENDS USERS FREE MONEY – SkyMagzines
https://skymagzines.com/google-accidentally-sends-users-free-money/

This problem was discovered around April 5, 2023 when Google Pay users reported on social media that ``cash was suddenly transferred from Google''. For example, freelance journalist Mishaal Rahman said on the 5th, ``Google Pay seems to be transferring money to random users for free . There was a bounty of $ 46 (about 6000 yen) as a test use of our company's service by employees, "he tweeted.

Uhhh, Google Pay seems to just be randomly giving users free money right now.

I just opened Google Pay and saw that I have $46 in 'rewards' that I got 'for dogfooding the Google Pay Remittance experience.'

What.pic.twitter.com/Epe08Tpsk2

— Mishaal Rahman (@MishaalRahman) April 5, 2023


Also, on Reddit, a bulletin board-type social news site, a puzzled Google Pay user said, ``I received nearly $100 (about 13,000 yen) for six types of cashback benefits. I am creating a thread with the title. In this thread, there are posts from people who have received money in the same way, and posts asking how to withdraw the money, and some of them mention an amount of $ 1072 (about 142,000 yen). There was also

Comment
by u/wpshogs_1229 from discussion I just got almost $100 in six different cashback rewards for 'dogfooding the Google pay remittance experience'.
in Google Pixel


According to Ars Technica, an IT news site, Google Pay sometimes cashes back a few dollars in some campaign, but it is said that cash will not be transferred in this form. As the name of the transfer, the industry term 'dogfooding' is used, which refers to employees using and testing pre-release services in advance, and originally Google employees or some testers Ars Technica points out that the cause is a bug in the Google Pay reward program because it is only displayed.

After that, Google sent an email to the user who received the money, ``I sent an email because an unintended cash credit was transferred to my Google Pay account.This issue has been resolved, and the credit has been canceled as much as possible. If it cannot be canceled, the money remains in the customer's hand. No action is required.'

Google Pay has taken the money back and has sent an email confirming that the money was deposited in my account by error.pic.twitter.com/8RljrpJVyo

— Mishaal Rahman (@MishaalRahman) April 6, 2023