It is pointed out that Amazon's advertising business exceeds the revenue of Amazon Prime and AWS on a scale of 5 trillion yen, and what is its rapid growth mechanism?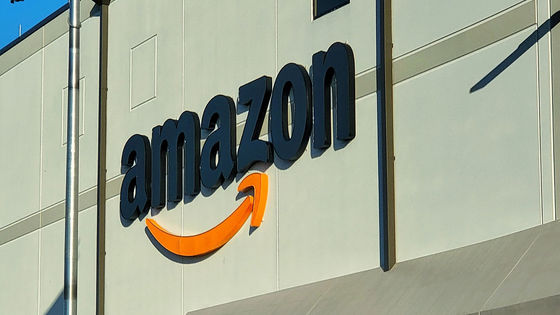 It is reported that Amazon
is making a lot of profit
from its cloud computing service '
Amazon Web Services (AWS)
', and in 2021
, the number of Amazon Prime subscribers will exceed 200 million yen, which
is still rapid. While it has been revealed that it continues to grow, Amazon's advertising business has expanded to nearly $ 40 billion (about 5.5 trillion yen) as a further major source of revenue. Analyst and consultant Benedict Evans analyzes the actual situation and the mechanism by which the advertising business soars.
Retail, search and Amazon's $40bn 'advertising' business — Benedict Evans
https://www.ben-evans.com/benedictevans/2023/3/6/ways-to-think-about-amazon-advertising
I wrote, again, about Amazon's $40bn ads business. It's bigger than Prime, bigger than the entire global newspaper industry and probably more profitable than AWS. But are these really ads, rent, or something else? And what does that mean for Google ? https://t.co/hXVHKsSyGL

— Benedict Evans (@benedictevans) March 6, 2023


Mr. Evans, who works independently as an analyst consultant from a famous American venture capital , takes up business and technology-related themes in his own personal media and conducts information analysis. In 2021, we are focusing on Amazon's advertising business as a 'more profitable hidden revenue source' than AWS, which accounts for 12% of sales announced by Amazon the previous year.

Pointed out that Amazon has a revenue source that exceeds AWS, which is known for its high profitability - GIGAZINE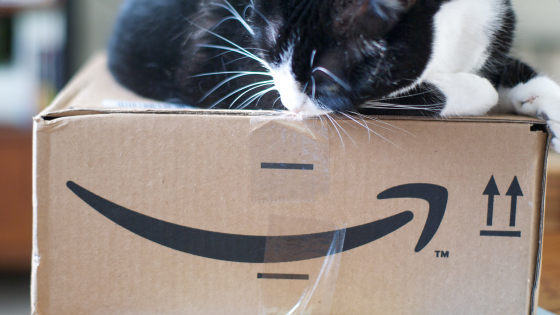 by Jeffrey

Until 2020, Amazon classified its advertising business revenue as ``other'' in its financial results, but Amazon will start splitting its financial results in 2021, and in its 2022 financial results, ``advertising revenue'' will be approximately $38 billion. (approximately 5.2 trillion yen) sales have been reported. Evans said this amount is more than any advertising revenue from any traditional media and more than the entire global newspaper industry.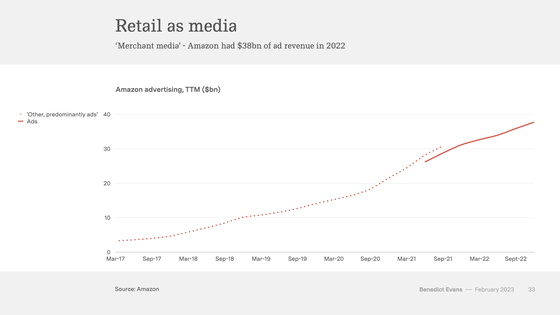 The advertising business is a small percentage of Amazon's 2022 net revenue, about 7%, but as Evans pointed out in the 2021 article, we believe the advertising business has an operating margin of over 50%. It is Also, advertising segment revenue of $38 billion for 2022 is higher than reported Amazon Prime revenue for the same year.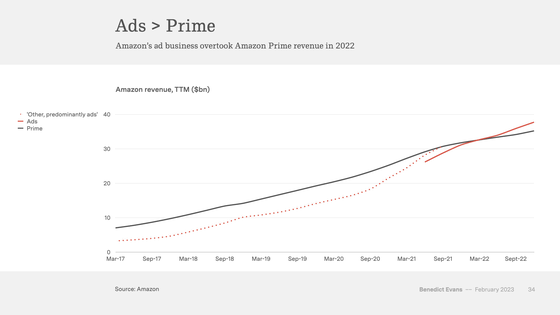 Mr. Evans makes several analyzes of the strengths of the advertising business on Amazon. First of all, even if the site is not mainly for media, websites and apps with many visitors can be used as ad inventory, so it can be applied to the entire Amazon site. In addition, information such as purchaser attributes and shopping trends is considered to have relative value compared to cookies and third-party data that are referenced by general advertisements. In fact, according to overseas media Recode , the products advertised in Amazon search results are very large compared to other products, and it is reported that it is effective.

Amazon's search results turned out to be 'overflowing with advertisements, but actual sales are also large', what is the reason? -GIGAZINE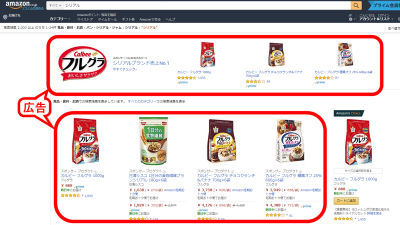 There is a point of view regarding the definition of media advertising such as Google Ads as "advertising or marketing". Whether search advertising is advertising or marketing for retailers placing ads, or whether search advertising is Whether it is payment as 'rent' to display products in the results, etc., determines the choice of the retailer. As a market rather than a media, Amazon can take various approaches, such as changing the profit margins for retailers, making favorable conditions for shipping and return conditions, and marketing such as discounts and price discrimination. Amazon is now the world's largest advertiser, and Evans points out that Amazon is an important choice when considering how to reach consumers.