According to Earon Mask, the number of new registrants on Twitter is 2 million per day, a record high of 66% higher than the previous year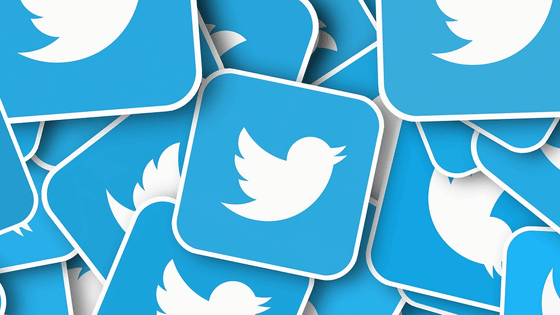 Twitter's Elon Musk CEO has released a slide used at an internal meeting. According to the materials, Twitter has recorded a record high number of new registrants, hate speech has decreased, and spoofing has increased temporarily, but is heading for a decrease.


Slides from my Twitter company talk

pic.twitter.com/8LLXrwylta — Elon Musk (@elonmusk) November 27, 2022


Twitter CEO Musk says user signups at all-time high, touts features of 'everything app' | Reuters
https://www.reuters.com/technology/twitter-ceo-musk-says-user-signups-all-time-high-touts-features-everything-app-2022-11-27/

Twitter new user signups at an 'all-time high,' says Elon Musk
https://www.engadget.com/twitter-user-signups-hit-all-time-high-says-elon-musk-180252792.html

According to the materials presented by Mr. Mask, the number of new Twitter registrants averaged 2 million per day in the week from November 10 to November 16, 2022. This is an all-time high, up 66% year-on-year.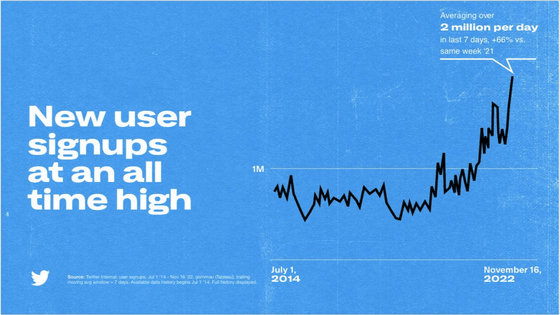 In the image showing the active hours of Twitter users, the number indicating the period of the graph is written as ``January 1, 2020 to November 15, 2020'', but there is a comparison with the 2021 figure. It seems to be a misprint of 'January 1, 2020 to November 15, 2022'. According to this, users are active for 8 billion minutes per day per week, a record high of 30% increase compared to the same period last year.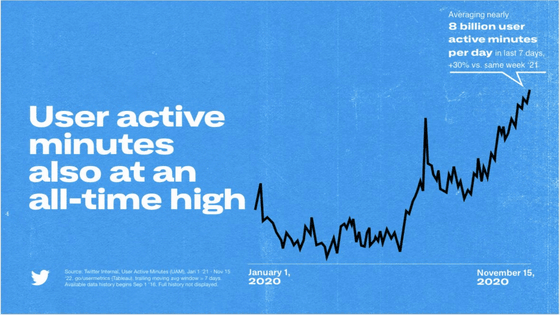 The `` mDAU (monetizable daily active users) '' that leads to revenue increased from 240 million in July 2022 to 253,865,365 in about four months.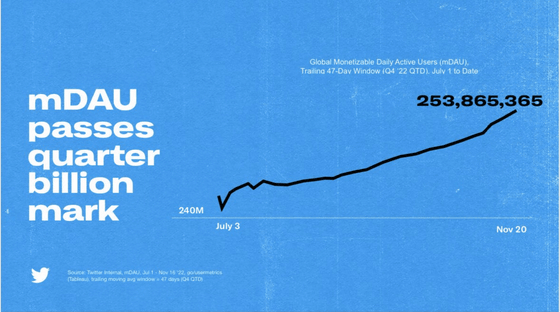 The number of hate speech impressions has also decreased after a brief increase.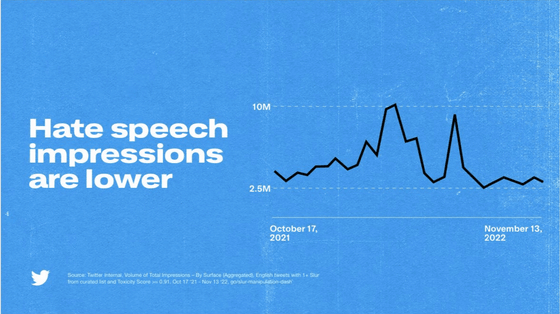 The number of spoofed accounts surged just before the launch of the new Twitter Blue, showed an increase at the launch of Twitter Blue, but has been on a downward trend since then.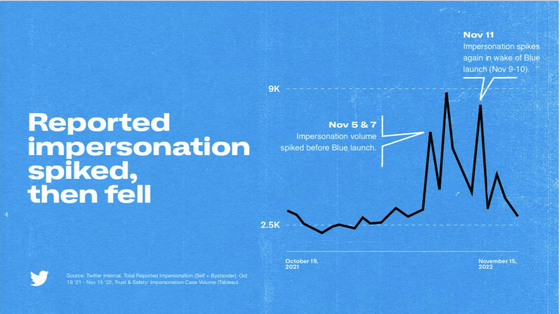 In Twitter 2.0, which Mr. Musk aims to be 'The Everything App', he emphasizes 'Twitter Blue verified badge', 'Blue for Business', 'DM encryption', 'Tips for tweets', ' 'Long post' etc., 'I feel like I've seen a path to over 1 billion monthly users in the next 12 to 18 months,' Musk tweeted.

I think I see a path to Twitter exceeding a billion monthly users in 12 to 18 months

— Elon Musk (@elonmusk) November 27, 2022


The number of monthly active users on Twitter as of 2022 is about 450 million . If all 2 million new registrants per day, which is said to be the 'record pace', are settled, it is expected to exceed 1 billion people in about 40 weeks.