Ads appear in Windows 11 sign-out menu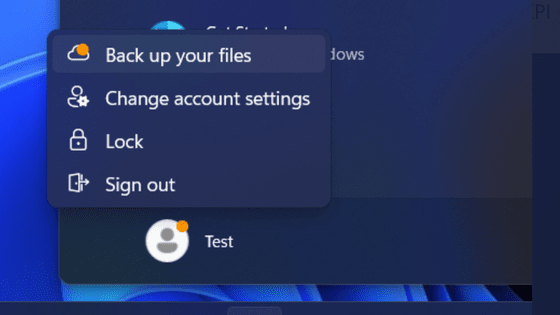 It turned out that ads recommended by Microsoft were displayed in the sign-out menu column of Windows 11.

Microsoft is showing ads in the Windows 11 sign-out menu
https://www.bleepingcomputer.com/news/microsoft/microsoft-is-showing-ads-in-the-windows-11-sign-out-menu/amp/

According to Twitter user Albacore (@thebookisclosed), in Windows 11, the icon for the file sharing service 'OneDrive' is 'Back up' in the sign-out menu column where menus such as 'Change account settings' and 'Sign out' are displayed. It was said that it was displayed with the string 'your files (let's back up the file)'. This is the menu column that appears when you click on your icon (user name) from the Windows 11 start menu, and Mr. Albacore questioned, ``Is it really necessary to pack promotions here?'' .

Do we really need to stuff OneDrive promos in the user session flyout? Anything for that sweet sweet KPI ???? pic.twitter.com/ZsQGmkntDS

— Albacore (@thebookisclosed) November 6, 2022


In addition, it seems that notifications were made to create a Microsoft account and to complete profile settings. A user who responded to this post on Twitter commented , 'Is it violating the antitrust law?'

Turns out OneDrive isn't the only thing that can be advertised here, prompts for creating a Microsoft Account can appear as well ???? pic.twitter.com/ZXjdv44Byn

— Albacore (@thebookisclosed) November 7, 2022


However, when BleepingComputer, an IT media company, tried it, it did not display the above, so BleepingComputer said, ``We are not at the stage of testing for devices running Windows Insider builds or for limited customers. I guess.

This isn't the first time Microsoft has tested advertising on Windows. In March 2022, it was confirmed that ads were displayed in 'Explorer' in the preview version of Windows 11, and in March 2017, ads were displayed in Windows 10 Explorer. It has been pointed out that these were A / B tests to measure the effect of the function, and BleepingComputer pointed out that 'it may be the same test this time.' BleepingComputer asked Microsoft for confirmation, but it seems that a response has not been obtained at the time of writing the article.