'Safari 16.1' compatible with push notifications and passkeys on macOS / iPadOS appeared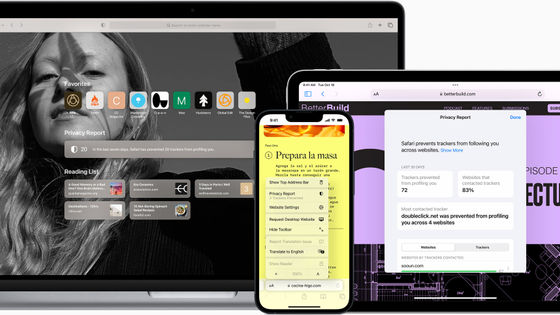 On October 25, 2022, the web browser `` Safari 16.1 '' was released for
macOS Big Sur
,
macOS Monterey
,
macOS Ventura
, and
iPadOS 16
. Webkit, the developer, introduced the changes and added functions from Safari 16.0 released in September of the same year.
WebKit Features in Safari 16.1 | WebKit
https://webkit.org/blog/13399/webkit-features-in-safari-16-1/
◆ Push notification on macOS
Safari 16.1 for macOS Ventura supports 'web push notifications' that display notifications on the browser in Safari. Websites and web applications send notifications remotely using the same standards supported by other browsers: the Push API, Notifications API, and Service Workers, and Safari launches. Notifications can now be delivered even when you are not
Users can opt-in to receiving notifications with a gesture, such as clicking a button. Additionally, you can view and manage your notifications in Notification Center, customize your style in Notification Settings, and even turn off notifications by website. If the developer has already implemented web push, an update to Safari will automatically make it work.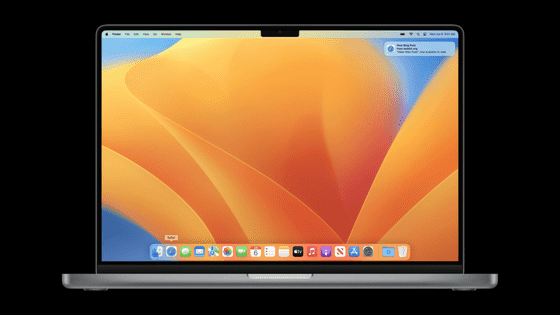 ◆ Animation AVIF
Still images in the image storage format 'AVIF' were already supported in Safari 16.0, but in addition to this, animated AVIF is now supported in Safari 16.1.

◆ Passkey
Safari 16 supports iPadOS 16, macOS Monterey, macOS Big Sur, macOS Ventura, an authentication technology '
passkey
' that can be used more securely than a password by storing a public key on a website or an app and a private key on a device. Now available for all OS.
A new viewport for iPadOS
iPadOS 16 introduces the ``
Stage Manager
'' function that allows you to display various applications in multiple windows, but this will also allow Safari to be displayed in various sizes. With features like this, users can have different experiences when viewing the same page, so Webkit says, ``Responsive web design techniques, including the use of CSS media queries and container queries, are key.'' I am calling to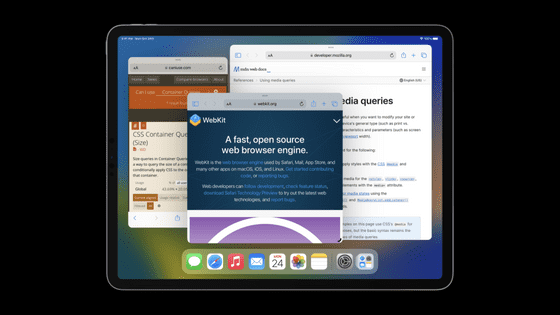 ◆ Hover function using Apple Pencil on iPadOS
The 'hover function' that detects the Apple Pencil even when it is separated from the display is now supported by the M2-equipped iPad Pro, and it seems that Safari 16.1 on the target terminal can also use the hover function with links and animations.

◆Scroll To Text Fragment
When accessing the URL from the search results, the text within the web page that was highlighted in the search results may scroll and be highlighted. In this way, Safari 16.1 supports
Scroll To Text Fragment
, which includes specific text without an ID attribute as part of the URL.
◆ Improved screen capture
On macOS Ventura, added the ability to capture a specific Safari window using 'getDisplayMedia().' When getDisplayMedia is called in response to a user action, it prompts the user to share a specific window of the application, such as their screen or a Safari window.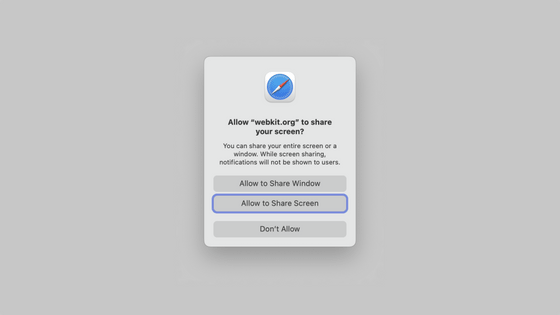 ◆Others
Safari 16.1 adds several tools for developers, including support for Web-to-App Store ads with privacy-preserving tracking SKAdNetwork, as well as bug fixes and enhancements. I'm here.