Apple Music raises price, personal plan to 1080 yen per month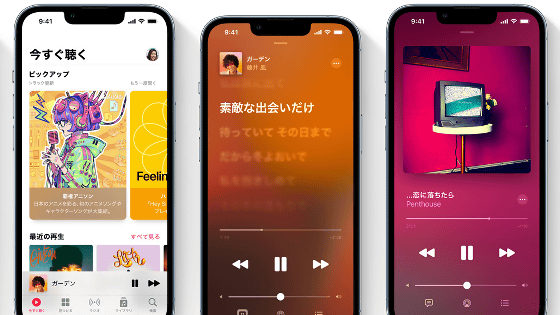 The price of Apple's music streaming service 'Apple Music' has been raised to 1080 yen per month for individual plans and 1680 yen per month for family plans. In addition, the price of the movie streaming service 'Apple TV +' and 'Apple One', which bundles Apple's services, has also been raised.

Apple Music - Apple (Japan)

https://www.apple.com/jp/apple-music/
Apple Music, Apple TV+ and Apple One prices increasing from today
https://9to5mac.com/2022/10/24/apple-music-tv-prices-going-up/
Below is the monthly price list for 'Apple Music' posted on Apple's official website as of October 25, 2022. The individual plan has increased from the previous 980 yen to 1080 yen, and the family plan has also increased from the previous 1480 yen to 1680 yen.



Also, the monthly fee for the movie streaming service 'Apple TV +' has increased from 600 yen to 900 yen.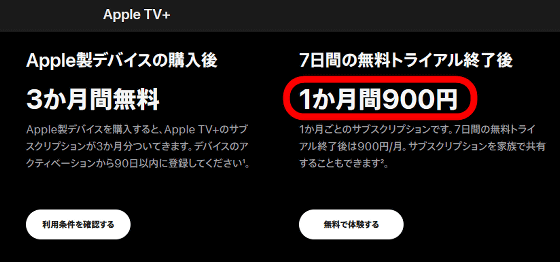 In addition, the monthly fee for 'Apple One', which allows you to subscribe to Apple services such as 'Apple Music' and 'Apple TV +' at once, has been raised from 1100 yen to 1200 yen for the individual plan and from 1850 yen to 1980 yen for the family plan. it was done.



According to overseas media 9to5Mac, price increases for 'Apple Music', 'Apple TV +' and 'Apple One' are also being implemented in the United States. An Apple spokesperson told 9to5Mac, ``Apple Music price revisions are due to increased licensing costs. Apple Music price revisions will allow artists to earn more than before.'' ``Apple TV + started out at a very low price due to the small number of titles available.After three years, Apple TV+ is home to award-winning series created by the most creative authors. , We have a selection that includes feature films, documentaries, and children's entertainment, "explaining the reason for the price increase.