Samsung announces explosive SSD '990 PRO', maximum reading speed is amazing 7450 MB / s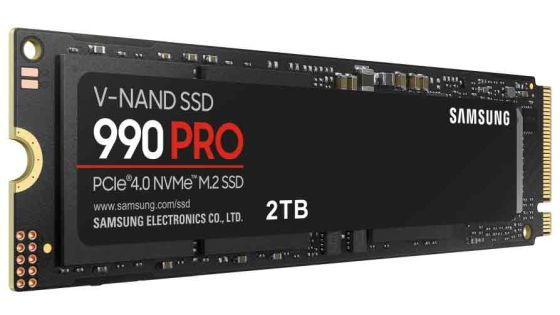 Samsung announced the SSD ' 990 PRO ' compatible with the high-speed communication standard PCIe 4.0. The maximum read speed of the ``990 PRO'' is 7450MB/s, and it is claimed that random performance has improved by 55% compared to the ``
980 PRO
'' that appeared in 2020.
Samsung Electronics Unveils High-Performance 990 PRO SSD Optimized for Gaming and Creative Applications – Samsung Global Newsroom
https://news.samsung.com/global/samsung-electronics-unveils-high-performance-990-pro-ssd-optimized-for-gaming-and-creative-applications
The appearance of '990 PRO' released by Samsung is as follows. The form factor is M.2 (2280), and a model '990 PRO with Heatsink' with a heat sink is also available.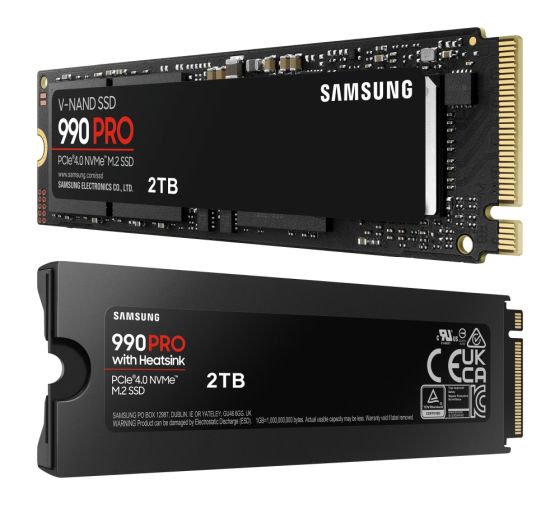 The only difference between '990 PRO' and '990 PRO with Heatsink' is the presence or absence of a heat sink. Three types of capacity are available, 1TB, 2TB, and 4TB, with a maximum read speed of 7450MB/s and a maximum write speed of 6900MB/s. Other detailed specifications are as follows.

capacity
1TB
2TB
4TB
DRAM capacity
1GB (LPDDR4)
2GB (LPDDR4)
3GB (LPDDR4)
total write capacity
600TB
1200TB
2400TB
interface
PCIe Gen 4.0 x4, NVMe 2.0
form factor
M.2 (2280)
flash memory
Samsung V-NAND 3-bit TLC
controller
Samsung in-house controller
Sequential read
Up to 7450MB/s
Sequential write
Up to 6900MB/s
random read
Up to 1.4 million IOPS
random write
Up to 1.55 million IOPS
According to Samsung, '990 PRO' is being developed for areas that require high-speed storage such as gaming, 3D rendering, and movie editing. Also, as a result of verifying the map loading time of the action game '
FORSPOKEN
' scheduled to be released in January 2023, it took 28 seconds for the HDD and 4 seconds for the SATA connected SSD, while the '990 PRO' took about 4 seconds to load. Samsung appeals that it was 1 second.
The 1TB and 2TB versions of the '990 PRO' are scheduled to be released worldwide in October 2022, and the 4TB version is scheduled to appear in 2023. The suggested retail price is $ 179 (about 24,500 yen) for the 1 TB version and $ 309 (42,300 yen) for the 2 TB version. In addition, you can set up to receive the latest information notification of '990 PRO' at the following link.
990 PRO SSD Sign Up
https://www.samsung.com/us/computing/memory-storage/990-pro/signup/