Elon Musk's acquisition of Twitter earns up to 17,000 followers for conservative accounts, while liberal accounts lose up to 6,000 followers


Influential accounts two days after Twitter announced that it had agreed to buy businessman Elon Musk, based on data compiled by IT news site The Verge from social media statistics site
Social Blade
. Among them, conservative users found that their followers increased 10 times faster than before. On the other hand, liberal users have lost hundreds of thousands of followers in total.
Conservative Twitter accounts got boost in followers after Musk acquisition, data shows --The Verge
https://www.theverge.com/2022/4/27/23045005/conservative-twitter-follower-boost-musk-acquisition-data
The Verge picked up 50 conservative and 50 liberal accounts with more than 100,000 followers, and used Social Blade data to get 30 days of followers for each account. Then, we calculated the average change rate of followers for conservatives and liberals, respectively.
Below is a graph showing the changes in the average rate of change of followers. The vertical axis is the rate of change (in 0.002% increments), and the horizontal axis is the month and day. It can be seen that the rate of change in the number of followers of the conservatives (red) has risen sharply since April 25, when the Twitter acquisition agreement was reported. On the other hand, liberal (blue) is depressed.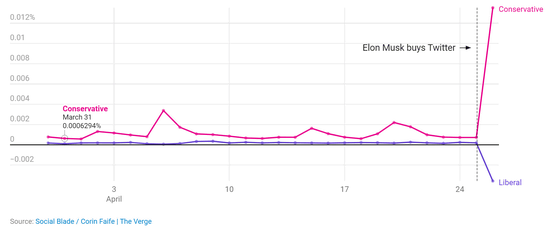 According to The Verge, only two of the 50 conservatives have lost followers since April 25, and the remaining 48 have all increased followers on the 25th and 26th, up to 10,000. The number of people increased by 7229. On the other hand, all 50 liberals lost their followers on both the 25th and 26th, and it seems that the number has decreased by 6062 at the maximum. It's just a follow-follower relationship, so it doesn't reflect the user's ideas, but overall, it seems that the conservative cluster is slightly larger than before the acquisition report.

In the first place, it is said that Twitter before the acquisition by Mr. Musk was ideologically biased toward liberalism. In October 2020, Twitter took steps to ban sharing links to articles in the New York Post that reported the scandal of President Biden's son Hunter Biden.

Facebook and Twitter are blocking the spread of articles reporting allegations of presidential candidate Joe Biden-GIGAZINE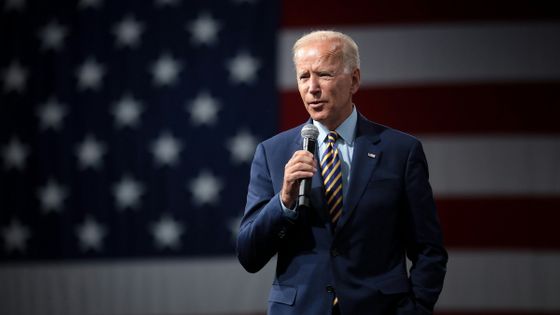 by Gage Skidmore

Regarding this measure, the next day, CEO Jack Dorsey (at that time) said, 'The article link was blocked by mistake,' and unblocked the link. According to political media Politico , the series of measures was directed by Twitter's head of legal affairs, Vijaya Gadde. Mr. Gadde is considered a 'moral authority' within Twitter, and is said to have instructed him to ban political advertising and attach warning labels to offensive tweets.

In addition, according to Politico , Mr. Gadde shouted out during the meeting, 'I can't do Twitter with Elon Musk!' When the conservative podcast operator tweeted about the article, Musk commented, 'It was clearly inappropriate to suspend the Twitter account of the major press that posted the true article.' However, Mr. Musk hides the name of the specific news agency and the title of the article.

Suspending the Twitter account of a major news organization for publishing a truthful story was obviously incredibly inappropriate

— Elon Musk (@elonmusk) April 26, 2022


Mr. Musk also tweeted an image criticizing that 'the bias of Mr. Gadde's political thought is reflected in the operation of Twitter.'

April 27, 2022