Meta's first-quarter revenue increased 7% year-on-year to $ 27.9 billion, with higher-than-expected earnings per share and rising Facebook daily active users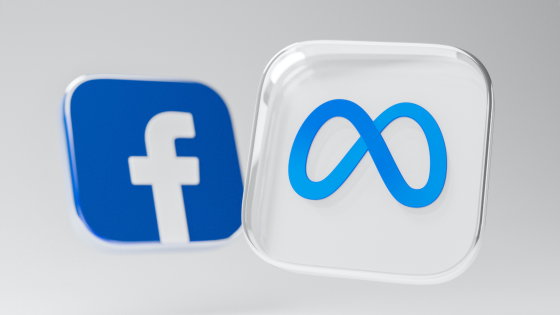 On April 27, 2022 local time, Facebook operator Meta announced its financial results for the first quarter of 2022. Total revenue was about $ 27,908 million, which was lower than analysts' expectations, but adjusted earnings per share was $ 2.72, which was higher than expected and daily . It is reported that the number of active users also started to increase from the previous quarter.

Meta --Meta Reports First Quarter 2022 Results
https://investor.fb.com/investor-news/press-release-details/2022/Meta-Reports-First-Quarter-2022-Results/default.aspx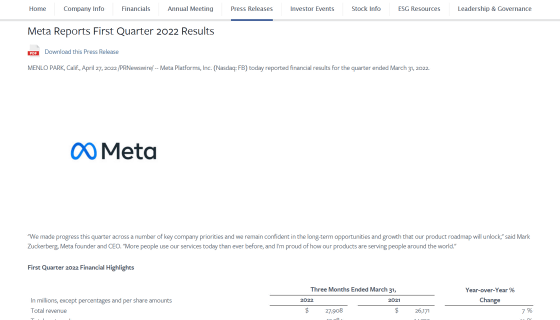 Facebook parent Meta misses earnings expectations but adds users
https://finance.yahoo.com/news/meta-q1-earnings-2022-193851791.html

Meta says Reels now makes up over 20% of the time users spend on Instagram | TechCrunch
https://techcrunch.com/2022/04/27/meta-says-reels-now-makes-up-over-20-of-the-time-users-spend-on-instagram/

Meta Platforms''Metaverse' Division Loses $ 3B in 1Q
https://www.coindesk.com/business/2022/04/27/meta-reports-loss-of-3b-on-augmentedvirtual-reality-operations-in-q1/

Meta's total revenue for the first quarter of 2022 was $ 27,908 million, up 7% from $ 26,171 million in the year-ago quarter, but analysts forecast 28,240 million. It was below 10,000 dollars (about 3,640 billion yen). Net income was $ 7,465 million, down 21% from $ 9,497 million in the year-ago quarter, but adjusted earnings per share was 2.72. The dollar exceeded the $ 2.56 expected by analysts.

In the fourth quarter of 2021, it was reported that the number of daily active users of Facebook, which has been increasing since its establishment, started to decrease for the first time , and Meta's stock price plummeted by 41% in the past three months. Was there. However, in this earnings announcement, it is reported that the number of daily active users of Facebook increased by 4% from the same period of the previous year to 196 million.

Meta CFO David Wehner predicts total revenues in the fourth quarter of 2022 will be in the range of $ 28 billion to $ 30 billion. rice field. This outlook seems to reflect the weak trend in the second half of the first quarter due to the war between Russia and Ukraine.

Focusing on the Metaverse field, which Meta has been focusing on in recent years, Facebook Reality Labs in the Augmented Reality (AR) and Virtual Reality (VR) research division of Facebook announced $ 695 million in the first quarter of 2022. It made a profit of (yen) and posted a loss of 2.96 billion dollars (about 380 billion yen). In 2021, Facebook Reality Labs had revenue of 2.3 billion dollars (about 296 billion yen) and a loss of 10.2 billion dollars (about 1.31 trillion yen) .

Mark Zuckerberg, founder and CEO of Meta, claims that the company's Metaverse division is on a long-term growth timeline and is 'laying the groundwork for success in the 2030s.' In addition, it announced that the web version of the Metaverse platform 'Horizon Worlds' will be released within 2022. In addition, Meta has already started a monetization program in 'Horizon Worlds', but there are criticisms that the fee of '47.5%' in this program is 'too expensive'.

It is talked about that the fee '47.5%' of Metaverse monetization program is too high --GIGAZINE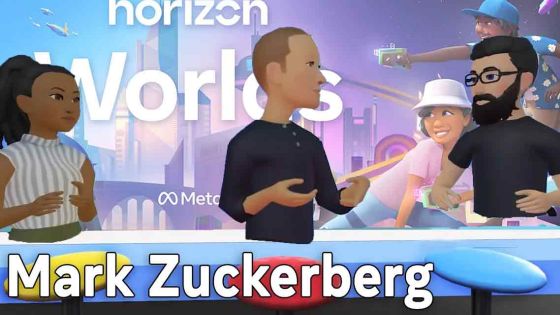 In addition, at the press conference, it was announced that TikTok's rival Instagram's short movie function ' Reels ' accounts for more than 20% of the time people spend on Instagram. It is also reported that more than 50% of the time users spend on Facebook is spent watching videos, and it seems that videos are very effective content on the platform. In addition, Reels was originally released as a function dedicated to Instagram, but from February 2022 it will be available not only on Instagram but also on Facebook .

Reels wasn't monetized at the time of writing, but Zuckerberg claims he's 'very optimistic' about future Reels monetization. In addition, Meta is also focusing on recommendations using AI for content including Reels.

"We have made progress in some of Meta's key priorities this quarter and remain confident about the long-term opportunities and growth that our product roadmap will bring. Today, our services are It's been used by more people than ever before, and we're proud that our products are helping people. '

Meta's share price rose 19% in after -hours trading on April 27, following the announcement of financial results that exceeded analysts' expectations in some respects.


in Note, Posted by log1h_ik