Digital Services Bill Passes European Parliament, Includes Underage Data Ban on Targeted Advertising and Dark Pattern Restrictions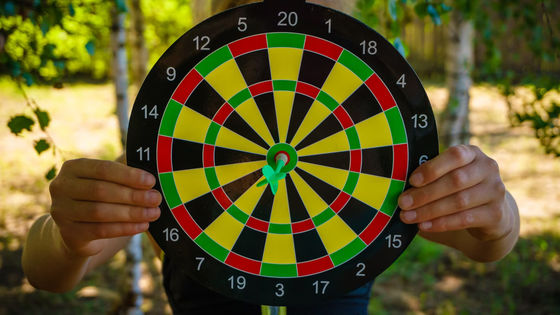 The European Parliament's proposed
'Digital Services Act (DSA)' with 530 votes in favor, 78 votes against and 80 abstentions, aimed at making safe products and online services available to the general public Passed the European Parliament. The DSA will come into effect if approved by the EU Presidency of the Council, France.
Digital Services Act: regulating platforms for a safer online space for users | News | European Parliament
https://www.europarl.europa.eu/news/en/press-room/20220114IPR21017/digital-services-act-regulating-platforms-for-a-safer-online-space-for-users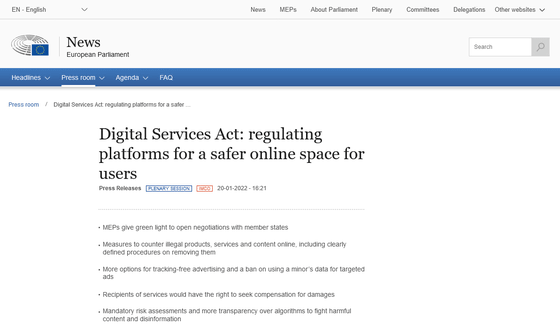 MEPs adopt Digital Services Act with significant last-minute changes – EURACTIV.com
https://www.euractiv.com/section/digital/news/meps-adopt-digital-services-act-with-significant-last-minute-changes/

European Parliament pushes to ban targeted ads based on health, religion or sexual orientation – POLITICO
https://www.politico.eu/article/european-parliament-bans-use-of-sensitive-personal-data-for-targeted-ads/

DSA is a bill that seeks to establish rules to protect the interests of consumers and the general public by 'eliminating illegal content and preventing the spread of disinformation' and 'prohibiting targeted advertising'.

For example, hosting service providers are required to act when notified, 'without undue delay, taking into account the type of illegal content notified and the urgency of countermeasures.'

In addition, since super-large platforms are particularly risky due to the spread of illegal and harmful content, by including provisions regarding mandatory risk assessment, risk mitigation, independent auditing, and transparency of 'recommendation system', harmful content and hoaxes It is stipulated to support the response to the spread.

However, Parliament has made some changes to the proposal from the European Commission. For example, micro-enterprise and small businesses are not covered by the DSA obligations. In addition, 'Prohibition of targeted advertising' has a condition of 'Prohibition of including data of minors'. It was a compromise because there were many dissenting opinions.

The bill may come into effect in 2023 if France, the chairman of the EU Council, gives a go-ahead. However, France is reluctant to regulate this kind.


in Note, Posted by logc_nt