'Hand massager for gamers' is born from Japan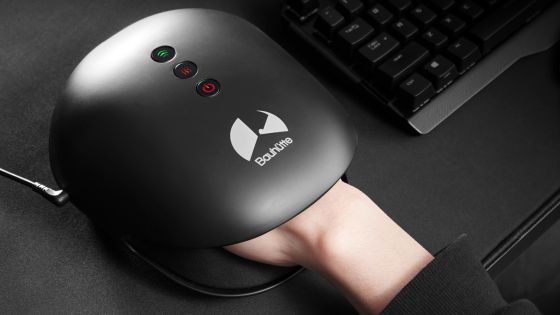 When playing a game, you may overuse your fingers by operating the controller, mouse, keyboard, etc., and your performance may drop due to tiredness and tension of your hands. Meanwhile, a hand massager optimized for gamers who tend to overuse their fingers has
appeared from Bauhütte
, a gaming furniture brand from Japan, and has become a hot topic.
Hand Massager MSG-01H | Bauhütte®
https://www.bauhutte.jp/product/msg01h/
Japan Is Releasing A Desktop Hand Massager Device For Gamers
https://kotaku.com/behold-a-japanese-hand-massaging-device-for-gamers-1848285815
The hand massager for gamers that has become a hot topic is the '
Hand Massager MSG-01H
' released by Bauhütte on December 22, 2021. When you check the product introduction page of 'Hand Massager MSG-01H', 'Let's challenge the game with perfect care for the elaborate fingers in the game!' 'Incorporating a new habit to heal the tired hands accumulated in the game, There is a lot of text that shows that it is a product for gamers, such as 'Let's keep the perfect condition where you can maximize your power at any time.' On the introduction page, there is also a picture of 'Hand Massager MSG-01H' placed on the table with gamer-like goods such as energy drinks and gaming mice.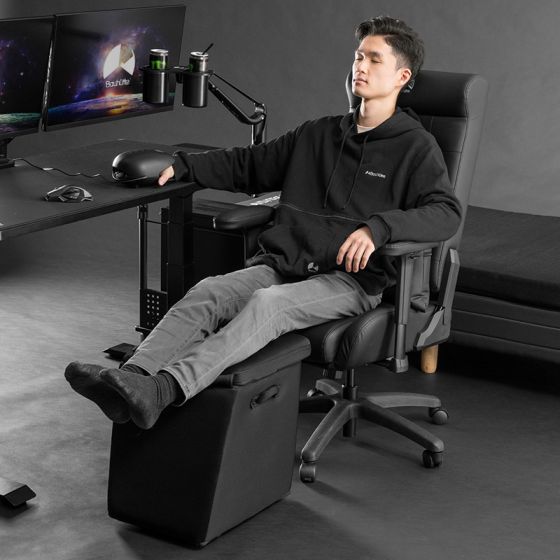 According to the product introduction page, 'Hand Massager MSG-01H' is equipped with '15-layer airbag that wraps each finger', and there are two types of courses, 'whole course' and 'fingertip course'. It will heal the hands of gamers. Kotaku, an overseas media outlet, said about 'Hand Massager MSG-01H': 'People have been playing games for years without using a hand massager, but it has been a disadvantage. It can be said that it has suffered a disadvantage. I think it's a great idea not only for gamers but also for those who use computers for a long time. '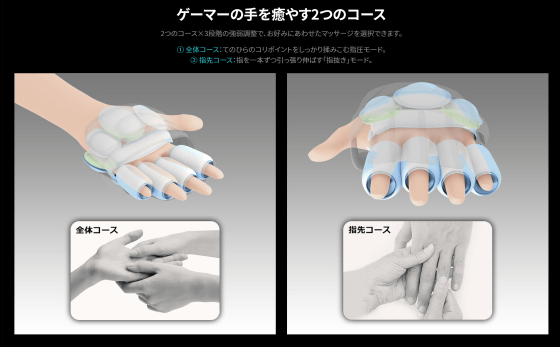 At the time of writing the article, 'Hand Massager MSG-01H' is sold at Amazon.co.jp for 15,000 yen including tax.

Amazon.co.jp: Bauhutte Hand Massager MSG-01H-BK [Tabletop Hand Massager to Relieve Game Tiredness]: Home & Kitchen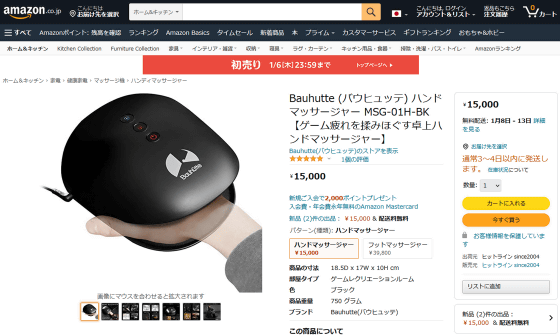 It should be noted, Bauhütte is in addition to gamers hand massager has been widely deployed gaming-related products, such as gaming chairs and gaming desk, in 2020 ' Desk ', ' up-and-down head board ', ' headphone hanger is a combination of' ' 'Gaming bed' was a big topic.

Japanese maker's 'gaming bed' is 'strongest' 'If you die, this is the best' and talked about overseas --GIGAZINE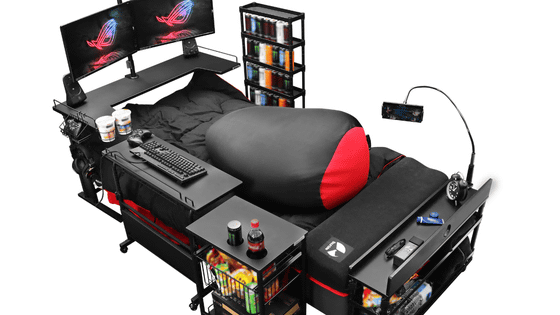 In addition, on December 21, 2021, the day before the release of 'Hand Massager MSG-01H', a foot massager 'Foot Massager MSG-02F ' also appeared, and at the time of article creation, tax included at Amazon.co.jp. You can get it for 39,800 yen.

Amazon.co.jp: Bauhutte Foot Massager MSG-02F-BK [Ottoman type massager It is possible to build a 'perfect' desk for corrupt gamers]: Home & Kitchen
in Game, Posted by log1o_hf