YouTube's 'trial broadcast' is censored, or broadcasts other than major news organizations are suspended


Closing arguments were held on November 15, 2021, local time, for Kyle Rittenhouse, who was accused of murdering three demonstrators protesting police violence by firing and killing them. Since the trial involving Defendant Rittenhouse attracted a lot of attention in the United States, closing arguments were broadcast live on YouTube not only by major news organizations but also by relatively small media and individual distributors, but other than major news organizations. Livestreaming has become a hot topic as it has been suspended from distribution.

Deus Flex Machina-flexyoursuccess.com uses Twitter 'BREAKING: All independent streams of the Kyle Rittenhouse Trial are being taken down by Youtube over' Policy Violations '@CBSNews' stream is still running however. .co / UhNwrLZbCU '/ Twitter
https://twitter.com/ReturnOfTheFleX/status/1460295030187438088

Became the beginning of things, that it is black men that have occurred in the United States of Wisconsin Kenosha on August 23, 2020 Jacob break was shot seven times at close range from behind to two people police officer incident is .. Jacob and the felony of tertiary sexual assault, in the misdemeanor of trespassing and disorderly (Handbook) The act had been prosecuted , but received it and the shooting was trying to arbitration the incident fight of the time two women It attracted a lot of attention that the video of the time was left.

Shooting of Jacob Blake sparks protests in Wisconsin --YouTube


At that time, Black Lives Matter (BLM), which originated from the death of George Floyd in May of the same year, was also a new time in memory, and the shooting incident on Jacob Break also started a demonstration in the form of being involved in BLM. A protest movement was developed.

The Kyle Rittenhouse incident was associated with this protest. On August 25, 2020, Rittenhouse took out a semi-automatic rifle and shot and killed two men in response to the aforementioned Jacob Break-related protest. Injured one person. Please note that the footage at the time of the incident is below, including the shooting scene.


(Warning, Graphic / Violent)
A crowd chases a suspected shooter down in Kenosha. He trips and falls, then turns with the gun and fires several times. Shots can be heard fired elsewhere as well, corroborating reports of multiple shooters tonight #Kenosha #KenoshaRiots pic.twitter.com/ qqsYWmngFW

— Brendan Gutenschwager (@BGOnTheScene) August 26, 2020


The trial on this case has received a lot of attention in the United States, and major American media reports from various companies. In the United States, the development that 'the defendant who was accused of murder stands on the testimony stand', which is said to be high risk, has also attracted attention, and the news is overheating toward the conclusion.

Trial of three U.S. protesters killed and injured, teenage defendant claims invalid trial-BBC News
https://www.bbc.com/japanese/59244549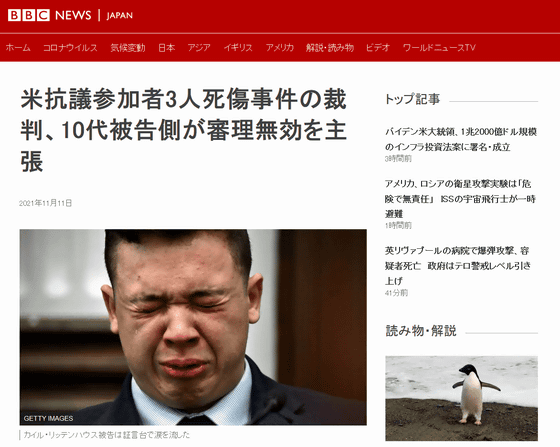 Then, on November 15, 2021, not only major media but also small media and individual distributors delivered live trials on YouTube at the closing argument of the Defendant Rittenhouse. However, according to political analyst ReturnOfTheFleX , live distribution except CBS has been suspended as a 'policy violation'.

BREAKING: All independent streams of the Kyle Rittenhouse Trial are being taken down by Youtube over 'Policy Violations' @CBSNews ' stream is still running however. Pic.twitter.com/UhNwrLZbCU

— Deus Flex Machina- flexyoursuccess.com (@ReturnOfTheFleX) November 15, 2021


It seems that this suspension of distribution was resolved just before the closing argument, but about why the live distribution of the major CBS was not suspended and the details of the reason for the disposition of violating the policy given to other distributions. Is unknown. Other Twitter users are saying, 'The left wing is repeatedly reporting as a copyright violation' and 'What is a copyright violation even though it is a public trial?'

Streams are back up just in time for the closing arguments. We won't forget this though @YouTube @TeamYouTube

— Deus Flex Machina- flexyoursuccess.com (@ReturnOfTheFleX) November 15, 2021