Google has confirmed a sanction of over 300 billion yen, lost in a trial on market monopoly in the EU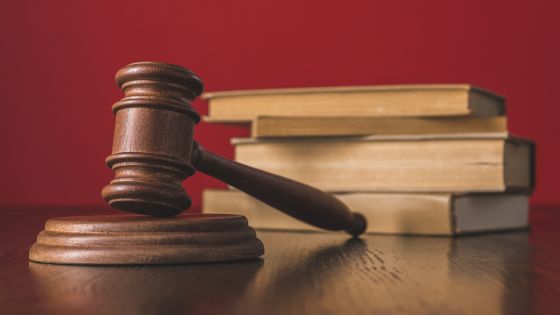 In recent years, Google has faced antitrust proceedings in several countries, including the
United States
and
France.
Meanwhile, in 2017, the EU's first instance court
ruled that the European Commission would impose a fine of € 2.42 billion (about 317 billion yen) on Google for violating antitrust laws. Has been given.
The General Court upholds the fine of € 2.42 billion imposed on Google
(PDF file) https://curia.europa.eu/jcms/upload/docs/application/pdf/2021-11/cp210197en.pdf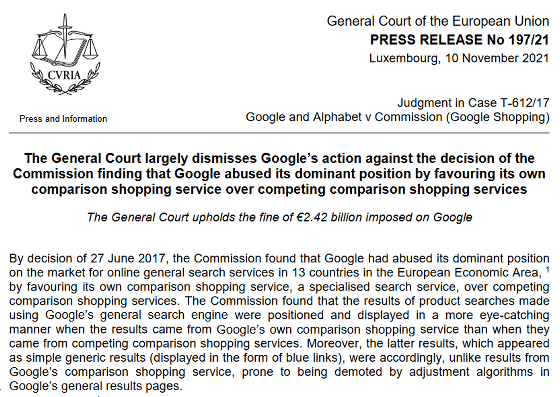 Google loses battle with EU as court upholds 2017 order
https://www.cnbc.com/2021/11/10/google-loses-battle-with-eu-as-court-upholds-2017-order.html
Google provides the product search service '
Google Shopping
', but at the time of 2017, the search results of Google Shopping were displayed at the top of the normal Google search results, and other shopping sites are at the bottom of the search result list. It was displayed. Regarding this Google function, the European Commission said, 'Google, which boasts an overwhelming share of search services, is not allowed to aggressively infringe competitors,' and fined Google 2.42 billion euros. I was imposing.
Google will be fined about 300 billion yen for violating EU competition law (antitrust law) --GIGAZINE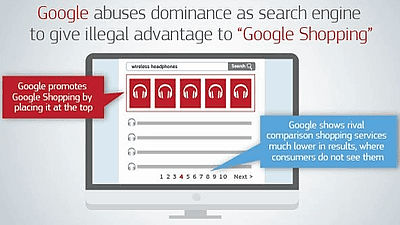 Google has filed a complaint with the EU's court of first instance against the European Commission's sanctions. Then, on November 10, 2021, the Court of First Instance ruled that the proceedings would be sanctioned by the European Commission. In a statement from the Court of First Instance, 'Google prioritized and favored its shopping services on the search results page, while algorithmically downgrading the search results of competing services, which caused Google to compete. We judge that it was out of state, 'he said, pointing out that Google was creating an exclusive state with a search algorithm. The statement also states at the beginning of the statement, 'The Court of First Instance supports a € 2.42 billion sanction against Google.'




Regarding the ruling, an EU spokeswoman said, 'This ruling provides the market with a legally clear message that Google's actions are illegal.' 'The EU is for businesses and users to go to digital services. We will continue to take every step to address the role of the large digital platforms we rely on to access. '

Meanwhile, a Google spokeswoman said, 'Product ads have always helped users find the product they're looking for quickly and easily, helping sellers reach potential customers.' We made changes in 2017 to comply with the European Commission's decision. ' Also, according to CNBC, Google may appeal to the
European Court of Justice, the equivalent of the Supreme Court.
The European Commission began investigating in June 2021 that Google's online ad distribution technology could violate antitrust laws. In addition, Google is facing antitrust law proceedings all over the world such as the
United States
and
China, and attention is being paid to future trends.
European Commission investigates new system under development by Google for antitrust violations-GIGAZINE

By Thomas Hawk