Google will be subject to approximately 300 billion yen penalty for breach of EU competition law (antitrust law)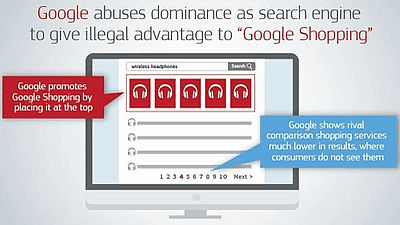 Google, the largest search service provider, unduly uses that position as a shopping service "Google Shopping", the EU European Commission violated the European Union Competition Law, which amounted to 2,422 million euros (about 307 billion yen) Announced that it will impose penalties. In 2009, Intel has also been charged 1 billion dollars (approximately 90 billion yen at that rate) as a violation fine, but this time it is the highest amount ever. Google is considering an appeal.

European Commission - PRESS RELEASES - Press release - Antitrust: Commission fines Google € 2.42 billion for abusing dominance as search engine by giving illegal advantage to own comparison comparison shopping service
http://europa.eu/rapid/press-release_IP-17-1784_en.htm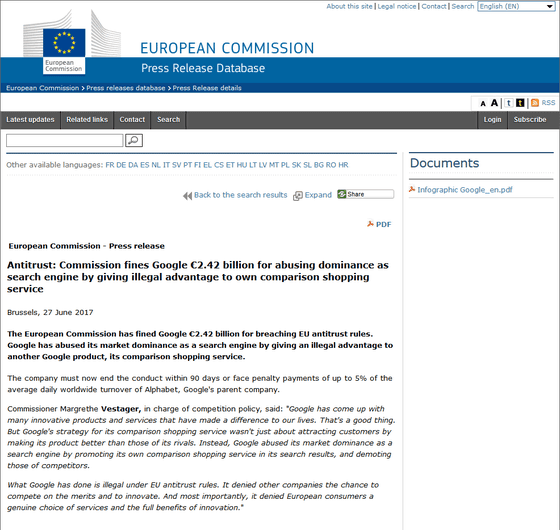 EU violated EU Competition Law on Google for over 300 billion yen penalty fee | NHK News
http://www3.nhk.or.jp/news/html/20170627/k10011032411000.html

The European Commission points out the story of the "comparison shopping" market. "Comparison shopping" is a service that allows you to purchase products by comparing and examining the selling price at multiple stores, and in 2004 the Google launched service in Europe. Originally I used the name "Frooogle", renamed to "Google Product Search" in 2008, after "Google ShoppingIt is named after.

According to Google, the ranking of search results displayed on Google Shopping is determined based on relevance and bid price, like advertisements displayed in other Google services.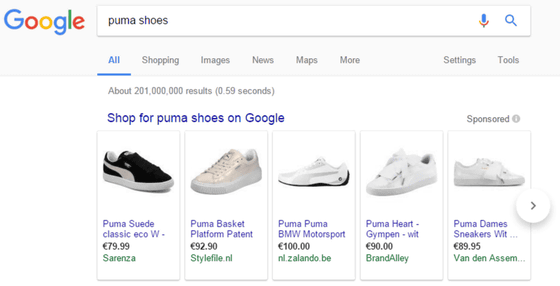 The European Commission pointed out that the search result of Google Shopping is displayed in the upper part, while the competitor's search results are turned backward, "Google that boasts overwhelming share in the search service is a competitor It is not permissible to actively infringe. "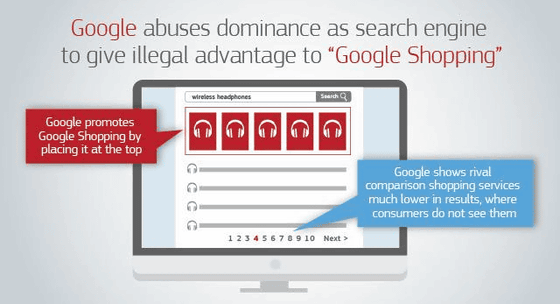 According to the European Commission, there is a material that Google realized that the achievement was not so good in the Froogle era. The comparison shopping service points out that the algorithm has been changed so that the traffic volume is directly linked to the competitiveness so that users are guided to Google Shopping preferentially to promote the service.

The amount of penalty imposed was calculated from the revenues Google obtained from this measure in 13 European Economic Areas (EEA) countries. In addition, if you do not stop illegal actions in compliance with the decision within 90 days, there is a possibility that payment of a violation fee may occur with an upper limit of 5% of the global average sales of parent company Alphabet.

Meanwhile, Google frequently advertises other stores to counter strong rivals such as Amazon and eBay in online shopping, and Google Shopping also has items of companies that advertised on an extension of the usual algorithm Just leaving, there are no other reasons, the user's feedback is also reflected in the search results. Therefore, I can not agree with the decision of the European Commission this time, and I am clarifying that I am planning an appeal.

The European Commission decision on online shopping: the other side of the story
https://www.blog.google/topics/google-europe/european-commission-decision-shopping-google-story/