Windows XP, which celebrated its 20th anniversary since its release, is still being used quietly.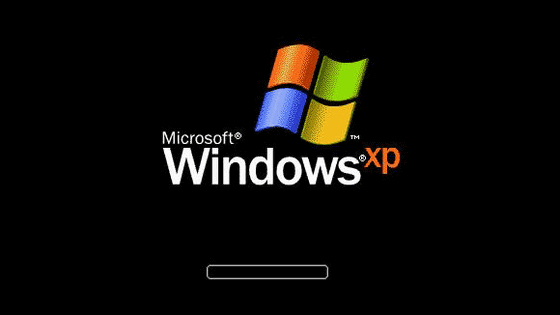 by
John C Bullas BSc MSc PhD MCIHT MIAT
Windows XP
, which has gained tremendous support from users due to its stable operation and low PC specifications, and the originally planned end of support has been extended for 5 years, has been released on October 25, 2021 for just 20 years. We welcomed.
It's Windows XP's 20th birthday and way too many still use it
https://www.bleepingcomputer.com/news/microsoft/its-windows-xps-20th-birthday-and-way-too-many-still-use-it/
Windows XP is a Windows NT-
based operating system released to the general public on October 25, 2001. With features such as 'themes' that can completely change the GUI design, user switching, backward compatibility with Windows 9x, and IPv6 support, Windows XP has undergone major updates with service packs for many homes and businesses. It was used for PCs for Windows, business computers, etc.
Originally,
support was scheduled to end in 2009 when Windows 7
was released, but Microsoft 'considered user requests and market conditions' and then Windows XP Home Edition and Media Center Edition. Support has been extended by April 2014, the same as the planned end of support for Professional.
Extended support period for Windows (R) XP Home Edition until April 2014
https://web.archive.org/web/20080213080033/http://www.microsoft.com/japan/presspass/detail.aspx?newsid=2947
And on April 9, 2014, support for Windows XP will end as planned. However, it is reported that the share of Windows XP accounted for nearly 30% even just before the end of support.
It turns out that the share of Windows XP, which has only one week left until the end of support, is still high --GIGAZINE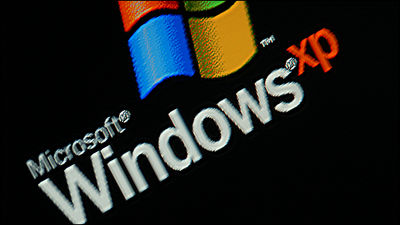 By
Timothy Tsui
Below is a graph showing the global market share of Windows versions (desktop PCs) by Windows version (desktop PC) from April 2014 to September 2021 by market research company
Statcounter.
The share of Windows XP was about 20% in April 2014 when support for Windows XP ended, and as Windows 8.1 and Windows 10 increased their share, it slowly declined, and as of September 2021, the share of Windows XP was. It is 0.58%.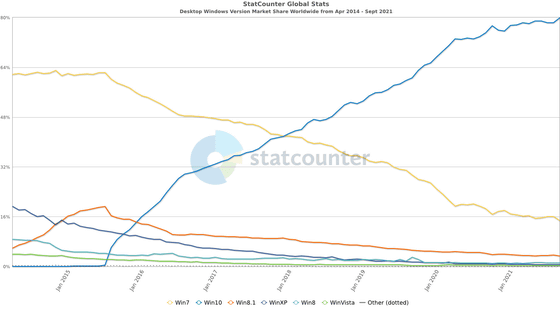 However, the change in market share by Windows version differs depending on the country. For example
, Windows XP has the largest share in Armenia
, with 53.5% higher than Windows 10 as of September 2021.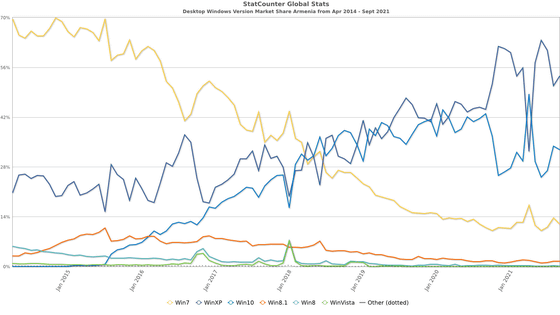 In Japan, the share of Windows XP as of April 2014 was 8%, which is considerably lower than the world average at that time. As of September 2021, the share of Windows XP is 0.19%, and it can be seen that more than 80% of desktop PCs have completed the migration to Windows 10.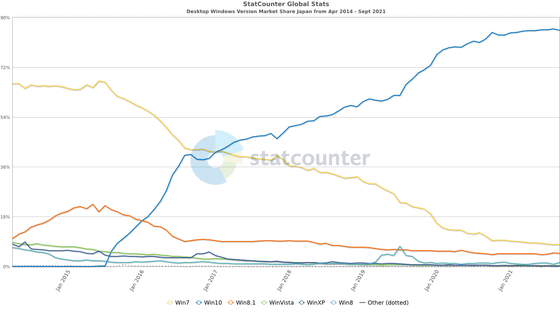 As for why nearly 0.6% of desktop PCs in the world still have Windows XP, PC-related news site Bleeping Computer said, 'The most common system that still uses Windows XP is the crawling update speed. It is a system of public institutions known for hesitating to use new technology. ' `` Approving license purchases for new systems, regularly upgrading hardware, and training all staff'' is complicated and too costly, so it is often left as Windows XP. ..

Others say, 'I haven't had a reason to replace it because it works well on Windows XP on my old PC.' 'Most of these people don't even consider choosing to move to Linux for added security, because Windows XP has been familiar to them for many years,' said Bleeping Computer.