New internal investigation results show that Facebook is in a critical situation due to aging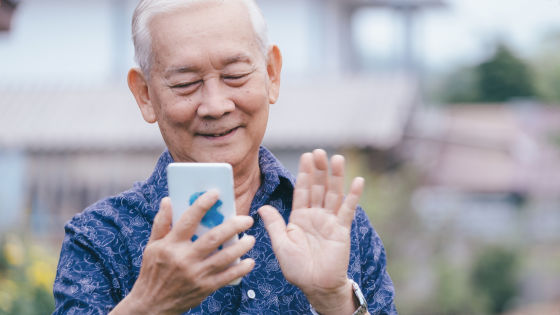 In September 2021, the Wall Street Journal revealed
that Facebook was aware of the findings that 'Facebook is harmful to teenage boys and girls' but kept it private, and it attracted a lot of attention. rice field. The news was later revealed to be sourced from accusations and internal sources by former Facebook employee Frances Haugen, but a new study shows that Facebook is rapidly losing popularity with young people. The existence of the result came to light.
Inside Facebook's struggle to keep young people --The Verge
https://www.theverge.com/22743744/facebook-teen-usage-decline-frances-haugen-leaks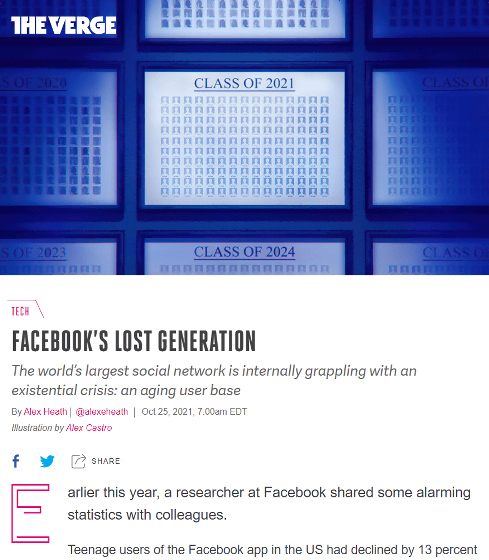 Facebook Files Show Growth Struggles As Young Users in US Decline --Bloomberg
https://www.bloomberg.com/news/articles/2021-10-25/facebook-files-show-growth-struggles-as-young-users-in-us-decline
Key Takeaways From the Facebook Papers and Their Fallout --The New York Times
https://www.nytimes.com/2021/10/25/business/facebook-papers-takeaways.html
The data revealed by Facebook's internal survey reported in March 2021 are as follows. From the left, 'User content generation rate', 'Facebook consumption time per daily active user number', and 'Message transmission number per daily active user number', all of which show changes from the previous year. Pink is 13 to 17 years old, orange is 18 to 27 years old, and light blue is 30 years old or older. Especially, the pink graph shows a remarkable decrease from the previous year.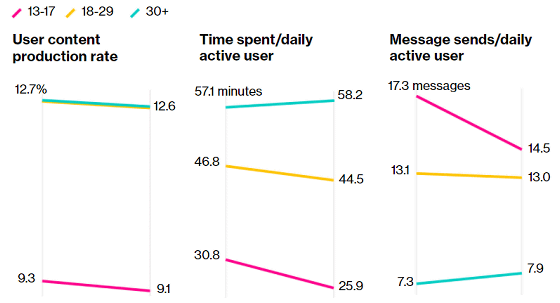 The internal investigation also reported that:

・ Young people spend less time on Facebook
・ The number of new teenage registrants is decreasing
・ Many newly created teenage accounts are one of multiple accounts.
・ The number of posts is decreasing regardless of age.
・ Even after investigating the details, it is unclear why such a decrease and why such a tendency could not be changed.

On the other hand, Instagram is also popular among teens, so Facebook seems to have been thinking about strengthening the young user base using Instagram. 'Instagram for children', which has already been announced to be frozen, seems to be an idea born from here.

Facebook freezes development of 'Instagram for children' --GIGAZINE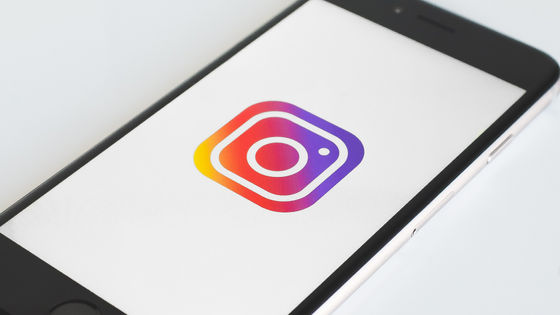 Facebook is particular about the age group of its users because it relies on advertising revenue from targeted advertising. The more users you have and the more different age groups you have, the easier it is for advertisers to target. For this reason, data such as the number of users and user demographics are also important for investors, but this point is because Facebook did not disclose to investors the number of teenage users and the decrease in service usage by users. It is believed to be in violation of securities law. This is because Facebook's stock price is based on 'future advertising growth.'

In addition, Facebook's third quarter financial report was released on October 25, 2021. Third-quarter sales increased 35% year-on-year to $ 29.01 billion, and net income increased 17% from $ 7.8 billion in the year-ago quarter. It was 9.2 billion dollars (about 1 trillion yen). However, analysts forecast sales of $ 29.57 billion, which is expected to slow growth more than expected. In addition, Facebook is focusing on the development of the virtual space 'Metaverse', and from the fourth quarter of 2021, the revenue of Facebook's augmented reality (AR) and virtual reality (VR) research division ' Facebook Reality Labs (FRL)' Facebook has also announced that it will publish in a separate segment.

Facebook Reports Third Quarter 2021 Results
(PDF file) https://s21.q4cdn.com/399680738/files/doc_news/Facebook-Reports-Third-Quarter-2021-Results-2021.pdf

Facebook (FB) Q3 2021 earnings report
https://www.cnbc.com/2021/10/25/facebook-fb-q3-earnings-report.html

In addition to the fact that younger users are declining, internal documents also reveal that VIP users were out of moderation monitoring and that Facebook didn't have the tools to control information about the Capitol riots. I am. Facebook is also facing antitrust lawsuits, and the findings revealed this time are expected to affect antitrust lawsuits.