Facebook deletes account that tried to spread hoax that 'If you hit the vaccine of the new corona, you will become a chimpanzee'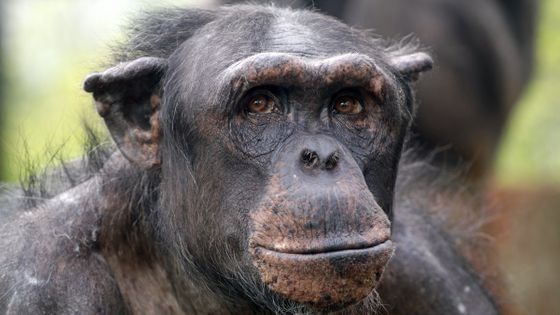 The new coronavirus infection in the vaccine diffusion of false rumors and misinformation about the (COVID-19) is a problem, the Russian advertising company is a hoax 'consisting chimpanzees and inoculated with AstraZeneca made vaccine', '
monkey
It turned out that he was trying to spread using the '
Planet of the Apes' collage image.
Following the findings, Facebook reports that it has deleted Facebook and Instagram accounts related to advertising companies.
July 2021 Coordinated Inauthentic Behavior Report --About Facebook
https://about.fb.com/news/2021/08/july-2021-coordinated-inauthentic-behavior-report/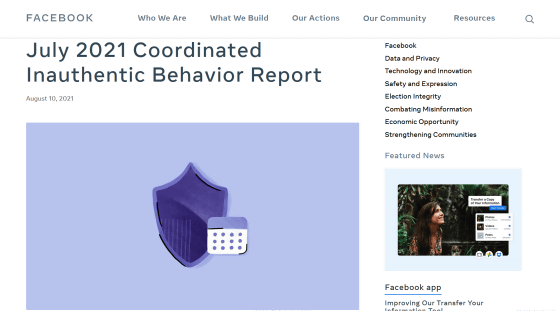 July-2021-CIB-Report.pdf
(PDF file) https://about.fb.com/wp-content/uploads/2021/08/July-2021-CIB-Report.pdf
Facebook removes Russian network that targeted influencers to peddle anti-vax messages | Reuters
https://www.reuters.com/technology/facebook-removes-russian-network-that-targeted-influencers-peddle-anti-vax-2021-08-10/
Russian Trolls Spread Wild Lie That COVID Vax Turns People Into Chimps
https://www.thedailybeast.com/russian-trolls-spread-wild-lie-covid-vax-turns-people-into-chimps?scrolla=5eb6d68b7fedc32c19ef33b4
According to a Facebook report, an advertising company called 'Fazze', a subsidiary of AdNow, a registered advertising company in the United Kingdom, was trying to spread anti-vaccine hoaxes on Facebook and Instagram. Fazze was primarily operating in Russia, but the anti-vaccine campaign was targeted at users in India, Latin America, and a small number of Americans.
Fazze started by laying the groundwork for hoaxes by posting misleading articles on forums such as Reddit and Medium, and creating fake petitions at Change.org. After that, he tried to spread the hoax linked to these articles and petitions on Facebook and Instagram, and Facebook investigators called the series of campaigns 'disinformation laundromat'.
It has also been found that Fazze created memes using images of 'Planet of the Apes' when spreading hoaxes on Facebook and Instagram. In the following post, featured in a Facebook report, a monkey beat a human and said, 'Walter, come here without hesitation! AstraZeneca's vaccine is safe! Yesterday we also vaccinated ourselves. The image that says '...' is included.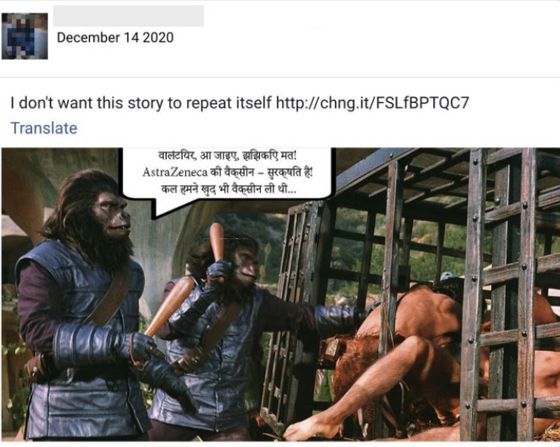 Another post is accompanied by a caption that says, 'This vaccine is based on the AstraZeneca-owned chimpanzee gene,' and an image that the monkey says, 'OK, it's your turn to vaccinate AstraZeneca.' Was there. Both of these posts are hoaxes based on the claim that 'AstraZeneca vaccine turns humans vaccinated into chimpanzees.'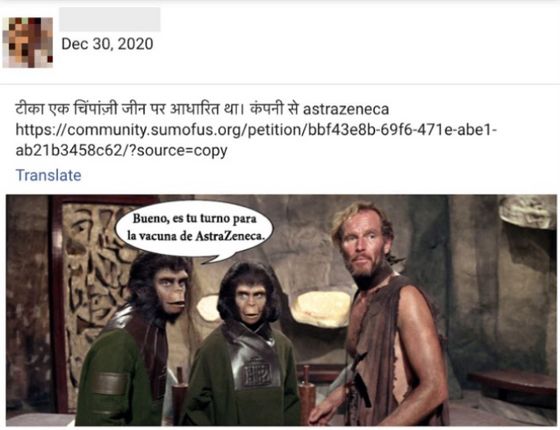 Fazze's anti-vaccine campaign started in the latter half of 2020, and hoaxes using images of Planet of the Apes were posted on Facebook and Instagram from November to December 2020. However, the hoax seems to have barely spread on the Internet, and Ben Nimmo, Facebook's chief of global information operations threat intelligence, points out that the series of campaigns was sloppy.

At that time, Fazze's activities did not attract attention, but they did so when they resumed their activities in May 2021. Fazze contacted influencers on YouTube, Instagram, and TikTok, saying, 'From internal documents obtained by hackers hacking AstraZeneca, the mortality rate of people vaccinated with Pfizer is that of people vaccinated with AstraZeneca. It was reported that he requested the dissemination of false information that 'it turned out to be three times higher.'

Marketing companies are trying to spread false information about vaccines to YouTuber --GIGAZINE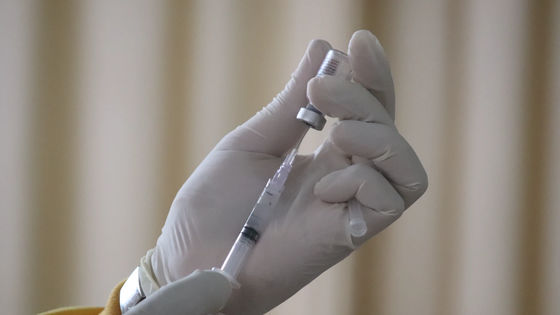 Following the results of this survey, Facebook has deleted 65 Facebook accounts and 243 Instagram accounts related to Fazze.

In addition to the accounts related to Fazze, Facebook said in the report that it also deleted 79 Facebook accounts related to the Myanmar military, 13 Facebook pages, 8 Facebook groups, and 19 Instagram accounts.