Announced that Facebook has deleted hundreds of Russian accounts & pages spreading fake news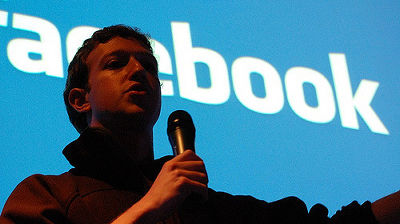 byAndrew Feinberg

Announced that Facebook has deleted all accounts related to the Russian company Internet Research Agency (IRA), saying that it sent false information and caused confusion in the presidential election in 2016. More than 270 pages & accounts, including Facebook and Instagram, have already been deleted.

Authenticity Matters: The IRA Has No Place on Facebook | Facebook Newsroom
https://newsroom.fb.com/news/2018/04/authenticity-matters/

Facebook is banning hundreds more accounts run by Russian trolls - Recode
https://www.recode.net/2018/4/3/17194430/facebook-banning-ira-russian-troll-accounts-internet-research-agency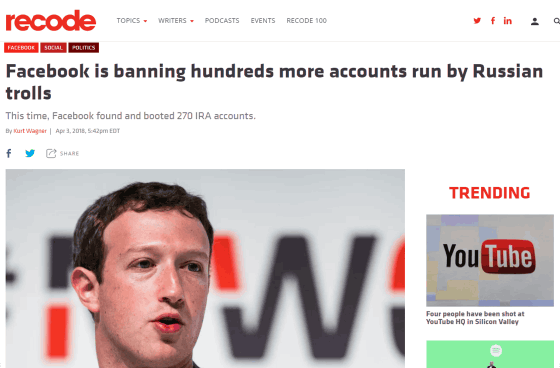 In the presidential election in 2016, Russian and Russian organizations stealed personal information and pretending to be Americans on Facebook and Instagram, creating a group or posting incitement images, and so on interfering with the election, 2018 Thirteen Russians and three Russian organizations were indicted in February. Among the complaints are that employees of the Internet Research Agency (IRA) created a troll account, used the bot to pretend to debate during the presidential election, caused political turmoil, and that Facebook And Instagram played a big roleMentioned.

And on April 3, 2018, Facebook SCO Alex Stamos announced that he removed 138 page Facebook and Facebook accounts and 65 Instagra accounts operated by IRA. Advertisements are included in the contents of these pages, 95% of the content is Russian, and he said he was targeting people who live in Russia and those who use Russian.

About the reason for deletion Facebook is "IRA repeatedly used the complicated network of false accounts, deceived and manipulated Facebook users throughout the presidential campaign, presidential election, and the presidential war in 2016. This is what we call them Facebook This is why we do not want to use it because we have deleted some of the latest accounts and pages from 'being based on content' rather than 'based on content'. " Deleting Facebook based on discussion and people's connection based on the sender rather than "content" can be said to be an irregular judgment.

Deleted posts look like this. It ranges from political content to something like tourist guide in Russia.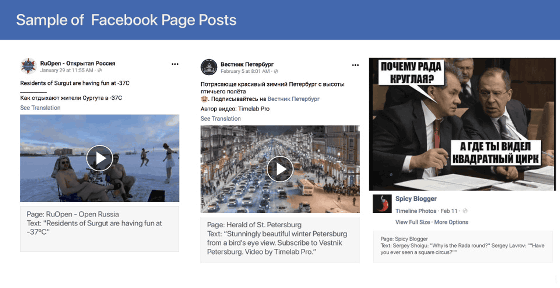 As for what IRA is doing, Facebook wants to share its content in a transparent way, and within the next few weeks it will push "Like" on the page related to IRA and account When you follow, you are planning to publish a tool that allows users to check it through the Help Center. Some accounts try to escape the deletion of the security team by changing the strategy, but Facebook wrote that we will discover more accounts and delete them as well.

Mark Zuckerburg also posted about deleting IRA related accounts.


According to Zuckerberg CEO, after knowing that IRA is posting content to create disharmony by making fake accounts in 2016 presidential election, Facebook conducts international research on the activities of IRA , I have deleted accounts and pages. Facebook has improved technologies to prevent elections from being obstructed from abroad, remove the 30,000 fake accounts in the French presidential election in 2017 and cooperate with federal agencies before Germany's 2017 election begins I learned what kind of threat was seen in Germany and said that they shared information. In addition, in the 2017 Alabama State Senate election, he developed a new AI tool to detect and delete fake accounts and prevented spreading of misinformation.

In addition, Facebook has increased its security investment, as of April 2018 that it plans to allocate 15,000 persons for security and content review, and that it plans to add more than 20,000 at the end of 2018 Zuckerburg CEO explains.