Amazon Air Hub, an airfield dedicated to Amazon freighters, has started and functions as a base for air transportation


On August 11, 2021, Amazon announced that it had opened the 'Amazon Air Hub,' an airfield dedicated to its freighters. The Amazon Air Hub, located at Cincinnati Northern Kentucky International Airport, will now serve as an airlift hub for Amazon Air freighters operating at 40 locations across the United States.

Welcome to the Amazon Air Hub

https://www.aboutamazon.com/news/operations/welcome-to-the-amazon-air-hub
Amazon opens $ 1.5 billion Kentucky air hub in bid to speed deliveries
https://www.cnbc.com/2021/08/11/amazon-opens-1point5-billion-kentucky-air-hub-in-bid-to-speed-deliveries.html
Amazon Air Hub Opens at CVG After Four Years of Planning, Construction | The River City News
https://www.rcnky.com/articles/2021/08/11/amazon-air-hub-opens-cvg-after-four-years-planning-construction
Amazon launched its own air transportation division 'Amazon Air' in 2016 and has operated its freighter in partnership with multiple airlines, but so far about 40 general airports in various parts of the United States I was using the harbor. Meanwhile, the company announced in 2017 that it would invest $ 1.5 billion in construction costs (about 170 billion yen at the rate at that time) to install Amazon's first air cargo hub on the border between Cincinnati, Ohio and Kentucky. ..
Amazon spends about 170 billion yen to build an air cargo hub that can park 40 cargo planes --GIGAZINE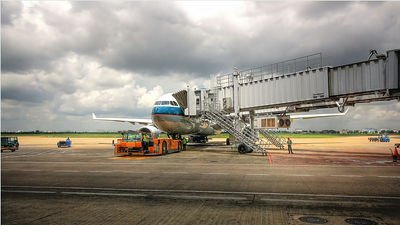 by
Daniel Mennerich
By playing the following movie, you can see how Amazon Air Hub, which started construction in 2019, goes from a vacant lot to an airfield of 600 acres (about 2.4 square kilometers).
Time lapse video of CVG air hub being built --YouTube
The completed Amazon Air Hub will function as an airlift hub with an 800,000-square-foot robot sorting center, seven buildings, parking
ramps
, and a multi-storey car park. The number of employees working at Amazon Air Hub is 2000, and the number of flights is 12 per day. In addition, it is designed to accommodate up to 100 airplanes and 200 freighters per day for takeoff and landing, so it is said that there is a possibility that the number of flights will increase further in the future.
'We are committed to hiring thousands of great people at our next-generation, state-of-the-art facility that will continue to connect Amazon's air cargo network for many years to come,' said Sarah Rose, vice president of Amazon Air. I'm excited. '
Amazon Air was operating 75 freighters at the time of writing the article, and in early 2021
purchased
11
used Boeing 767-300s
as its own aircraft. With this expansion of the air cargo network, Amazon Air's combined leasing and in-house organic aircraft are expected to reach a total of 85 aircraft by the end of 2022.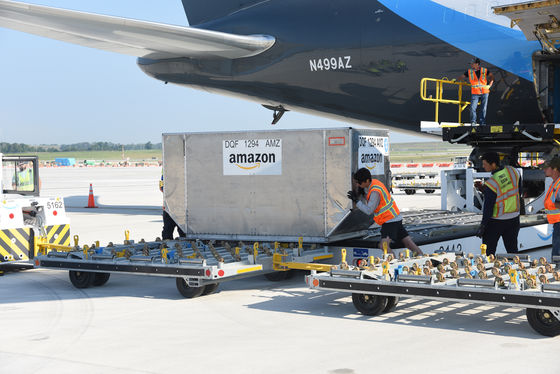 in Ride, Posted by log1l_ks