Intel announces partnership with Qualcomm to manufacture new chips, reveals roadmap to 2025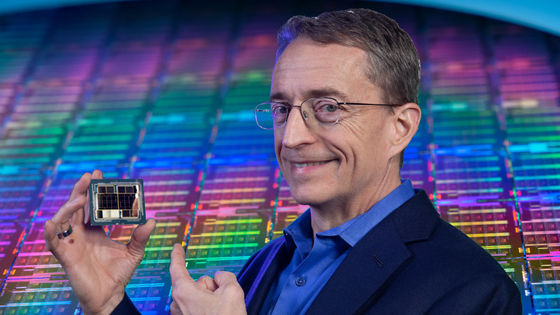 On July 26, 2021, Intel announced a roadmap for future product development. Among them, the company revealed that it will manufacture chips for
fabless
semiconductor company Qualcomm, which has strengths in mobile SoC, with the process node of 'Intel 20A' named by the new naming convention.
Intel Accelerates Process and Packaging Innovations
https://www.intel.com/content/www/us/en/newsroom/news/intel-accelerates-process-packaging-innovations.html
Intel Promises'Performance Leadership'By 2025 With New Roadmap
https://www.crn.com/news/components-peripherals/intel-promises-performance-leadership-by-2025-with-new-roadmap
Intel's Process Roadmap to 2025: with 4nm, 3nm, 20A and 18A ?!
https://www.anandtech.com/show/16823/intel-accelerated-offensive-process-roadmap-updates-to-10nm-7nm-4nm-3nm-20a-18a-packaging-foundry-emib-foveros
Intel CEO Pat Gelsinger announced on July 26
a roadmap that embodies the company's new strategy, IDM 2.0
, which lags behind competitors in some areas. Declared to regain 'process performance leadership'.
Below is the roadmap announced by Gelsinger CEO. Until now, Intel has manufactured chips under the naming convention 'Intel XX nm', but due to the new plan shown in the red frame, 'Intel 7' 'Intel 4' 'Intel 3' 'Intel 20A' from now on Will be expanded as.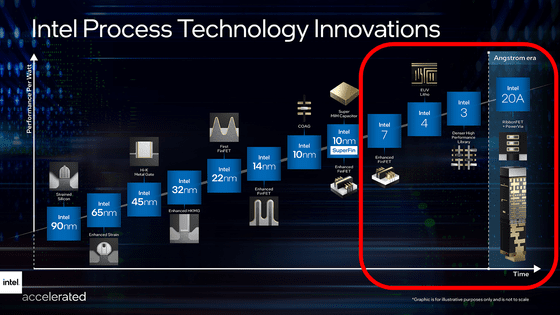 The first new process node since 10nm SuperFin
announced in 2020 is 'Intel 7', which is a rename of the node formerly called '10nm Enhanced SuperFin' or '10ESF'. In Intel 7, by optimizing the transistor from the model before 10nm SuperFin, the performance per power consumption will be improved by 10 to 15%.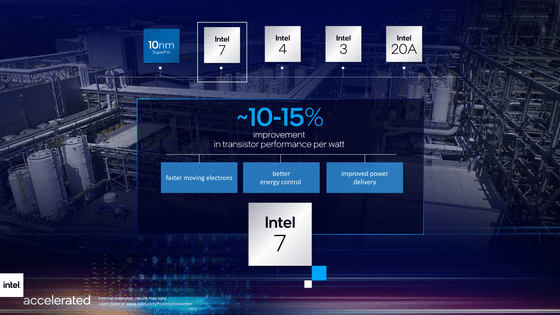 The second process node, 'Intel 4', is a generation that was formerly called 'Intel 7nm' and will start production in the latter half of 2022 and will start shipping in 2023.
Very fine printing technology using ultra-short wavelength light from extreme ultraviolet (EUV) lithography
is expected to improve performance per power consumption by 20% over Intel 7.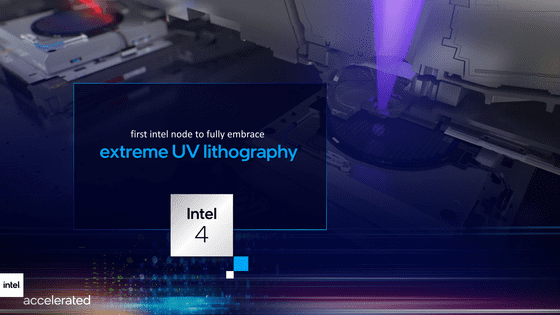 The third process node is the 'Intel 3', which will be installed in processors that will go into production in the second half of 2023. With Intel 3, further optimization of transistors and expanded use of EUV lithography will improve performance per power consumption by 18% over Intel 4.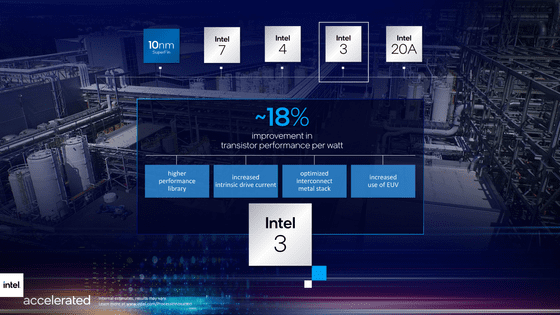 And in a new initiative from 2024, which Gelsinger CEO calls the 'Angstrom era,' PowerVia, a new power distribution method for semiconductors that Intel calls 'the industry's first backside power delivery,' and Ribbon FET with a new architecture. 'Intel 20A' that implements is released. The Intel 20A will be the first chip to feature Gate-All-Around (GAA), one of the major milestones in the new roadmap.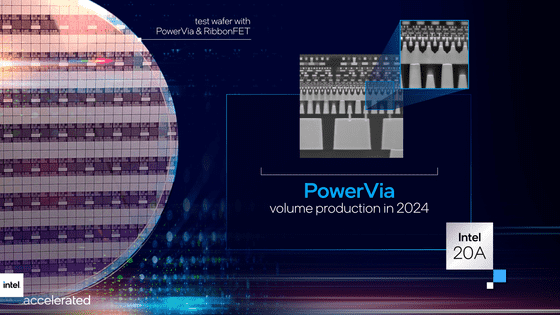 In addition, Intel 20A's process node has also partnered with Qualcomm, and it has been decided to receive an order for semiconductor production from the company. Qualcomm CEO Cristiano Amon said of Intel 20A: 'We look forward to the groundbreaking Ribbon FET and Power Via technology in Intel 20A, and Intel Foundry Services, Intel's contract manufacturing business. IFS) is pleased to be one of the leading foundry partners to help the American fabless industry bring its products to production. '



After 2025, the 'Intel 18A', which is a further improvement of the Intel 20A Ribbon FET, is planned to be launched. Gelsinger said on the roadmap, 'Based on Intel's unwavering leadership through a combination of advanced technologies, we will accelerate our innovation roadmap and establish process performance leadership by 2025. We leverage an unparalleled pipeline of innovation to advance technology from the semiconductor level to the system level, pursue Moore's law until the end of the elemental cycle table, and innovate with the magic of silicon. We will continue on the road. '