Will Intel's foundry service expansion strategy 'IDM 2.0' be a clue to Intel's revival?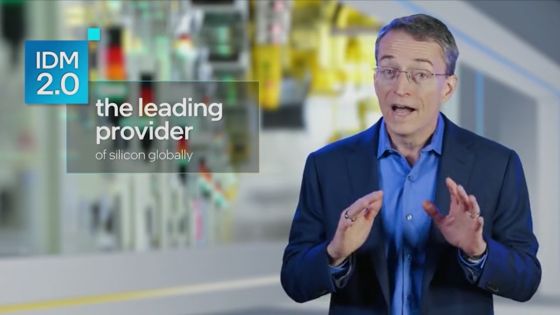 Intel
CEO Patrick
Gelsinger
announced on March 23, 2021 local time the strategy 'IDM2.0' aimed at expanding foundry services by investing 2 trillion yen. Ben Thompson, who wrote in January 2021 '
Five Problems to Solve for Intel to Resurrect,
' described Gelsinger's announcement of IDM 2.0 as 'the best keynote of my career.' One of them 'and acclaimed. It explains the details of IDM 2.0 and the points that were excellent in the presentation.
Intel Unleashed, Gelsinger on Intel, IDM 2.0 – Stratechery by Ben Thompson
https://stratechery.com/2021/intel-unleashed-gelsinger-on-intel-idm-2-0/
On March 2, 2021, Gersinger said, 'Building Intel's global in-house factory network for large-scale manufacturing,' 'Expanding third-party foundry capacity,' and 'Building the foundry business'Intel Foundry Services'.' We announced IDM 2.0, a foundry service expansion strategy centered on three initiatives.
Intel announced 'IDM 2.0' aiming to expand foundry services by investing more than 2 trillion yen, and it was pointed out that 'We are planning to manufacture Apple Silicon' --GIGAZINE


Thompson described Gelsinger's announcement of IDM 2.0 as 'an announcement that includes almost all of the strategies I'm looking for in Intel.' 'I left the impression that the announced strategy would be'always implemented'.' 'On the 37th day since I took office as CEO, I made a drastic review of my business,' he praised and explained the content of the announcement.

◆ Clarified the problems of Intel
In his presentation, Gelsinger mentioned the progress of Intel's 7nm process development. According to Gelsinger, when Intel first started developing the 7nm process, the technology required to develop the 7nm process, '
extreme ultraviolet lithography (EUV),
' was in the early stages of development, so the use of EUV was used. He said that he developed a limited process. However, the development of the 7nm process took longer than expected, and EUV technology was established during that time. 'Intel has adopted EUV and more than doubled its usage,' said Gelsinger. 'We have a strong partnership with
ASML, the developer of EUV,' and officially adopted EUV.
Appeal.
He also said that 'Meteor Lake
' manufactured according to the 7nm process rule will be shipped in 2023.


Thompson said Gelsinger's predecessor, Bob Swan , 'did not seem to understand Intel's problems.' On the other hand, Mr. Gelsinger evaluates that he has a clear understanding of the problem.

'Intel has industry-leading know-how outside of EUV,' Thompson said, and Intel's new timeline of 'shipping Meteor Lake in 2023' is credible. Claims.

◆ System-in-Package ( SiP )
Gelsinger claims that Meteor Lake will use Intel's advanced packaging technology. 'The world will shift from system-on-a-chip (SoC) to the era of SiP,' he said, and is appealing that it will bring great value to users by differentiating it from chips manufactured by other companies.



According to Thompson, SiP is somewhere between SoCs like Apple's M1 chip and Qualcomm's Snapdragon series and traditional computers that connect multiple modules via a motherboard. SiP enables both the advantages of conventional computers and SoCs, and enables fault-tolerant design that continues to operate even if an abnormality occurs in a part of the system while ensuring flexibility compared to SoC.

◆ IDM 2.0
In IDM 2.0, Gelsinger points out that as of 2020, 80% of the world's semiconductors will be manufactured in Asia. We have announced that we will build new semiconductor manufacturing plants in the United States and Europe.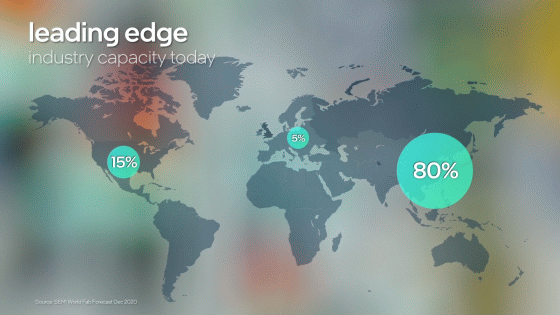 It also announced that Intel will start manufacturing chips for other companies. 'Manufacturing large-scale semiconductors in the United States and Europe is important to the United States and the world,' said Gersinger. 'Intel promises to meet the security requirements of the U.S. government.' I will.



'Given the competition between the United States and China, the concentration of semiconductor manufacturing plants in the Asian region is a big problem,' Thompson said, welcoming Intel to set up plants in the United States and Europe. He also said that the EU's willingness to manufacture semiconductors within the EU could favor Intel.

◆ Execution
In response to an investor's question, 'Intel keeps its promises to customers in foundry services. How do you plan to build your own business?', 'During my CEO tenure. One of the themes is 'Run, Run, Run'. Intel employees are enthusiastic and every time they run 'x' they leave a result of '1.1x'. '



'Intel needs goals to move forward, like Moore's Law. Gelsinger's answer evoked the enthusiasm of Intel employees. It's time to run, run, 'he said, and he looks forward to Intel's breakthrough.