Pentagon cancels 1 trillion yen cloud business 'JEDI'


The US Department of Defense has announced that it has canceled the JEDI (Joint Enterprise Defense Infrastructure), a business that uses artificial intelligence (AI) to centrally manage data in the cloud, and has begun contract termination procedures with Microsoft.

Future of the Joint Enterprise Defense Infrastructure Cloud Contract> US DEPARTMENT OF DEFENSE> Release

https://www.defense.gov/Newsroom/Releases/Release/Article/2682992/future-of-the-joint-enterprise-defense-infrastructure-cloud-contract/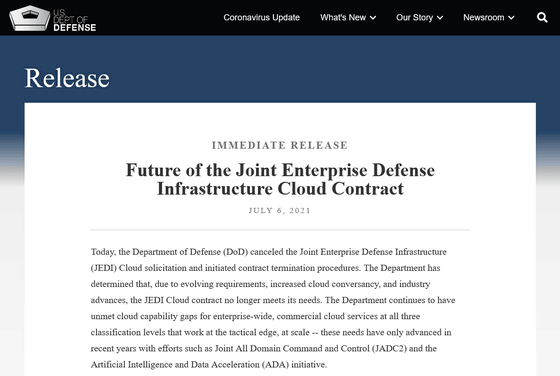 Microsoft's commitment to the DoD remains steadfast --The Official Microsoft Blog

https://blogs.microsoft.com/blog/2021/07/06/microsofts-commitment-to-the-dod-remains-steadfast/
Pentagon kills Microsoft's $ 10B JEDI cloud contract, says tech is now outdated | Ars Technica
https://arstechnica.com/tech-policy/2021/07/dod-cancels-10b-jedi-cloud-contract-with-microsoft-says-tech-already-outdated/
'JEDI' is a huge project that the Department of Defense started accepting proposals in 2018. However, it was criticized that the requirement was such that only Amazon, which operates AWS, could meet it, and it was a definite decision.
Amazon is about to acquire the 1 trillion yen business 'JEDI' that centrally manages US Department of Defense data in the cloud, or the view of a de facto 'finished race' --GIGAZINE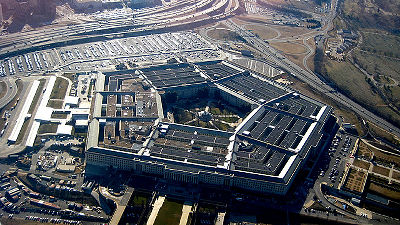 by
Rudi Riet
However, Microsoft won the bid for this business.
Microsoft wins the US Department of Defense cloud business 'JEDI' bid competition of over 1 trillion yen, big favorite Amazon loses --GIGAZINE

by anandirc

Amazon has challenged the court for fraudulent intervention by President Trump. The lawsuit was granted in February 2020, and JEDI has been issued an injunction.

Amazon argues that the Pentagon's cloud business bid competition was 'due to President Trump's political intervention'-GIGAZINE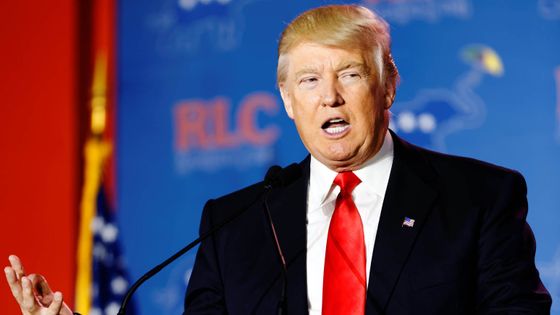 by Michael Vadon

In a statement announcing the cancellation of the project, the Pentagon described JEDI as 'no longer meeting that need.' Once again, we announced 'Joint Warfighter Cloud Capability (JWCC)' as a new initiative, stating that only two companies, Microsoft and Amazon, can respond as cloud service providers, and announced that we would like to request proposals from both companies.

The JWCC is a multi-vendor contract, and the contract amount is expected to be in the billions of dollars (hundreds of billions of yen). The contract period is based on 3 years, and the option is 1 year x 2, which is expected to be up to 5 years.


in Note, Posted by logc_nt