The public beta version of the latest OS for Mac 'macOS 12 Monterey' has appeared, what new features are added?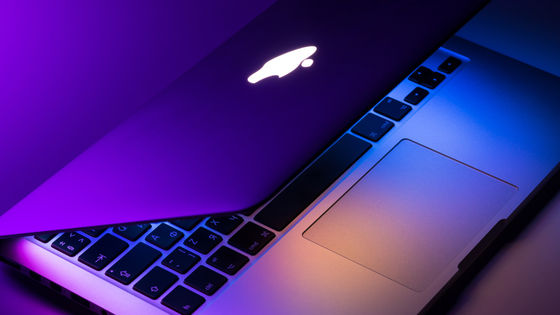 Apple launched macOS 12 Monterey on June 30, 2021, local time. In fact, several overseas media using the latest Mac OS are reviewing the notable points of 'macOS 12 Monterey' such as new features added to FaceTime and Safari.

Apple macOS 12 Monterey preview --The Verge

https://www.theverge.com/2021/7/1/22557880/apple-macos-public-beta-facetime-safari-updates
First Look: macOS Monterey Public Beta – Six Colors
https://sixcolors.com/post/2021/07/first-look-macos-monterey-public-beta/
In June 2021, Apple announced the latest OS for Mac, macOS 12 Monterey, at the annual developer event
WWDC 2021.
You can see how Craig Federighi, Apple's Senior Vice President of Software Engineering, introduces macOS 12 Monterey in the article below.
The latest OS for Mac 'macOS Monterey' announced, you can operate everything with one mouse just by placing the iPad next to the Mac --GIGAZINE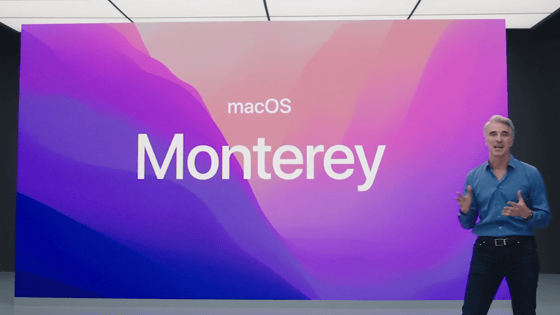 Here's what the foreign media reviewing macOS 12 Monterey said was a particularly big change:
◆ FaceTime
According to IT news site The Verge, FaceTime on macOS 12 Monterey has clearly added new features that are conscious of countering ZOOM, one of which is a 'portrait' feature that can blur the background. That is. However, if the background is divided into multiple surfaces, some roughness may be noticeable, such as some areas where blurring does not work.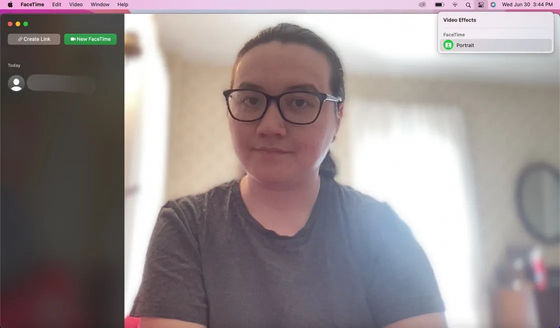 It also supports 'grid view' where the screens are arranged like ZOOM, and 'spatial audio' where you can hear the voice from the direction placed on the screen. In this regard, Apple product-related news media Six Colors commented, 'It feels a little strange, but not distracting.' In addition, FaceTime has also added a 'Share Play' function that allows you to share videos and music like
Netflix Party.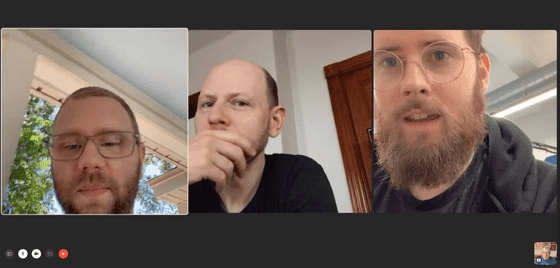 ◆ Safari
In Safari, the URL field is now displayed next to the tab, which has expanded the browsing space. If the URL is long, it will be abbreviated and displayed, but clicking a tab will display the full URL of that tab.

The biggest point of the latest Safari is the 'tab group' function that allows you to group tabs into one group. This allows Safari users to open multiple tabs at the same time and switch between them smoothly, without having to open multiple windows and open tabs for each. Tab groups can also be synced between devices via iCloud.




◆ AirPlay
macOS 12 Monterey officially supports AirPlay, which allows you to stream videos and music playing on your Apple device to other devices. As a result, it has become possible to use the iMac as a second display and mirror the screen of the iPhone on the Mac.

The Verge, who actually connected the iPhone and Mac with AirPlay, commented, 'Wait until the devices detect each other, then just enter the code on the iPhone, it was easy to set up and it worked fine.' .. In addition, macOS 12 Monterey is scheduled to be equipped with 'universal control ' that strengthens cooperation between devices like AirPlay, but it has not been implemented in the beta version yet and could not be reviewed.

◆ Shortcut
The 'Shortcut' app added in macOS 12 Monterey is a renewal of the traditional automation function 'Automator '.

Since it was easy to reproduce the complex automation process for iOS on Mac, Six Colors said, 'Shortcuts make it easy for non-programmers to use individual features provided by the OS and applications. It's a tool aimed at doing this. It outperforms Automator in terms of ease of use and functionality, and given that it's still a new app, there's room for further growth over the next few years. '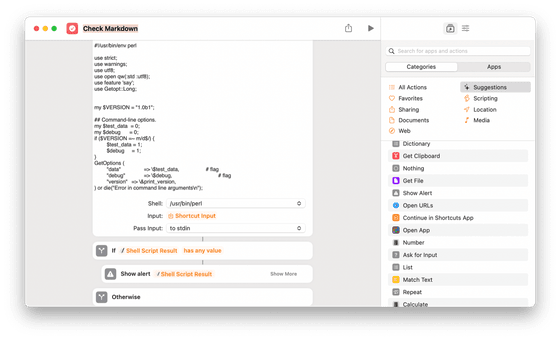 After using macOS 12 Monterey for a few days, The Verge said, 'I got the impression that it was a collection of small changes. MacOS Big Sur completely refreshed the Mac experience, but this time it's not. No, but that's enough because not every update needs to be a revolution. Apple is tweaking macOS here and there, so I said,'Well, that's certainly useful. I will select the functions that seem to be. '

Six Colors, on the other hand, said, 'There are so many new features added to iOS 15 and iPadOS 15 as well as macOS Monterey that it might be a hassle to check them all during the summer. Shortcuts are one of the best products on macOS over the last few years, and I'm looking forward to seeing improvements to FaceTime and the addition of SharePlay. '

The devices that support macOS Monterey are as follows.

iMac (Late 2015 and later models)
iMac Pro (2017 or later)
Mac Pro (Late 2013 and later)
Mac Mini (Late 2014 2014 and later)
MacBook Pro (Early 2015 and later)
MacBook Air (Early 2015 and later)
MacBook (Early 2016 and later)