What is the difference between the latest models of electronic paper tablets that are easy on the eyes, 'Boox Note Air' and 'reMarkable 2'? Movie compared using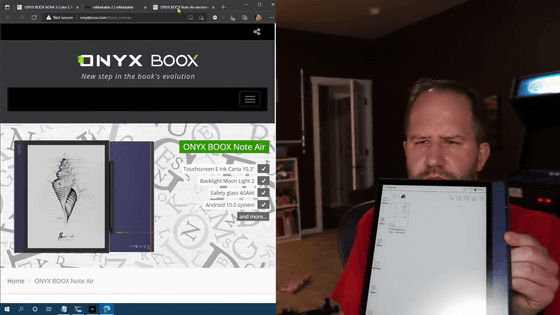 Electronic paper such as Amazon's e-book reader '
Kindle
' realizes eye-friendly drawing with the technology equivalent to 'drawing with ink on paper' called '
electrophoresis method
' developed by
E Ink.
Technology blogger Scott Hanselman explains
the electronic paper tablets 'Boox Note Air
' and '
reMarkable 2
' that use such an electrophoresis method.
The quiet rise of E Ink Tablets and Infinite Paper Note Takers --reMarkable 2 vs Onyx Boox Note Air --Scott Hanselman's Blog
https://www.hanselman.com/blog/the-quiet-rise-of-e-ink-tablets-and-infinite-paper-note-takers-remarkable-2-vs-onyx-boox-note-air
E Ink Tablets, ONYX BOOX Note Air vs Remarkable 2 vs ONYX BOOX Nova 3 --LIVE REVIEW --YouTube
This time, Mr. Hanselman will mainly compare the electronic paper tablet 'BOOX Note Air' and 'Remarkable 2' that adopt the electrophoresis method. Below is Mr. Hanselman holding BOOX Note Air (left side) and Remarkable 2 (right side).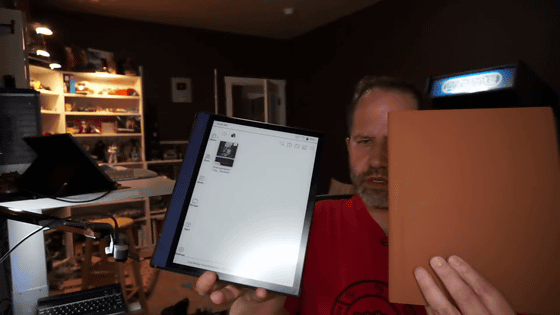 Let's start with Remarkable 2. The size of Remarkable 2 is 188 mm x 246 mm x 4.7 mm, the display size is 10.3 inches and the weight is 403.5 g, 'It is lighter than the iPad, but I can not watch the movie.' Mr. Hanselman. Remarkable 2 uses Codex, a Linux-based OS optimized for electronic paper, making it almost impossible to watch movies. It is a device designed as 'Notepad' to the last.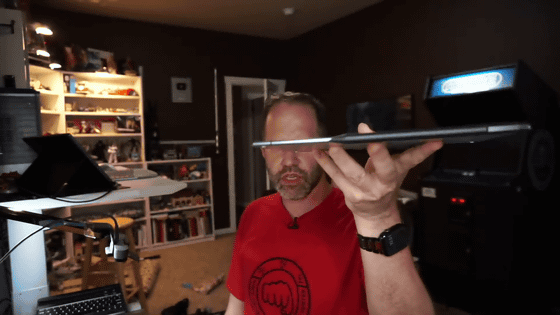 Not only presets for arranging a wide variety of ruled lines such as dots and grids, but also checklist presets are available.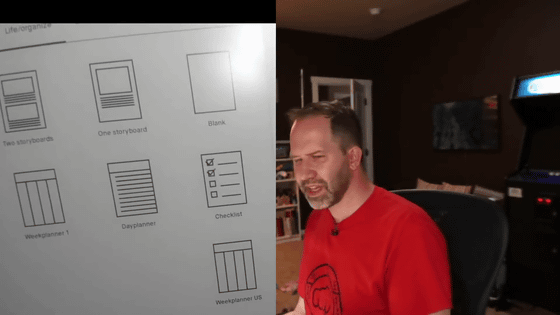 With these presets, you can quickly use them as notes in a wide variety of styles.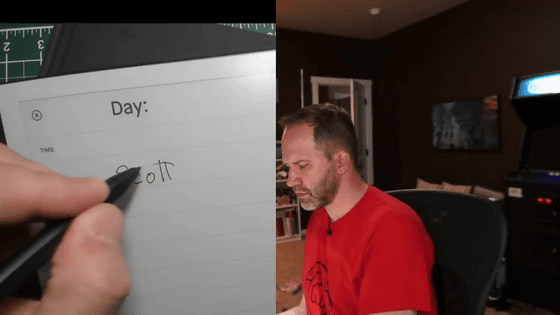 It is also possible to specify the range of handwritten characters and enlarge / reduce or move them. Notes can be converted to PDF / PNG / SVG.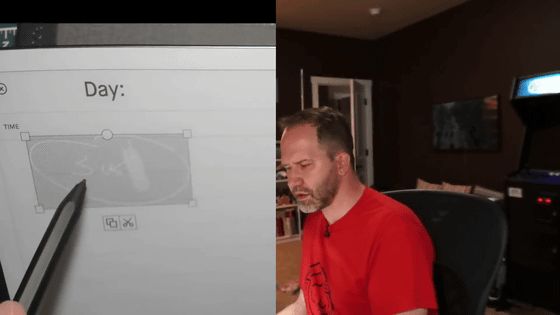 As a reader,
it supports PDF and ePUB
, and you can freely enlarge or reduce characters. Since it is an electrophoresis method and has no backlight, it realizes an eye-friendly display. According to Mr. Hanselman, the electrophoretic display often causes bleeding of characters, but this Remarkable 2 has no bleeding of characters and the display is fast. However, the display is black and white only.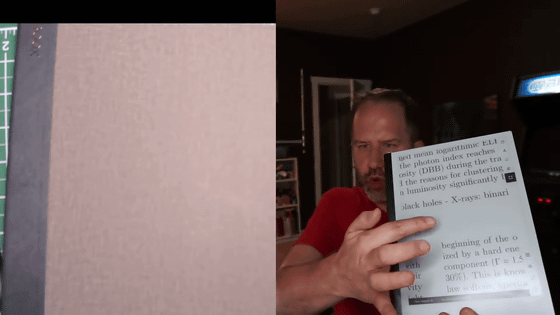 In addition, Remarkable 2 is compatible with Wi-Fi, and files can be transferred wirelessly from a dedicated app on a PC or smartphone. It seems that the capacity is as small as 8GB, but Mr. Hanselman said, 'Since there is no browser etc., I do not use 8GB. In fact, I use only 0.42GB.'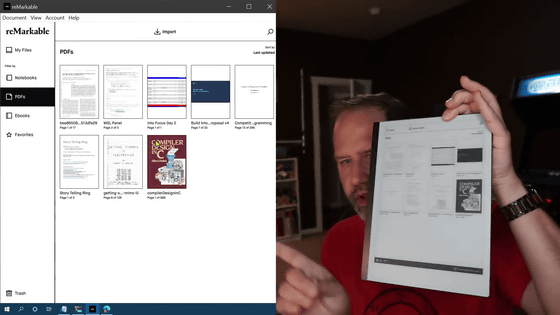 The special pen 'Marker' sticks to the side of Remarkable 2 with a magnet. 'It's a beautiful device,' including the exclusive leather case, Hanselman praised.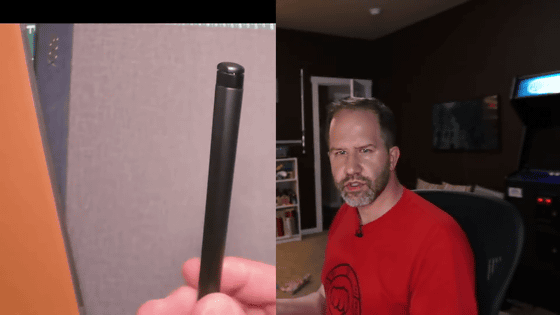 Next is Boox Note Air. The Remarkable 2 I mentioned earlier was a device equivalent to a 'notebook' that does not have a browser or movie playback function, but this is a device equivalent to a 'tablet' with an OS of Android 10. The size is 229.4 mm x 195.4 mm x 5.8 mm, the display size is 10.3 inches, and the weight is less than 420 g.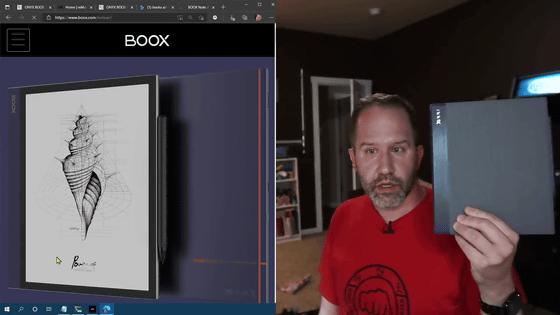 Since there is no Google Assistant etc., not all Android functions can be used, but the home screen and drawer are completely Android compliant. It is also possible to download the application from Google Play and use it. Wireless connection is compatible with Wi-Fi 2.4GHz + 5GHz and Bluetooth 5.0.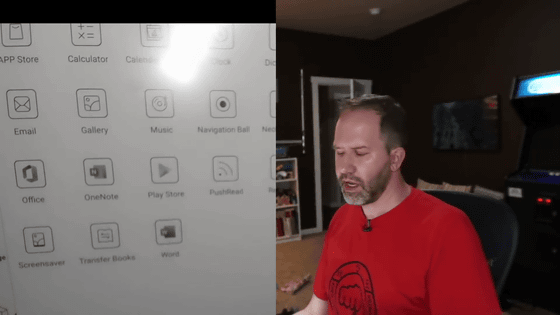 Microsoft's 'One Note' can be used as a note, but Hanselman recommends using the pre-installed dedicated application because it takes less than 1 second to draw a line.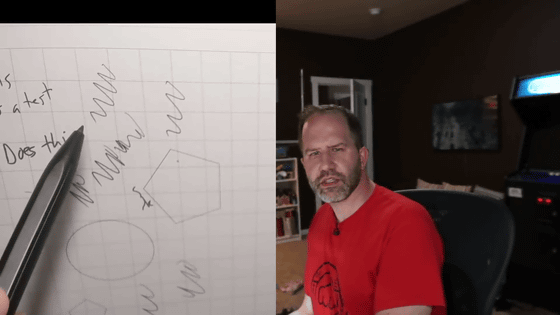 Also, unlike Remarkable 2, it also has a backlight. It is possible to switch it on and off.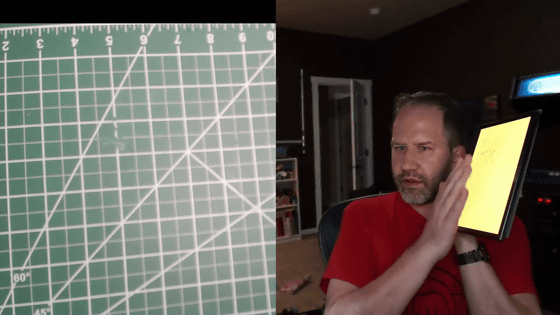 As you can see, the Boox Note Air is a tablet-oriented device, and the Remarkable 2 is a notebook-oriented device. It looks like this when stacking each with the case attached. The upper side is Boox Note Air, the lower side is Remarkable 2, and the display size is 10.3 inches, but the Boox Note Air is slightly thicker. 'The Boox Note Air is an Android with an electrophoretic display, especially backlit so it's convenient to use in the dark,' Hanselman said.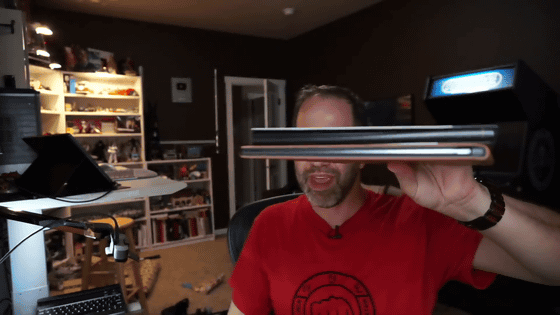 The Remarkable 2 has a list price of $ 399 (about 44,000 yen), and the Boox Note Air has a list price of $ 479.99 (about 53,000 yen). Although slightly inferior in terms of software policy, the Boox Note Air is more versatile, but if you just take notes, you'll be better off with Remarkable 2. '

In the same movie, Hanselman
also mentions the color electronic paper 'BOOX Nova3 Color
' that appeared in March 2021. This realizes colorization by overlaying an RGB color filter layer on a high-definition black and white E Ink panel.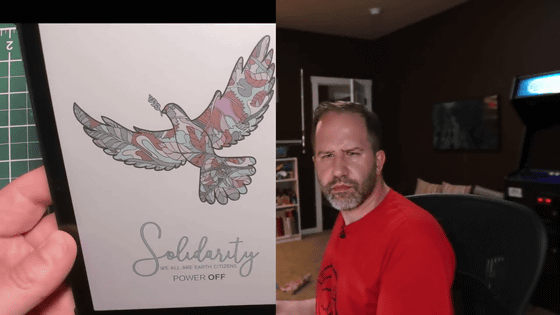 BOOX Nova3 Color has a slightly smaller display size of 7.8 inches. The main body size is 197.3 mm x 137 mm x 7.7 mm and weighs only 265 g. Wireless connection is compatible with Wi-Fi 2.4GHz + 5GHz and Bluetooth 5.0. The color development is not perfect, it is a slightly faded color, and there is a slight flicker, but Mr. Hanselman praises 'color electronic paper is magical'.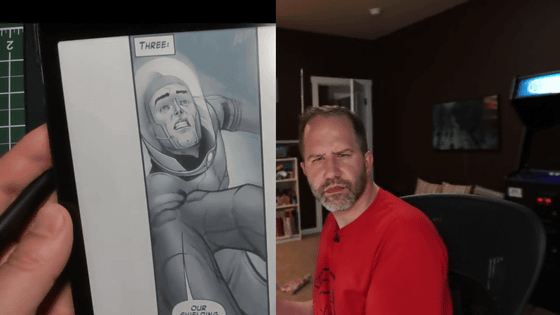 Since the OS is Android 10, Mr. Hanselman said, 'If the Boox Note Air is the' black and white iPad Pro ', the BOOX Nova3 Color will be the' iPad Mini '.'

'Boox Note Air' is sold by the official agency on Amazon.co.jp, and the price is 59,800 yen including tax.

Amazon | BOOX Note Air 10.3 inch E Ink, e-paper, Android, tablet | BOOX | e-book reader mail order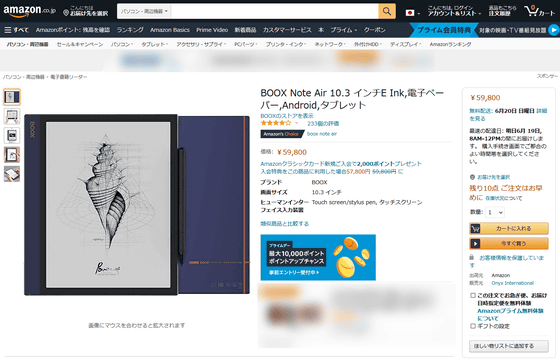 'BOOX Nova3 Color' is also sold by the official distributor on Amazon.co.jp. The price here is 51,800 yen.

Amazon | BOOX Nova3 Color, Color E-Paper, 7.8 inch, E Ink, Android10, E-Book Reader | SKTSELECT | E-Book Reader Online Shopping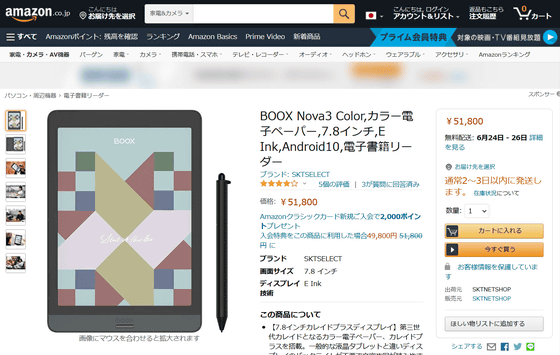 On the other hand, 'reMarkable 2' is not available on Japanese mail order sites, and cannot be shipped to Japan even on the official website. At the time of writing the article, it was said that purchasing from Japan required a personal import agency. The selling price on the official website is 399 dollars (about 44,000 yen).

reMarkable 2 | reMarkable
https://remarkable.com/store/remarkable-2