Summary of new terminals and new features expected to be announced at Apple's annual conference 'WWDC 2021'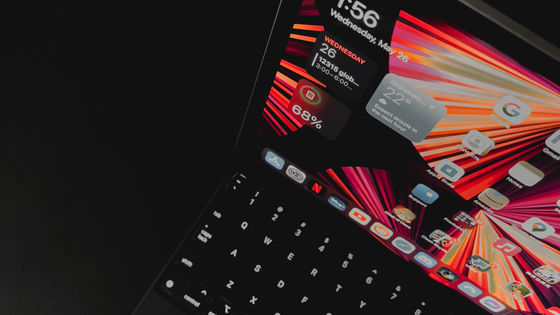 The keynote speech for Apple's annual developer conference, WWDC 2021, will be available from 2:00 on June 8, 2021. WWDC announces the latest versions of Apple-developed operating systems such as iOS and macOS every year, but WWDC 2021 is expected to announce several other new products, so let's summarize them. It was.

Apple WWDC 2021: iOS 15, new MacBook Pros, and what else to expect --The Verge
https://www.theverge.com/22457534/apple-wwdc-2021-rumors-ios-15-new-macbook-pro-what-to-expect

What to expect at WWDC 2021: iOS 15, watchOS 8, and more --9to5Mac
https://9to5mac.com/2021/06/06/wwdc-2021-what-to-expect/

◆ iOS 15
In the next major version of iOS, 'iOS 15', it is predicted that the notification function will be enhanced and the food tracking function will be added. With the new notification function, it will be possible to customize the notification method according to the activity that the user is doing, such as driving, work, sleep.

It is predicted that iOS 15 will have enhanced notification function and addition of food tracking function --GIGAZINE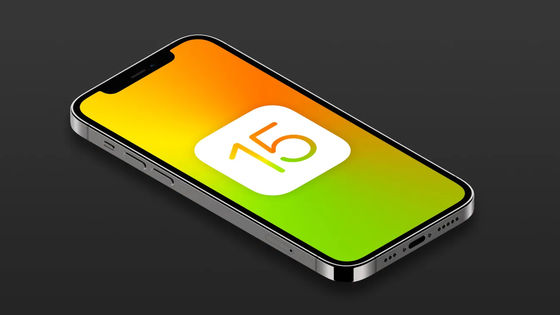 In addition, Apple is working on development to transform iMessage into something closer to social networks in order to compete with apps such as Facebook and WhatsApp. However, since this 'new iMessage' is in the early stages of development, it seems unlikely that it will be announced at WWDC 2021.

In addition, Apple seems to be aiming to enhance privacy by adding a function to display 'apps that secretly collect data about users'.

Apple announced new accessibility features for the iPhone, iPad, and Apple Watch in May 2020, and it has been announced that these features will be released in the second half of 2021. Therefore, it is quite possible that these new features will be announced at WWDC 2021.

Apple announces powerful accessibility features such as 'Assistive Touch' that allows you to operate without touching the display of Apple Watch-GIGAZINE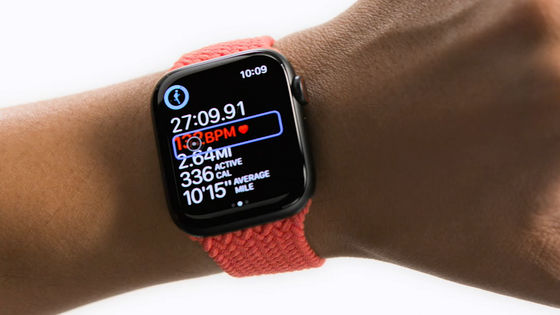 It is also reported that the 1st generation iPhone SE / 6s / 6s Plus will not be supported on iOS 15.

It is reported that iPhone SE / 6s / 6s Plus will be out of support in the next 'iOS 15' --GIGAZINE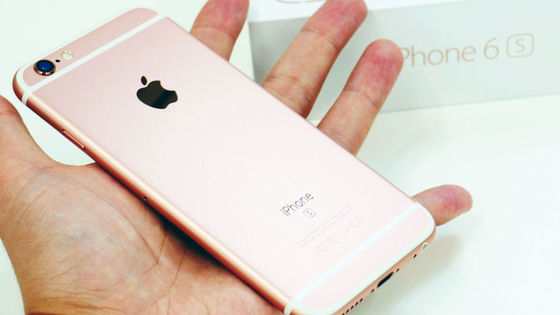 ◆ iPad OS 15
iPadOS 15 is expected to update the home screen, which may allow widgets to be placed wherever you like. Since Apple has just released the iPad Pro with M1, 'we can expect new updates that take advantage of the M1 chip ,' some media reported.

◆ Mind app
App developer Khaos Tian analyzed the App Store profile and found an identifier that refers to an unreleased app called 'com.Apple.Mind.' The app has been mentioned as having the potential to be available on watchOS and iOS devices, as Apple was rumored to have developed an app to manage health, including mental health, in the past. It is expected to be an app related to 'Mind', that is, a mental health app.

Like Someone Deployed Looks The New Profile For App Store Too Early? Want To Guess What ' Https://T.Co/nhhpJFmZbJ .Mind' Is On WatchOS? Pic.Twitter.Com/BarzoJtovq

— Khaos Tian (@KhaosT) June 5, 2021


◆ macOS
The macOS update 'may be more minor than ever,' Bloomberg reports. 'It's not surprising even a minor update,' said The Verge, as macOS has undergone a major overhaul with macOS Big Sur, released in 2020.

◆ homeOS
It is also expected that a new OS called 'homeOS' will be introduced, and it has been confirmed that the name 'homeOS' was mentioned in Apple's job listings. It's unclear what devices homeOS will support, but it's expected to be included in Apple products such as the HomePod mini.

◆ MacBook Pro
Apple doesn't always announce new products at WWDC, but there is a possibility that a new MacBook Pro will appear in 2021. Bloomberg is the 'new MacBook Pro is likely to appear in the 2021 summer' in May 2021 and reported , if if to appear at this timing, the possibility that the new MacBook Pro in the WWDC 2021 will be announced I have enough sex.

Bloomberg reports that the new MacBook Pro will feature a new chip that significantly outperforms the M1 chip. The new chip has eight high-performance cores and two high-efficiency cores, and the GPU can be selected from 16 cores or 32 cores. The M1 chip consists of four high-performance cores and four high-efficiency cores, and the GPU consists of 7 or 8 cores, so it is expected to be a higher-performance chip than the M1 chip.

In addition, a January 2021 report predicted that the new MacBook Pro would have a 14-inch or 16-inch display, making it a 'brighter, higher-contrast display.'

In January 2021, the MacBook could adopt a new flat-edged design like the iPhone 12, according to analyst Minchi Kuo, who has worked with Apple-related accurate leak information. I predict that.

In addition, it has been reported that the new MacBook Pro may bring back MagSafe chargers, HDMI ports, SD card slots, and more.

◆ Other Mac
Apple is rumored to be developing an improved MacBook Air, a new low-end MacBook Pro, an all-new Mac Pro, a high-end Mac mini, and a large iMac. The 'improved MacBook Air' may be released as early as the end of 2021. Therefore, it is quite possible that a new Mac will be announced at WWDC 2021.

◆ Apple's AR / VR headset
It has been rumored for a long time that Apple is developing an AR headset, and it is reported that AR / VR helmets of over 100,000 yen will be released as early as 2022.

It is predicted that Apple will release AR / VR helmets over 100,000 yen in 2022, AR glasses in 2025, and AR contacts in 2030 --GIGAZINE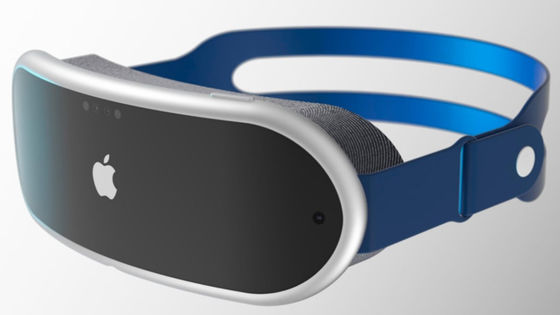 The image released when Apple announced the holding of WWDC in March 2021 was as follows, and the icon was reflected in the glasses, so The Verge said, 'Apple's artist has a design skill. Maybe I just polished it, but if I had to guess something, I would have to think of the rumored MR headset. ' However, it's just a 'if you have to guess something', and the chances of an MR headset being unveiled at WWDC in 2021 are 'almost unlikely,' said The Verge.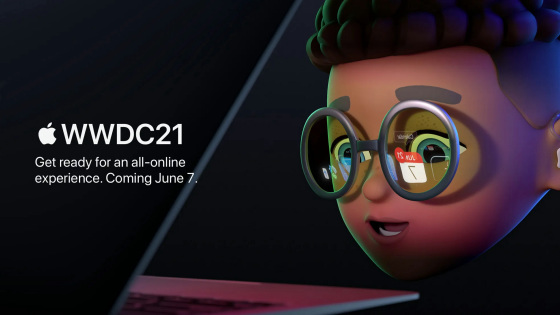 At WWDC held in 2020, Apple announced the proprietary processor 'Apple Silicon' for Mac. In addition, the latest versions of Apple-developed operating systems such as 'iOS 14 ', ' iPadOS 14 ', ' watchOS 7 ', and ' macOS Big Sur' have also been announced.

Summary of 'WWDC 2020' where iOS14, iPadOS14, watchOS7, macOS Big Sur, Apple Silicon, etc. were announced --GIGAZINE