The price of the crypto asset 'Ethereum' next to Bitcoin soars to over $ 4,000 (about 440,000 yen)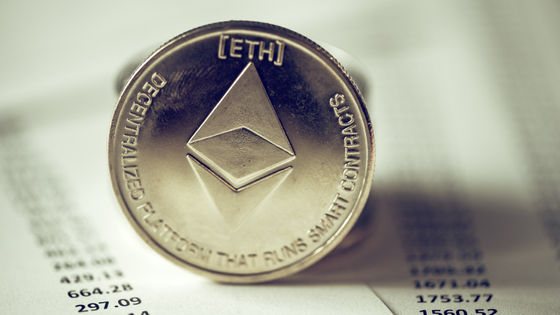 The price of the crypto asset 'Ethereum
', which maintains the market capitalization next to Bitcoin, reached the highest price for three consecutive business days and exceeded $ 4,000 (about 436,000 yen).
Ethereum (ETH) price soars above $ 4,000 for the first time
https://www.cnbc.com/2021/05/10/ethereum-eth-price-soars-above-4000-for-the-first-time.html
Cryptocurrency ethereum hits new record high again; dogecoin slumps | Reuters
https://www.reuters.com/technology/ether-bursts-past-4000-other-cryptos-firm-2021-05-10/
Ether hits new record high, crests $ 4,000 milestone --MarketWatch
https://www.marketwatch.com/story/ether-hits-new-record-high-crests-4-000-milestone-11620616507
According to Coin Metrics, which specializes in cryptocurrency analysis, Ethereum has surged to 'more than 7% in the last 24 hours' at $ 4196.63 at 2:15 JST on May 11. It has reached a record high.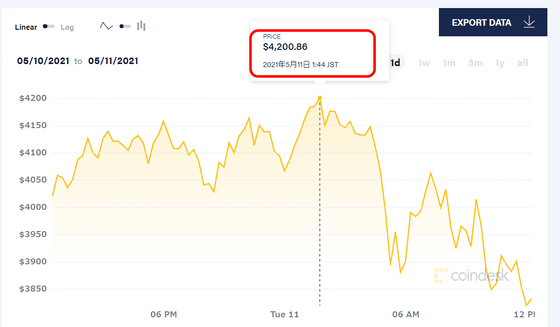 At prices based at 2:30 on May 11, Japan time, Ethereum has risen 8.1% in the last 24 hours to $ 4,200.86, and Bitcoin has risen 1.1% in the last 24 hours. It was 57,962.18 dollars (about 6.31 million yen). In terms of market capitalization, Ethereum is about 483.4 billion dollars (52,630 billion yen) and Bitcoin is about 1.9 trillion dollars (207 trillion yen), so Ethereum's market capitalization is about 4 of Bitcoin. It is a calculation of 1 /.

Ethereum has long occupied the position of 'the second largest crypto asset' after Bitcoin, but its attention was not as high as Bitcoin. However, in April 2021, Bitcoin fell by more than 2%, while Ethereum rose by more than 40%, showing the appearance of a boom.

According to media reports, the current situation in which the waves are coming to Ethereum is due to the fact that one of the characteristics of Ethereum, 'Decentralized Finance (DeFi),' is attracting attention. The following article explains in detail what DeFi is like.

What are the advantages and disadvantages of 'decentralized finance (DeFi)', a crypto asset that rewrites the existing financial system? --GIGAZINE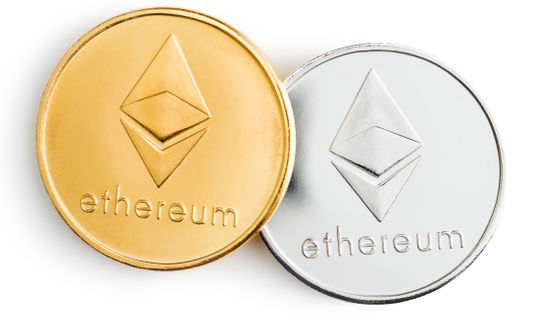 In addition, it is reported that the high adoption rate of Ethereum in 'Non-fungible tokens (NFT) ', which is a factor that is causing the price of digital works to skyrocket, also led to this wave.

On the other hand, some experts have described Ethereum as 'not used for the soaring prices' and have cast an 'overestimation' on the current price.

The price hike is congesting the entire Ethereum network, and Ethereum is scheduled to be updated to reduce transaction times and reduce electricity bills.


in Note, Posted by darkhorse_log