Google Play makes it mandatory to 'specify user data to be accessed' due to policy revision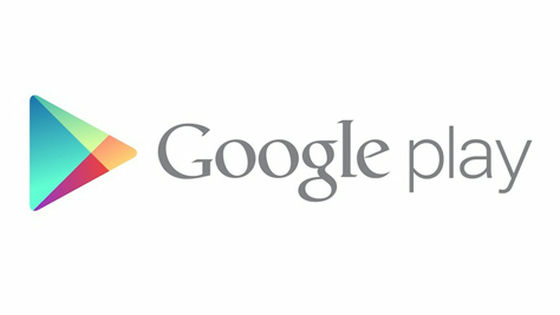 by
Graham Smith
Google has revised the policy of 'Google Play
', which is a distribution store for Android apps, and announced that
it will add a new item called 'Safety Section
' that specifies how the app will utilize user data.
Android Developers Blog: New safety section in Google Play will give transparency into how apps use data
https://android-developers.googleblog.com/2021/05/new-safety-section-in-google-play-will.html
Google Play's app listings will require privacy info next year, just like the App Store --The Verge
https://www.theverge.com/2021/5/6/22422894/google-play-app-privacy-info-apple-app-store-labels
Google Play Store's new Safety section will show you how apps use your data
https://www.xda-developers.com/google-play-store-new-safety-section-announcement/
According to Google, privacy awareness has increased in recent years, and not only are users saying 'I want to ensure data transparency and manage data usage rights myself', but also these users' voices. The app developer side also agrees. To respond to these voices, Google asked, 'What kind of data does the app collect and share?' 'How is the data protected?' 'How is privacy and security affected?' A new item 'Safety Section' will be introduced to make it easier to understand.
The Safety Section requires developers to specify the following on the app store:
1: Presence or absence of security measures such as encryption.
2: Whether to provide as an app for children in compliance with the
family policy.
3: Whether the data sharing can be set on the user side.
4: Whether the safety of the app has been verified by an independent third party.
5: Whether the collected data can be deleted when uninstalling the app.
6: The type of data to collect and store. Examples include location information, contact information, personal information (name, email address, etc.), photos, movies, audio files, storage files, etc.
7: How to use the data. Examples include using it for app functionality,
personalizing
it, and so on.
Google emphasizes that the information disclosed in the Safety Section will be held responsible for the content as well as items such as screenshots and app details, and the policy that the information described in the Safety Section does not match the behavior of the application. If a violation is discovered, it will eventually be
invalidated
.
The Safety Section will be enforced in the third quarter of 2021, will be optional in the fourth quarter of the same year, and will be mandatory for all apps in the second quarter of 2022.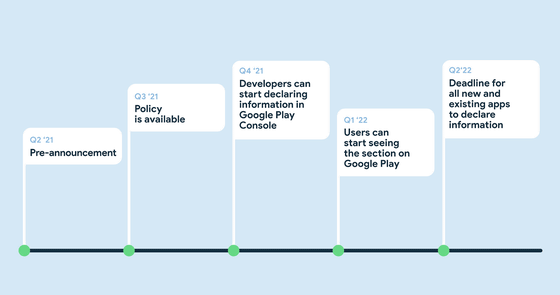 IT news sites have described this Safty Section as 'almost the same as the'privacy label'introduced in the App Store in December 2020.'

The 'Privacy Label' on the App Store is explained in detail in the following articles.

Apple obliges developers to specify 'information such as data collected by apps and purpose of use' in a new form --GIGAZINE