It is clear that Twitter was planning to acquire Clubhouse for 440 billion yen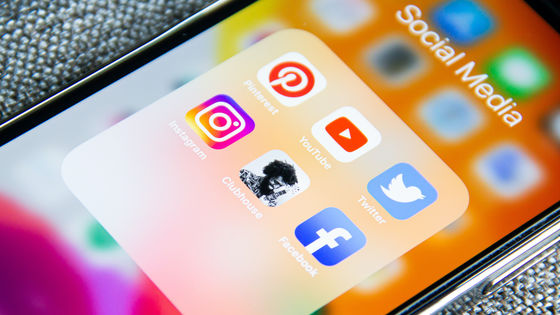 It turned out that Twitter was offering to buy 'Clubhouse,
' which became popular as an invitation-only voice SNS app, for $ 4 billion (about 440 billion yen).
Twitter Is Said to Have Discussed $ 4 Billion Clubhouse Takeover --Bloomberg
https://www.bloomberg.com/news/articles/2021-04-07/twitter-is-said-to-have-discussed-4-billion-clubhouse-takeover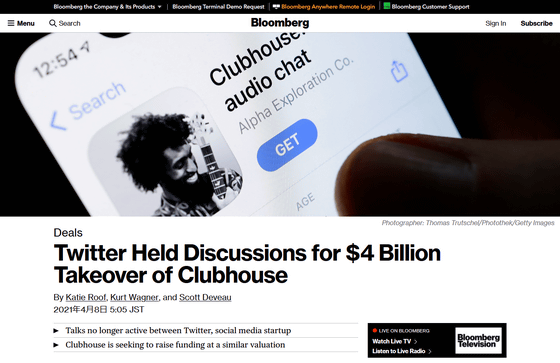 Twitter reportedly considered acquiring Clubhouse for $ 4 billion --9to5Mac
https://9to5mac.com/2021/04/07/twitter-reportedly-considered-acquiring-clubhouse-for-4-billion/
Since the popularity of the voice SNS Clubhouse, Twitter and Facebook have been building their own voice chat platforms. Twitter has released a beta version of the real-time voice chat room 'Spaces', but since it is a beta version, not all users can freely create chat rooms.
Twitter is testing real-time voice chat room 'Spaces'-GIGAZINE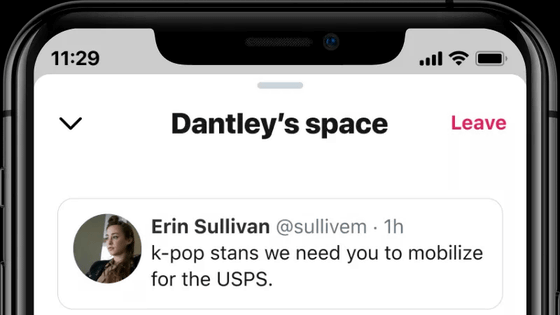 It is clear that Twitter, which should be building such a unique platform, was considering acquiring Clubhouse for $ 4 billion. Clubhouse is currently
raising money from investors to
expand its services, and Bloomberg reported that Twitter was the place to negotiate with the company.
The two companies have discussed Clubhouse's valuation of about $ 4 billion, according to people who provided information to Bloomberg. However, negotiations have already ended and the acquisition by Twitter has not been realized. Sources say it is 'unknown' as to why the negotiations ended in a breach.
Bloomberg is asking Twitter and Clubhouse for comment, but hasn't received an answer at the time of writing.


Since the takeover negotiations on Twitter took place 'in the last few months,' Clubhouse is likely to have rerouted to investor funding after the deal was broken.

Although Clubhouse has only a year of history, it has been endorsed by celebrities in the business industry and Hollywood, with the iOS app installed more than 8 million times a month in February 2021.

Not only Twitter is interested in voice chat room services like Clubhouse, but companies like Facebook, Microsoft, LinkedIn, and Slack are reportedly working to build similar services.