Voice-based invitation-only SNS 'Clubhouse' succeeded in raising funds for the second time, Android version application will be released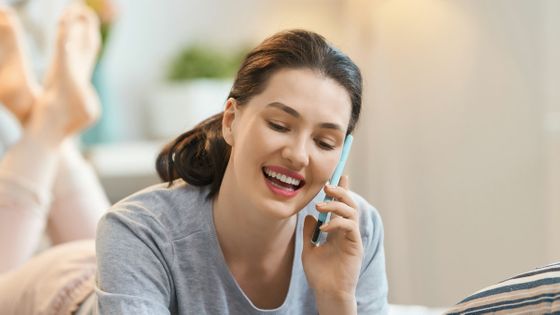 Since its release in March 2020, the voice-based invitation-only SNS '
Clubhouse
', which has gained popularity mainly among artists and politicians, has announced that it has successfully raised funds for the second time. In the future, Clubhouse plans to further expand its user base and will release Android apps as well as iOS apps that have already been released.
Welcoming More Voices --Clubhouse
https://www.joinclubhouse.com/welcoming-more-voices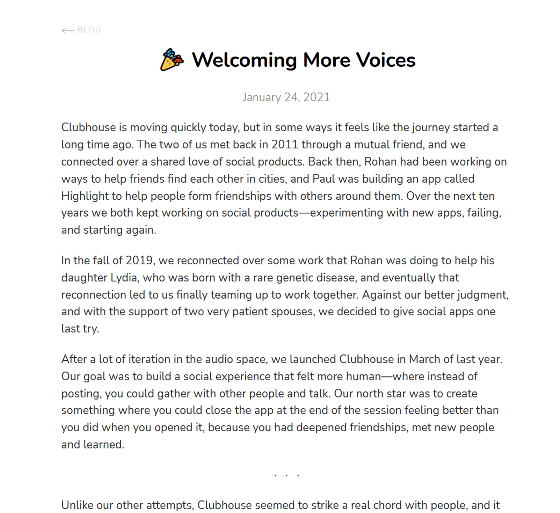 iPhone-Exclusive Clubhouse App Will Soon Arrive To Android

https://www.androidheadlines.com/2021/01/clubhouse-app-coming-android.html
Clubhouse App Is Invite-Only but Slowly Getting Pried Open --Bloomberg
https://www.bloomberg.com/news/articles/2021-01-26/as-tech-darling-clubhouse-grows-so-does-scrutiny
Clubhouse is a voice-based SNS released in March 2020 that allows you to enter a 'room' launched by yourself or another user and have a voice conversation. You can choose to open the room to all users or only to your friends, so you can talk to your fans and close friends in a closed environment.
One of the features of Clubhouse is that it is an invitation-only SNS that requires invitations from existing users in order for new users to use it. The number of users that can be invited is limited, and since the method of selecting invited users from the contacts registered on the smartphone, basically only people who are personally close to existing users can join. Also, at the time of writing the article, only the iOS version application was released, and initially it was released only on the beta version application distribution service '
TestFlight
', not on the App Store.
Despite various restrictions, Clubhouse has become a hot topic as a new form of communication in the pandemic era and has been in the spotlight of investors right after its release. In May 2020,
it succeeded
in
raising
more than 10 million dollars (about 1 billion yen) in the first financing round, and the valuation from venture capital exceeded 100 million dollars (about 10 billion yen). thing.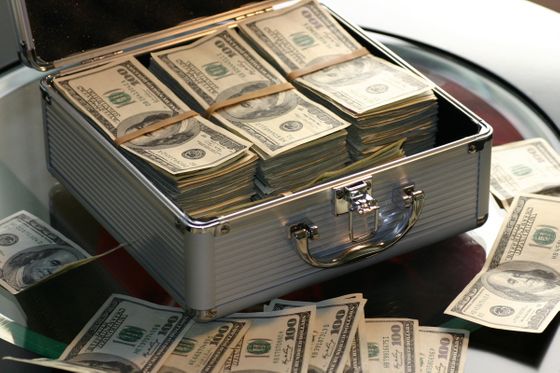 'In the last decade, Clubhouse has rapidly expanded from a small number of beta testers to a network of diverse and growing communities,' he said. As of January 2021, the number of users has reached 2 million, and it is used by a wide range of users such as musicians, creators, comedians, athletes, entrepreneurs, stock traders, writers, scientists, artists and their fans. That's right.

And on January 24, 2021, Clubhouse announced that it had successfully raised a second round of funding from 180 investors of various races, genders and backgrounds. In the future, we will use the newly raised funds to expand the infrastructure such as servers, improve the function of introducing appropriate rooms to users, and tips, tickets, subscriptions, etc. for users who host conversations at Clubhouse. We plan to test how to monetize through our features in the coming months. In addition, the Android version application will be released soon.

In addition, Clubhouse's terms of use prohibit the content of conversations from being leaked to the outside or recording without permission, and since it is difficult for conversations in the room to leak to the outside, 'promoting harmful conversations such as racial discrimination' There are also concerns that 'I think we will do it.' According to foreign media Bloomberg, some researchers and journalists who think that 'attention to the Clubhouse will lead to suppression of harmful conversations' have started using the Clubhouse at the invitation of acquaintances. is.