Charizard's Pokemon card is sold at a price of 34 million yen or more


The first full-scale trading card game in Japan, '
Pokemon Card Game,
' released in October 1996, is still extremely popular even today, celebrating its 25th anniversary.
Charizard's card, which was included in the '1st expansion pack
', which is especially rare among such Pokemon card games, was put up for auction and sold at a high price of over $ 310,000 (about 34 million yen).
Another Charizard Pokemon Card Deals For Over $ 300,000
https://kotaku.com/another-charizard-card-sells-for-over-300-000-1846575165
Twenty-five years have passed since its release, but its popularity is still tremendous, especially the cards of the '1st expansion pack' are
being traded
at high prices. There are also Pokemon card game fans among celebrities in Japan and overseas, and the Pokemon card game pack opening video has been played more than 10 million times.
Why are Pokemon cards still popular as they celebrate their 25th anniversary? --GIGAZINE

The most popular of these is Charizard's Kira Card,
which is included in the 'First Expansion Pack' released in 1996.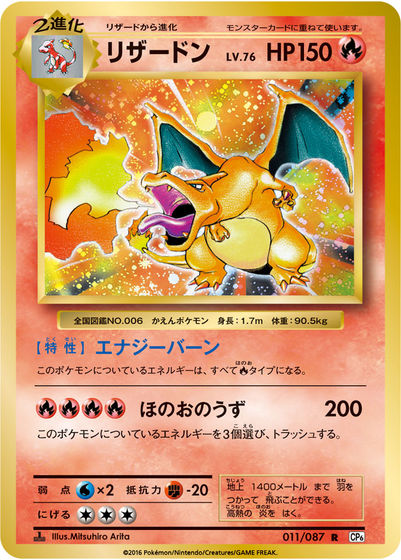 Charizard's Kira Card, which was included in the '1st Expansion Pack', was sold on March 28, 2021 on eBay , an internet auction site, for $ 311800 (about 34 million yen). In Japan, it was the 'first expansion pack' released in 1996, but in the United States it was released in 1999.

1999 Pokemon Base Set Shadowless 1st Edition Holo Charizard # 4 PSA 10 GEM MINT | eBay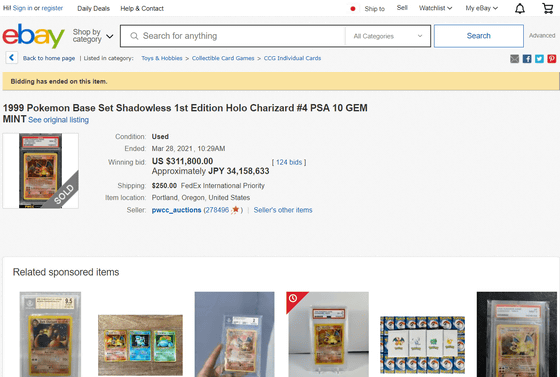 The winning bid is rated 10 out of 10 for 'perfect storage' in PSA grading , a widely accepted standard in the trading card industry. The '1st expansion pack' released in the United States has slightly different printing between the 1st, 2nd, and 3rd editions. The first edition and the second edition there is no shadow 'in a frame that has been drawn illustrations shadow-less in what is referred to as a' (left), the third edition and later is printing with a shadow on the right end of the frame (right). Of these prints, the first edition of Shadowless is considered to be the most valuable.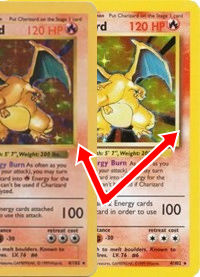 The item exhibited at the auction this time is the Kira Card and Shadowless Charizard recorded in the '1st Expansion Pack', and the storage state is also 'perfect', so it is the most rare Pokemon card game. It's a card.

In December 2020, two lizardon cards rated 10 in the same PSA grading were sold for $ 350,100 (about 38 million yen) and $ 369,000 (about 40 million yen). Therefore, the winning bidder this time was able to make a successful bid relatively cheaply.

in Game, Posted by logu_ii