A card of 'Magic: The Gathering' popular will be awarded with a high price of more than 18 million yen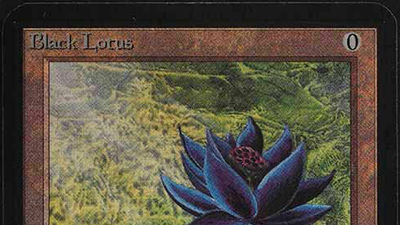 Since its launch in 1993, " Magic: The Gathering " is the world's first trading card game with more than 20 million players and fans worldwide. " Black Lotus (Black Lotus) " which is one of the super powerful cards that appeared at the beginning of the game was traded at a high price from its powerful effect and artistic value, according to the great encyclopedia of Nico Nico " At the time of the beauty item and the appraised price exceeds 3 million yen, it is still out of stock "is stated. When such black lotus was exhibited on eBay of the Internet auction, it is clear that it was made a successful bid for how much $ 161,0000 (about 19 million yen).

Magic: The Gathering's Black Lotus sells for $ 166,100 at auction - Polygon
https://www.polygon.com/2019/3/5/18251623/magic-the-gathering-black-lotus-auction-price

In 1993, Black Lotus was released as one of Alpha , the first card set for Magic: The Gathering. Alpha's recording cards are slightly different in design from other sets of cards, the corners are slightly rounded and the black edges are distinctive. Black Lotus is a power nine called Magic: One of nine particularly powerful cards at The Gathering, "Sacrifice Black Lotus: Add your favorite color of mana 3 to your mana pool Add points "is an artifact with the effect.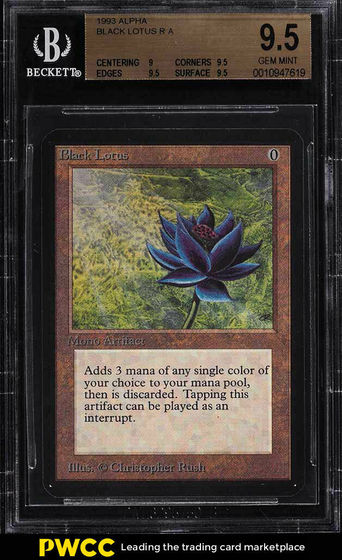 The auction sales page completed on February 27, 2019 can be checked from the following. The winning bid is 161,600 dollars, and the number of bids is 81. A company called PWCC which handles valuable cards of trading card games on eBay was presented by black lotus cards. Beckett Grading evaluates the storage condition of the card.

1993 Magic The Gathering MTG Alpha Black Lotus RA BGS 9.5 GEM MINT (PWCC) | eBay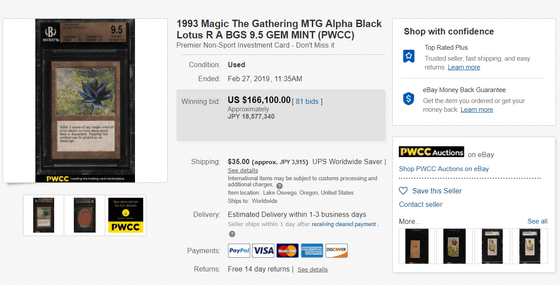 A movie that checks the preservation state of the black lotus exhibited finely is also made public. According to Beckett Grading, the card's storage state was 9.5 out of 10, which shows that it was quite good condition.

1993 Magic The Gathering MTG Alpha Black Lotus RA BGS 9.5 GEM MINT (PWCC) - YouTube


Black Lotus cards were also auctioned in July 2018, and this card received an evaluation from the same Beckett Grading as the preserved state "9.5". From the purchaser side, things that were perfectly equivalent were exhibited in the auction, but those that were exhibited in July were 80,772 dollars (about 9.8 million yen), about half the price at the end of February 2019 It was being awarded.

Polygon of the game media "The collector goods market is heating everywhere in the game industry. Recently, the unopened cassette of Super Mario Bros. for NES has been sold for over 11 million yen , the most expensive game ever It became one of them. "