While a Chinese company is developing a way to bypass Apple's user tracking rules, it has been pointed out that 'Apple is blinding while knowing the development'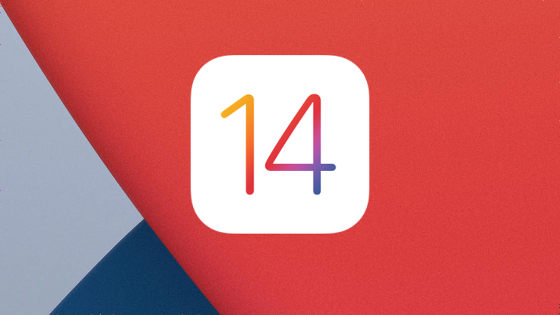 Apple will make iOS policy changes to require users to allow or deny 'tracking user behavior through the app' before they can use the app. However, it turns out that a Chinese app developer is testing 'a mechanism that enables behavior tracking without the user's permission'. The Chinese side claims to be in active contact with Apple, pointing out that 'Apple may be closing its eyes to avoid conflict with the Chinese government.'

Chinese Developers Working on Bypass to Apple's App Tracking Transparency in iOS 14.5 | iPhone in Canada Blog

https://www.iphoneincanada.ca/news/att-china/
Chinese Tech Companies Reportedly Testing New Tool to Circumvent Apple's App Tracking Transparency Rules --MacRumors
https://www.macrumors.com/2021/03/16/china-tech-giants-test-tracking-tool-avoid-idfa/?scrolla=5eb6d68b7fedc32c19ef33b4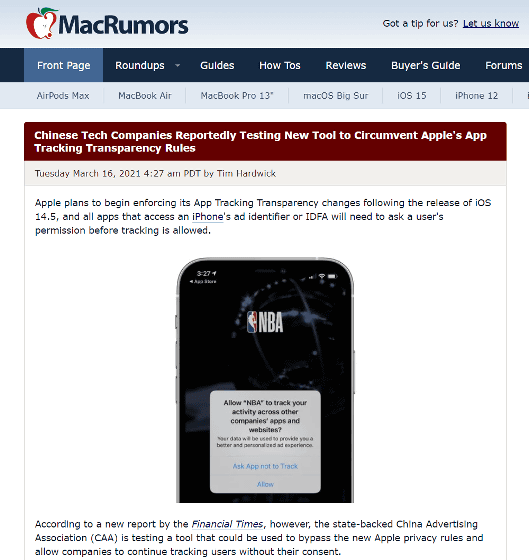 Starting with the release of iOS 14.5, Apple
plans to change a feature called App Tracking Transparency (ATT) in
the form of 'allowing users to track by the app
opt-in.'
This change will make it easier for users to deny 'tracking user behavior by apps', but this
will reduce the accuracy of targeting ads
and may hurt the revenue of app developers and ad operators. It is believed that there is.
Meanwhile, the
Financial Times
reported that the China Advertising Association (CAA), which is supported by the Chinese government, is developing a mechanism that allows app developers to bypass the new features of ATT.
The mechanism developed by CAA is called 'CAID', which allows application development companies and marketing companies to track it without the permission of the user. In the article to create time for the development of video-sharing service TikTok
ByteDance
and
WeChat
is a developer of
Tencent
has tested the CAID. These companies provide developers with an 11-page guide that explains that CAID works like
Apple's advertising identifier, IDFA.
CAA claims that CAID does not violate Apple's privacy policy and that CAA and Apple are in active contact. Meanwhile, Apple told the Financial Times that the App Store guidelines apply equally to all developers around the world. Apple did not directly mention the possibility that CAID could be used to bypass the ATT rule, with the exception that 'apps found to be ignoring'user choice'will be rejected.' I am telling you that I do not accept.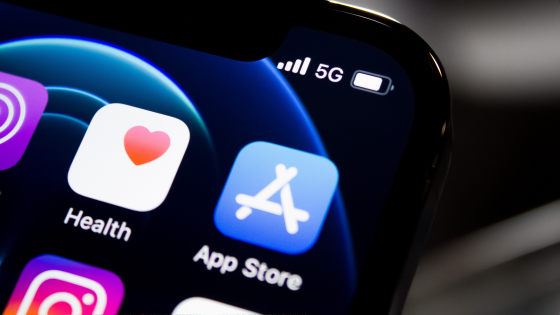 However, the Financial Times also reports that two people involved have said that 'Apple is blinding while knowing about CAID tools.' Apple can detect and block the use of the CAID tool, but it may be concerned that the conflict with the Chinese government will intensify as the development of the CAID tool is supported by the Chinese government. It has been pointed out that there is.