The foundry market is expected to grow further as demand for semiconductors far exceeds supply, and semiconductor shortages may continue for some time.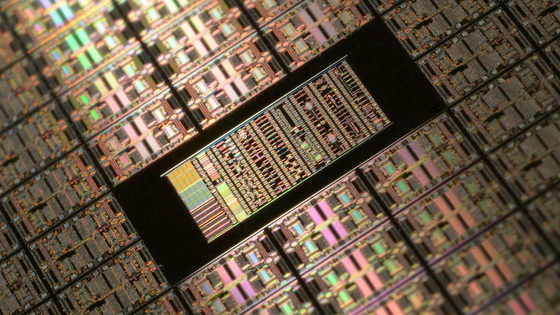 Market research firm TrendForce has released estimates of the foundry market's growth in the first quarter of 2021 (January-March). Trendforce expects overall foundry market sales to exceed 120% year-over-year, suggesting that demand may exceed supply and semiconductor shortages may continue.

Press Center | TrendForce --Market research, price trend of DRAM, NAND Flash, LEDs, TFT-LCD and green energy, PV

http://www.trendforce.com/presscenter/news/20210224-10675.html
Report: Semi Demand 30% Above Supply, 20% Year-on-Year Growth
https://www.anandtech.com/show/16511/leading-foundries-enjoy-massive-revenue-growth-as-capacities-get-fully-loaded
TrendForce expects the top 10 semiconductor companies to add up to $ 225.9 billion in sales, up about 20% year-over-year.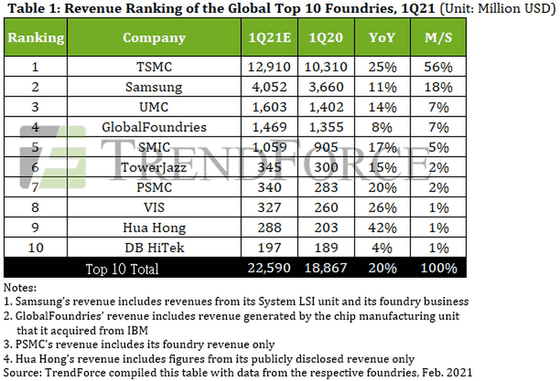 It is reported that the production line of each semiconductor foundry is almost fully operational, and the lead time from ordering hardware to delivery is over three and a half months at the time of writing the article. thing.

With demand for semiconductors up to 30% above supply, some market analysts expect foundries and logistics to catch up with that demand for more than a year, increasing the risk of confusion due to a shortage of semiconductors. It can be said.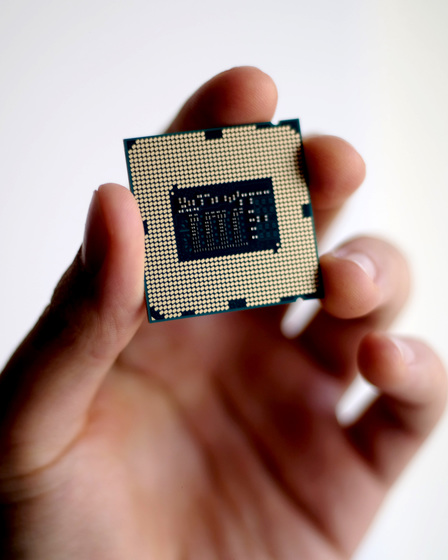 TrendForce also predicted that the top three foundry market shares in the first quarter of 2021
would still be TSMC
,
Samsung
and
UMC.
TSMC is the world's largest semiconductor foundry, with more than half of the foundry market share. Contracts with major chip makers such as Apple, Qualcomm, NVIDIA, AMD, etc. to manufacture chips by 5nm process or 7nm process.
Despite losing a major customer
, Huawei, as a result of the
US-China trade war
, TSMC's revenue in the first quarter of 2021 is expected to increase by 25% year-over-year.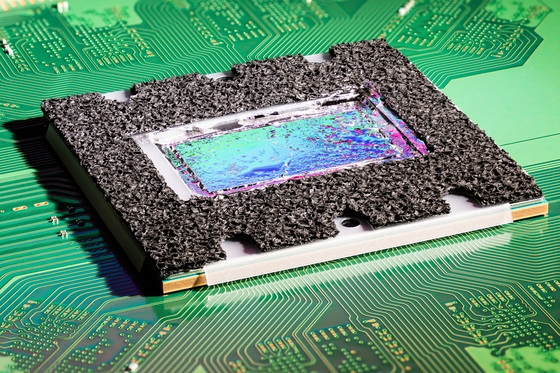 by Fritzchens Fritz

Although Samsung is a little behind TSMC, it is able to manufacture chips in the 5nm and 7nm processes, and its market share is gradually increasing. TrendForce expects sales in the first quarter of 2021 to increase by at least 11% year-on-year.

UMC is a semiconductor foundry in Taiwan that manufactures many automotive chips, IoT products, RF front-end modules and more. Although it is the same semiconductor foundry, it does not directly compete with TSMC and Samsung, which have different manufacturing fields, and along with increasing demand for self-driving cars and home appliances, orders are steadily increasing. TrendForce forecasts that UMC sales in the first quarter of 2021 will increase 14% year-over-year.