Movie theaters away from customers start 'screen rental' for gamers with the new Corona


Many people who play games on handheld game consoles and smartphones have thought 'I want to play on a powerful big screen'. It is reported that movie theaters in South Korea and the United States, which are suffering from customer churn due to the new coronavirus infection (COVID-19), have started 'rental of huge screens for movies' to fulfill such gamers' dreams.

More people are going back to theaters to game, not to watch movies --The Verge
https://www.theverge.com/2021/2/11/22278096/cgv-theater-screens-rental-gaming-azitx-south-korea-pandemic

Theaters Around The World Are Renting Their Screens To Gamers --GameSpot
https://www.gamespot.com/articles/theaters-around-the-world-are-renting-their-screens-to-gamers/1100-6487448/

Due to the influence of COVID-19, the movie theater's weekend box office record was the lowest since 1998 in March 2020. The movie industry is struggling to respond, such as showing a movie at a ' drive-in theater, ' which has been declining as obsolete.

Recorded the worst movie weekend box office record since 1998 due to the influence of the new coronavirus --GIGAZINE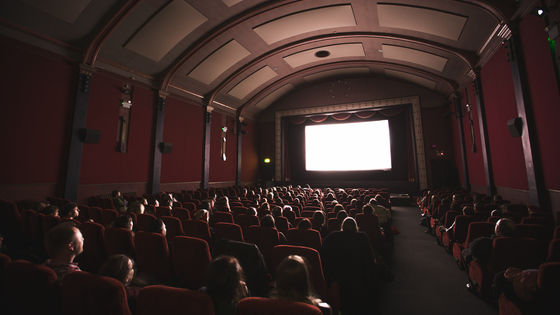 Meanwhile, CGV , a major Korean cinema complex (complex movie theater), has started a service to rent screens for gamers.

According to the IT news site The Verge, CGV's new service allows you to rent a screen every two hours, and the price is $ 90 (about 9450 yen) until 18:00, and $ 135 (about 10,000) after that. It is 4170 yen). In South Korea, this service is called 'AzitX' after the hideout.

When you actually play the game on AzitX, it looks like this. Since the service started in late January 2021, AzitX has already attracted attention with more than 130 reservations, and it is especially popular with men in their 30s and 40s, but there are also couples and families. That's right.

BBC: Korean cinema chain allows gamers to hire screens from $ 90 for two hours to play video games on a giant screen. ???????? #Cinema #gamers # gamersvscovid19 # merge1048 #Oman pic.twitter.com/Vi3ExCpAWl

— Merge 104.8 (@ merge1048) February 11, 2021


The Verge writer Cameron Falkner said, 'Rented gamers have to bring game consoles, controllers, and game software to the theater, which is a burden, but it's such a big screen. You won't have the opportunity to play games at. ' In addition, Mr. Falkner himself, if AzitX is available, bring PlayStation 5 and play the 2015 game ' Bloodborne ' to get the long-sought platinum trophy, or ' Destruction ' released on February 2, 2021 He commented that he would like to enjoy ' Allstars ' on the big screen and loud volume of the theater.

Malco Theaters , a movie theater chain based in Memphis, Tennessee, also launched a similar service in November 2020, ahead of CGV. At Malco Theaters, the rental price is 100 dollars (about 10,500 yen) for 2 hours and 150 dollars (about 15,750 yen) for 3 hours, and it can be used by up to 20 people.

Karen Melton, Vice President of Malco Theaters, said, 'The service is slowly gaining in popularity and is slowly returning, but so far it hasn't added to revenue gains. '.

in Game, Posted by log1l_ks