Tasting review of '50th year passion chasing ball katsudon' by the Osaka king who has an excellent combination of tonkatsu eggs and crispy pork cutlet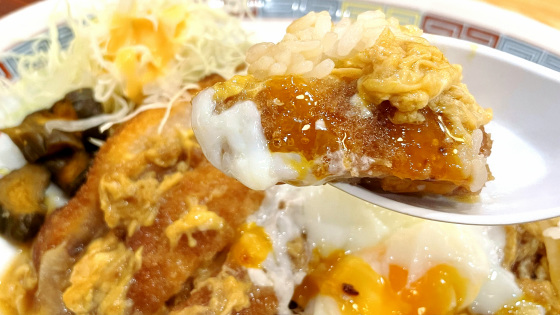 The crispy fried cutlet soaked with ramen soup, entwined with a soft-boiled egg and placed on top of rice, the '50th Year Passionate Katsudon' will be available to the Osaka King from February 11, 2021 for a limited time. It has appeared. I was wondering what it tasted like, so I actually tried it.

-Osaka Ohsho 'Taste of this Town' Series 5th-Health Prayer! Overcome the Corona War! '50th Year Passion Chasing Ball Katsudon' will be on sale for a limited time from February 10th (Wednesday)! | The spirit of the dumpling specialty store Osaka Ohsho

https://www.osaka-ohsho.com/news/2021/0205.html
Arrived at the Osaka King.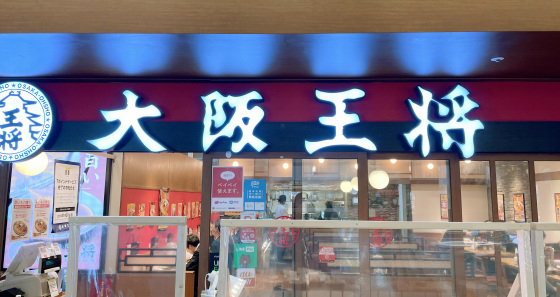 This is the '50th Year Passionate Katsudon' that I ordered. Rice, cutlet, and eggs are placed on a flat plate, and hot spring eggs are placed in the center.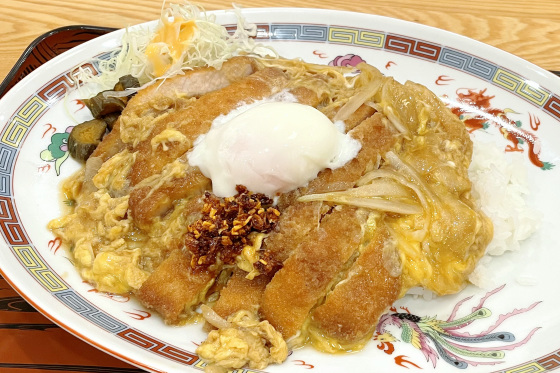 The cutlet and egg look like this. The cutlet is sliced and the egg is soft-boiled and onioned.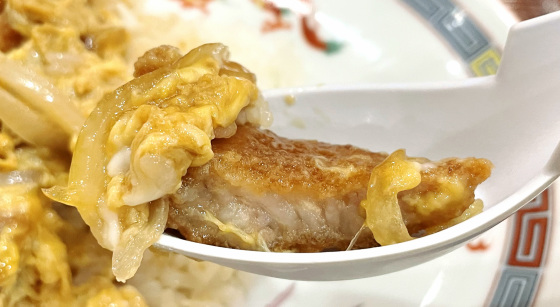 I'll eat a bite with rice. The cutlet feels crispy the moment it is chewed, and the taste of sweet and spicy sauce is firmly felt. The taste of the ramen soup is not so much felt, but the deep seasoning that penetrates well into the clothes goes well with the rice.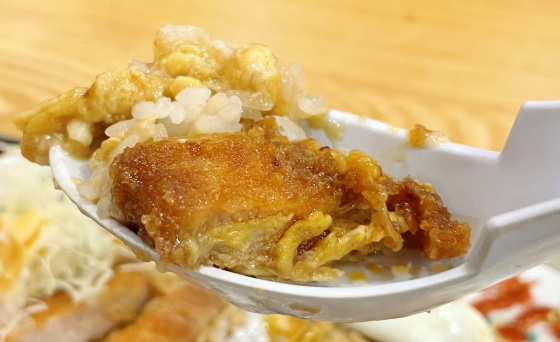 Next to the hot spring eggs, Osaka Ohsho's special 'Ra Iron Blend Spice' is placed. When I checked with the clerk, it was a solidified chili oil.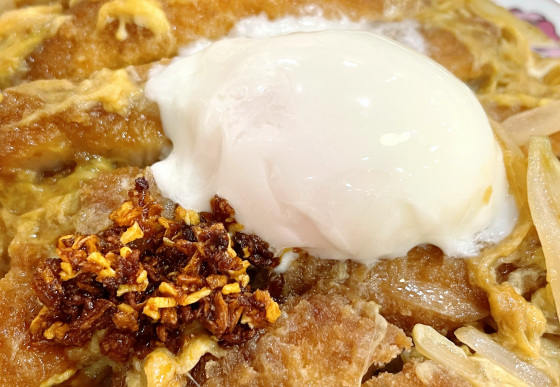 When you eat it with Ra iron blend spice, you can gradually taste the spicy spiciness. The smooth taste of soft-boiled eggs and hot spring eggs is different depending on the spiciness, and you can enjoy the difference in taste.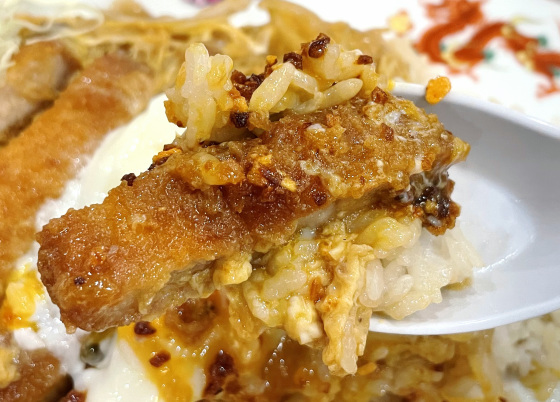 '50th Year Passion Chasing Katsudon' is on sale for a limited time from February 10, 2021 to April 11, 2021 at Osaka Osho nationwide except for some stores. The price is 1098 yen including tax.