Microsoft starts selling foldable two-screen mobile terminal 'Surface Duo' outside the United States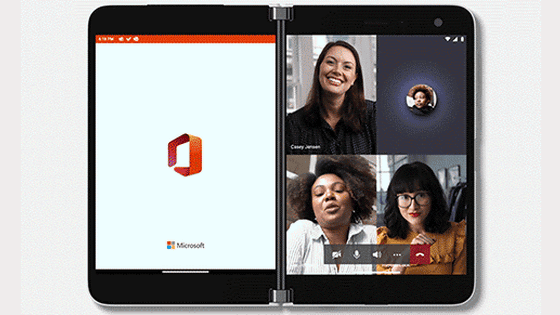 Microsoft has expanded the sales range of the
two-screen mobile terminal 'Surface Duo'
released in September 2020, and announced that it will also be sold outside the United States.
Reimagining mobile productivity with the arrival of Surface Duo in Canada --Microsoft News Center Canada
https://news.microsoft.com/en-ca/2021/02/11/reimagining-mobile-productivity-with-the-arrival-of-surface-duo-in-canada/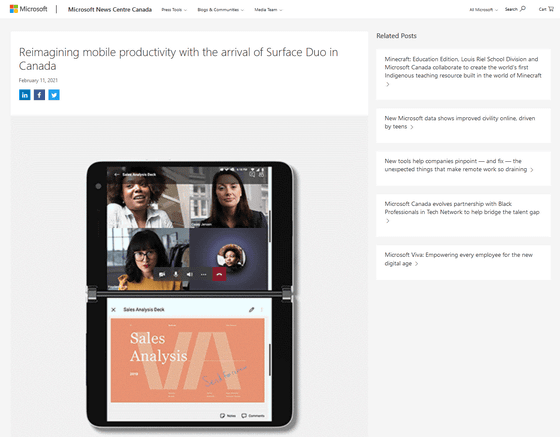 According to Microsoft's official blog, after February 18, 2021, it will be available for purchase in Canada through the Microsoft Store, Best Buy Home Appliances retailers, and Microsoft-certified Surface resellers.

Although this blog post only contains information for Canada, Microsoft has announced that it will be released in Canada, the United Kingdom, France, and Germany in early 2021 as of December 2020, and it will also be released in Europe. It is believed to be.

The year ahead for Surface Duo | Microsoft Devices Blog

https://blogs.windows.com/devices/2020/12/15/the-year-ahead-for-surface-duo/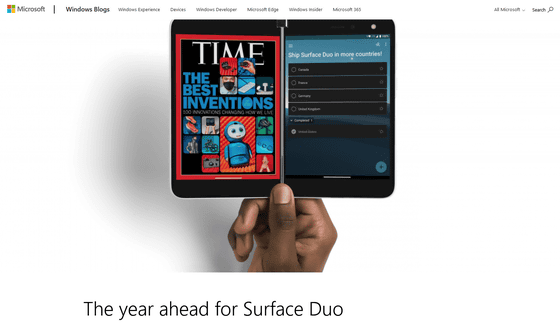 In addition, it has become clear that the price of Surface Duo will be reduced by about 400 dollars (about 42,000 yen) in the United States in line with this expansion of sales scale. As an example, the 128GB model was $ 1399.99 (about 147,000 yen) or $ 46.67 (about 4900 yen) per month at the Microsoft Store list price, but after the price cut it was $ 999.99 (about 105,000 yen) or $ 33.33 per month (about 105,000 yen) It will be about 3500 yen). Best Buy has a price cut of $ 450 (about 47,000 yen), and you can get it even cheaper.



It is said that this is due to sluggish sales, but it seems that it will be sold without price cuts in Europe.

By the way, no information was given as to whether there will be sales in Japan in the future.