The possibility that Wii also cuts price will follow, following PS3 and Xbox 360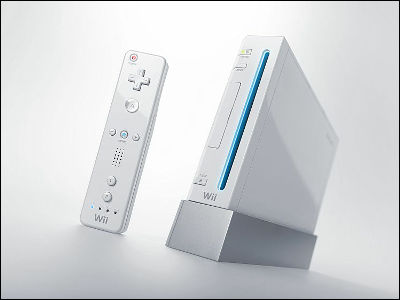 The new PS3 which became thinner the other day and the price went down has just been released, but this time it seems that the possibility that Wii will price cut nearly 5000 yen has emerged.

Because PS3 and Xbox 360 cut prices, is it a counter against it?

Details are from the following.
Toys R Us Ad Points To $ 199 Wii Price Drop This Month - Nintendo - Kotaku

According to this article, the world's largest supermarket chain "Walmart"Toy mass merchandisers"Toys' R Us"It is said that preparations are underway to sell it at the price after the price cuts already, getting information that the price of Wii is already lowered from Nintendo. Also, some photos of Toys 'R Us' s advertisement seems to be spilling out, where the suggested retail price of the bundled version of Wii Sports is now $ 249 99 cents (about 23,000 yen) to $ 199 cents 99 cents (About 18,000 yen) has been reduced to.

Some photos of Toys 'r Us' s advertisement that this leaked out.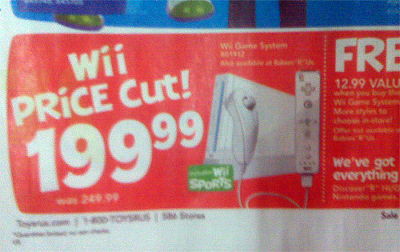 This advertisement is scheduled to be distributed at the end of this month, and if it is genuine it seems to be expected that there will be some announcement during this month.

Although it is still a story that is not out of the realm of rumors, if this information is true, it will be dropped nearly 5000 yen in Japan, so it may spur sales of Wii.
in Game, Posted by darkhorse_log