Facebook, Twitch, Shopify suddenly expel President Trump indefinitely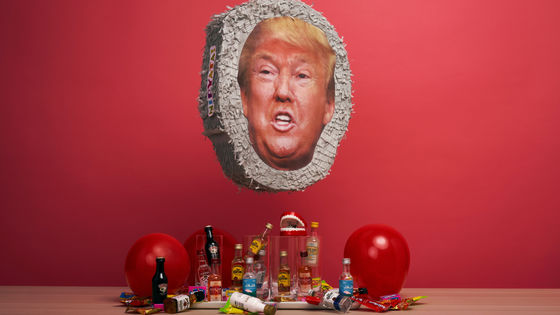 President Donald Trump, who will retire from the 45th President of the United States on January 21, 2021, is suddenly blocked from services such as Facebook, Twitch, and Shopify on January 8, 2021 and has been banished indefinitely. It has become clear.

Mark Zuckerberg --The shocking events of the last 24 hours ... | Facebook
https://www.facebook.com/zuck/posts/10112681480907401

Facebook bans President Trump'indefinitely' after Capitol riot --The Verge
https://www.theverge.com/2021/1/7/22218725/facebook-trump-ban-extended-capitol-riot-insurrection-block

Facebook CEO Mark Zuckerberg has renewed his account and announced that he will expel President Trump from the platform indefinitely. President-elect Joe Biden's inauguration ceremony will be held on January 21, 2021, but it seems that President Trump's indefinite expulsion will not be lifted by then.

'The shocking events that have happened in the last 24 hours will use the rest of his tenure to undermine the change of power to President Donald Trump's successor, Joe Biden,' Zuckerberg said. 'It clearly shows that,' he said. 'The case where Mr. Trump's supporters invaded the Federal Capitol and one woman was shot dead' on January 7, 2021 was banished indefinitely. It suggests that it is the cause of.

You can check how Mr. Trump's supporters invade the Capitol in the following article. Early in the morning of the 7th, when the riots broke out, President Trump reportedly 'urged supporters to head to the Capitol.'

A movie of the scene where Trump's supporters invaded the US Capitol and one woman was shot and died --GIGAZINE



'We will extend the blocking period for President Trump's Facebook and Instagram accounts indefinitely and will continue this disposition for at least two weeks until the change of government is complete,' Zuckerberg said. It is said that President Trump will be expelled from the entire SNS.

We believe the risks of allowing President Trump to continue to use our service during this period are simply too great, so we are extending the block we have placed on his Facebook and Instagram accounts indefinitely and for at least the next two weeks. Pic.twitter .com / JkyGOTYB1Z

— Facebook Newsroom (@fbnewsroom) January 7, 2021


When it was reported that Mr. Trump's supporters had invaded the Federal Capitol, President Trump posted a movie showing the state of the demonstrators, and falsely alleged the election results of the 2020 US presidential election. It seems that he repeated. Therefore, Facebook seems to have decided to delete all posts by President Trump and block the account.

Facebook's Vice President Guy Rosen described the riots at the Capitol as an 'emergency' and said, 'The removal of President Trump's movie does not reduce the risk of ongoing violence. I believe it is rather a promotion, 'he said.

This is an emergency situation and we are taking appropriate emergency measures, including removing President Trump's video. We removed it because on balance we believe it contributes to rather than diminishes the risk of ongoing violence.

— Guy Rosen (@guyro) January 6, 2021


Live-streaming platform Twitch has also revealed to game media Polygon that it has blocked President Trump's account. 'We have disabled President Trump's Twitch channel based on the recent riots at the Capitol,' Twitch said to prevent the platform from being used to incite violence.

Twitch disables President Trump's channel after attack on Capitol --Polygon
https://www.polygon.com/2021/1/7/22219150/president-trump-twitch-channel-disabled-capitol-attack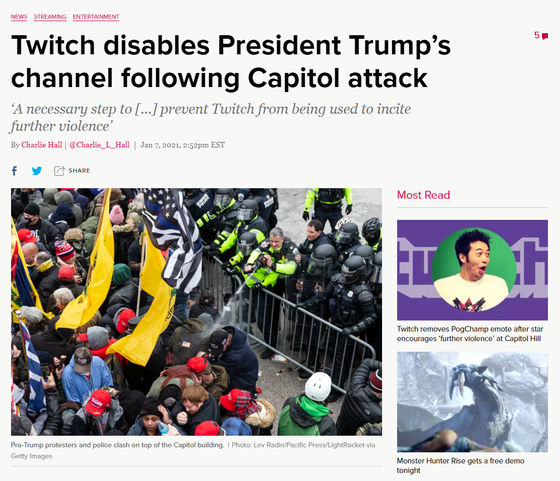 In addition, Shopify, an online shopping site opening service, has also removed President Trump's official shop on the platform. A Shopify spokeswoman said, 'We don't tolerate acts that incite violence. Based on recent events, President Donald Trump's actions are:'Organizations, platforms, public relations, etc. that incite or tolerate violence. We have determined that it violates our Terms of Service, 'Prohibit Support', ' explains the reason for the deletion.

Shopify Takes Trump Organization and Campaign Stores Offline --WSJ
https://www.wsj.com/articles/shopify-takes-trumpstore-com-offline-in-response-to-riot-11610035673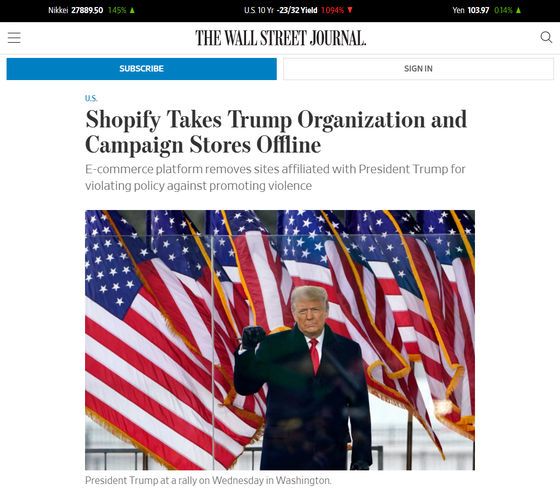 In addition, YouTube has announced that it will temporarily limit channels that spread hoaxes about the results of the 2020 US presidential election, including the official channel of President Trump. Instead of deleting the movie of the channel that spread the false alarm, it will be temporarily impossible to upload the movie. It seems that the period during which movies cannot be uploaded is one week .

In addition, Twitter announced that President Trump has posted three tweets that violate the policy and will freeze his account for 12 hours. If the policy violation continues, the account will be frozen permanently, and the account will not be unfrozen unless President Trump deletes the three problematic tweets.

This means that the account of @realDonaldTrump will be locked for 12 hours following the removal of these Tweets. If the Tweets are not removed, the account will remain locked.

— Twitter Safety (@TwitterSafety) January 7, 2021


However, unlike Facebook and others, if you spend a 12-hour freeze period and delete the tweet in question, President Trump's account will be available, so the tweet will be deleted immediately, and his Twitter account will be It is resurrected.

President Trump, who has revived from the account freeze, immediately tweeted a movie, in which 'The new administration will be launched on January 20 (21st in Japan time) because Congress has approved the election results.' My current focus is on a smooth and orderly transition of power, 'he said, promising a change of government to the Biden camp.

January 8, 2021


After that, Twitter eventually permanently frozen President Trump's account.

Twitter permanently bans Donald Trump's account BAN --GIGAZINE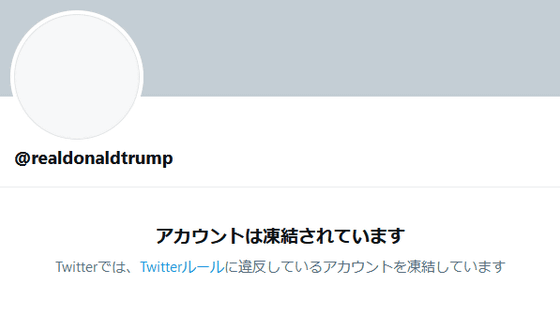 ・ Added at 11:55 on January 12, 2021
Payment service Stripe has also suspended accounts related to President Trump's campaign. Stripe's Terms of Service stipulate that 'payments to organizations that engage, encourage, promote or engage in illegal violence or physical harm to people or property will not be processed', which is a violation of the account. ..

Stripe drops Trump campaign site after Capitol riots
https://nypost.com/2021/01/11/stripe-drops-trump-campaign-site-after-capitol-riots/