Electronic Frontier Foundation harshly criticizes Facebook in support of Apple's side over Apple-Facebook ad tracking spec change issue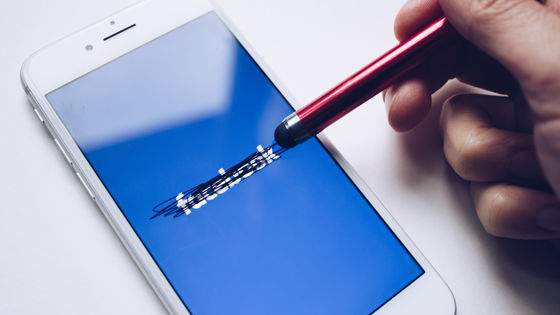 Apple is concerned that apps collect personal information without the user's knowledge and invade the user's privacy, and to improve this situation, we revised the iOS privacy policy to track ads. I am planning to change the specifications for. However, advertising companies are strongly opposed to this change in Apple's specifications, and Facebook in particular has criticized Apple's claim so strongly that it puts an opinion advertisement on the newspaper . However, the Electronic Frontier Foundation (EFF) supports Apple's claim and laughs at Facebook's claim as 'laughable.'

Facebook's Laughable Campaign Against Apple Is Really Against Users and Small Businesses | Electronic Frontier Foundation
https://www.eff.org/tags/eff30

EFF sides with Apple, slams Facebook's criticism of iOS 14 privacy features as'laughable' ―― 9to5Mac
https://9to5mac.com/2020/12/20/eff-sides-with-apple-slams-facebooks-criticism-of-ios-14-privacy-features-as-laughable/

At WWDC 2020 , a developer event held in June 2020, Apple announced that it will revise its privacy policy from iOS 14 to prohibit apps from collecting user's personal information without the user's permission. .. As a result, the advertising identifier / IDFA for iOS devices, which was available without the user's permission until iOS 13, will no longer be available without the user's permission.

Since IDFA is used in targeted advertising for iOS users, if the use of IDFA becomes a permission system, it will have a big impact on advertising companies, Facebook said, 'The revision of the privacy policy of iOS 14 makes targeting advertising difficult and advertising revenue. Will decrease sharply, 'he said, pointing out that Apple's specification changes would be a big problem for many advertising companies.

Facebook warns that 'iOS 14 privacy policy revision will make targeted advertising difficult and will drastically reduce advertising revenue' --GIGAZINE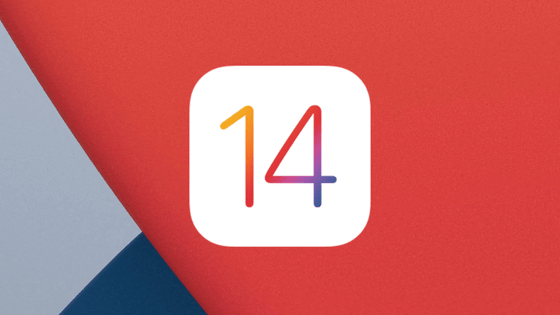 After that, Apple temporarily postponed the specification change regarding ad tracking , but on December 14, 2020, `` In the App Store, the app may collect on the product page before the user downloads the app. You'll be able to see the data and whether it's being used for tracking, 'he said, taking a step towards changing the specifications for ad tracking.

The day when Apple is transforming the advertising industry ecosystem is approaching-GIGAZINE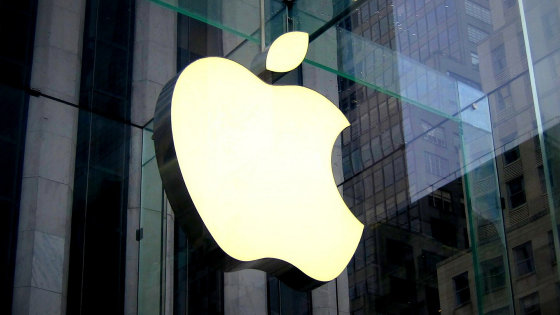 Facebook, on the other hand, said in the newspaper, '(Apple's change in ad tracking) will limit personalized ads, which will affect large companies like us, but for small businesses. It will have a catastrophic effect, 'he posted an ad, criticizing Apple's specification changes.

Meanwhile, Apple CEO Tim Cook argues that he's just left the user with the option of tracking ads on his Twitter account, not completely disabling user tracking. doing.

CEO Tim Cook responds to Facebook claiming that 'Apple's ad tracking specification changes will have a devastating impact on small businesses' --GIGAZINE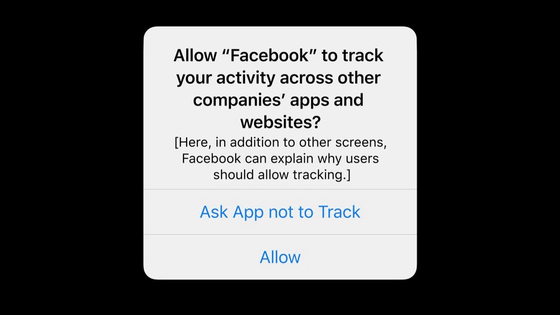 In response to the conflict between Apple and Facebook, EFF said, 'Facebook is running an advertising campaign as an opinion from the standpoint of protecting small businesses to counter the specification change regarding Apple's ad tracking. This is for Facebook's business. It's a funny attempt to distract many users from Facebook's poor track record of anti-competitive behavior and privacy issues in an attempt to derail Apple's negatively impacted spec changes, 'Apple said. Suppose you are supporting the side.

In addition, 'It should clearly be a basic specification to offer users permission to track users before they are tracked over the Internet. We announced that we would make such a specification change. On the other hand, Facebook has built a great advertising empire by letting apps sell personal information about users and sharing data between dubious third-party companies, 'EEF wrote. ..

In addition, in response to Facebook's opinion that 'small businesses will be devastated,' EFF said, 'Facebook claims to protect small businesses, but that's far from the truth. Facebook has small businesses as its customers. It's just that it's forced to take a sneaky and disadvantageous position against it, and it's right to maintain Facebook's broken advertising system at the expense of user privacy and control. It can't be that, 'he said, saying that the advertising ecosystem that Facebook had built up in the first place was wrong.

The EFF argues that Apple's ad tracking specification changes are correct and that Google should follow suit.