'EpocCam' review that can turn iPhone into a PC webcam for free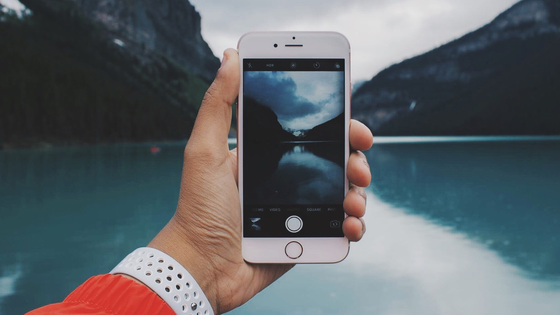 Online conferences by Zoom, Google Meet, etc. have become widespread as a result of the spread of the new coronavirus and the restrictions on going out. Sometimes you want to show your face with a webcam for an online meeting, but you don't have a webcam at hand. In such a case, ' EpocCam ' is a free app that can replace your iPhone with a high-quality webcam.

EpocCam | elgato.com

https://www.elgato.com/ja/epoccam
EpocCam is an application that sends images taken with the iPhone camera to a PC in real time. If you are using a Mac, you can connect to your iPhone via AirPlay, but if you are using Windows, you need to install the EpocCam driver on your PC from the following site before installing the app on your iPhone.
Downloads | elgato.com
https://www.elgato.com/ja/gaming/downloads
On the driver distribution page, select 'EPOCCAM' from 'SELLECT YOUR PRODUCT' on the left.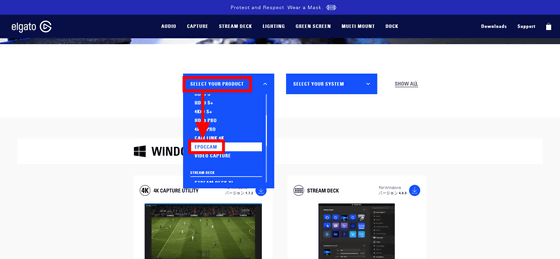 Click 'SELECT YOUR SYSTEM' on the right and select 'WINDOWS'.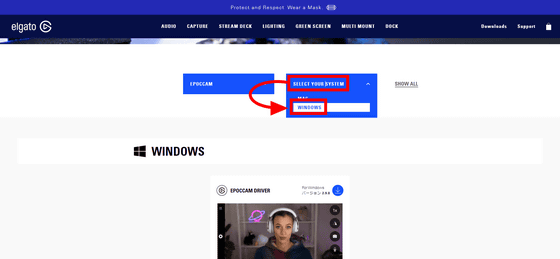 A driver download link will be displayed. Click the arrow icon to download the EXE format installer. The capacity is 3.11MB.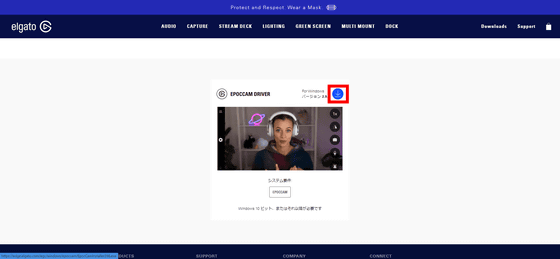 Launch the downloaded installer.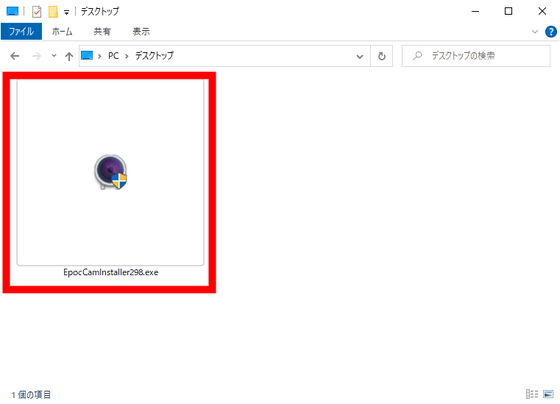 The driver setup wizard will start, so click 'Next'.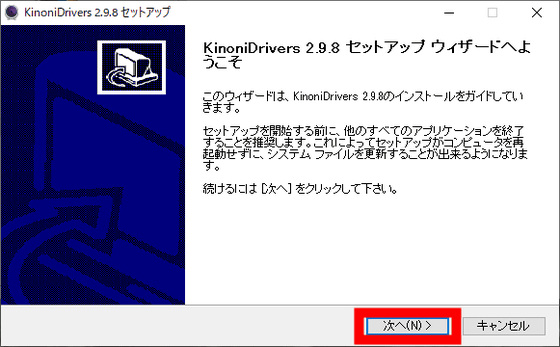 The license agreement is displayed. Click 'Agree'.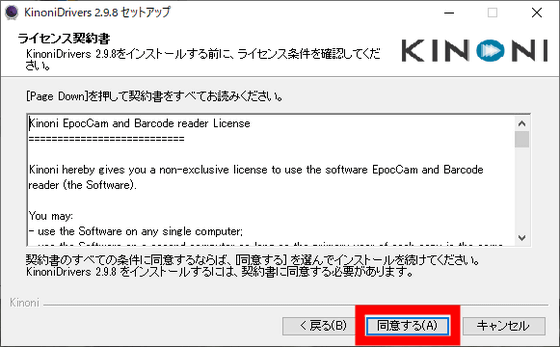 After confirming the installation destination, click 'Install'.



When the installation is complete, click 'Finish'.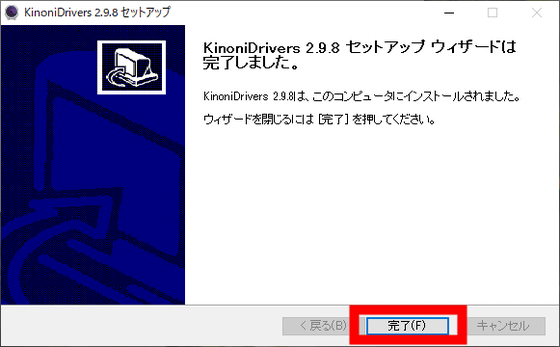 Then download the EpocCam app from the App Store.

EpocCam Webcam for Mac and PC on the App Store

https://apps.apple.com/app/epoccam-webcam-for-mac-and-pc/id449133483
Tap 'Get' to install the app.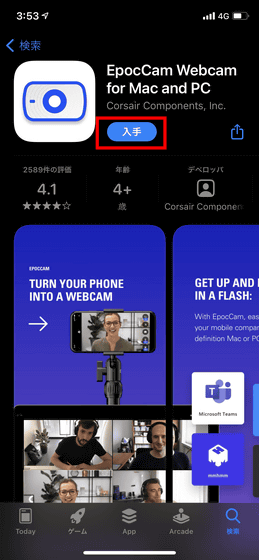 The place where the installed application is started is as follows. Tap 'BEGIN'.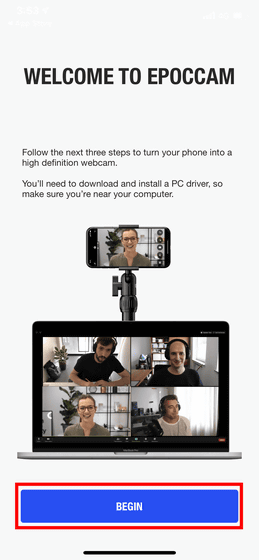 To use EpocCam, you need to connect your iPhone to your PC with 'Physical connection via USB cable' or 'Wireless connection to the same LAN via Wi-Fi'. Tap 'NEXT'.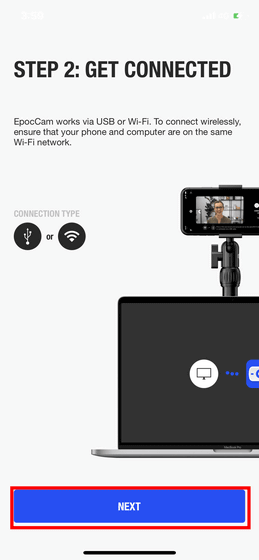 You need to allow access to the app's camera and network, so tap the two switches to turn them on.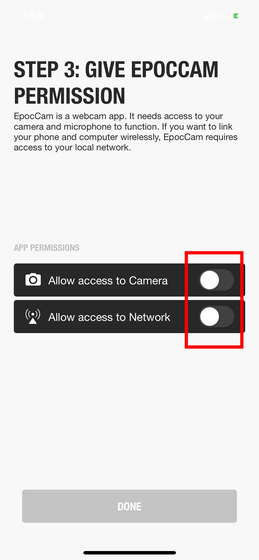 When you turn on the switch that allows access to the camera, you will be asked for permission, so tap 'OK'.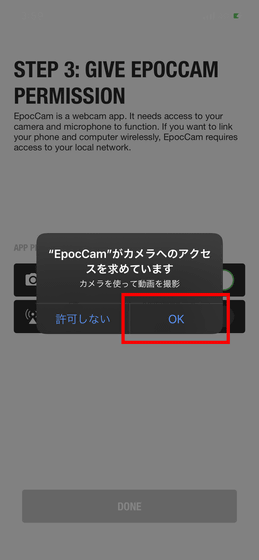 You will also be asked for permission to access the network, so tap OK.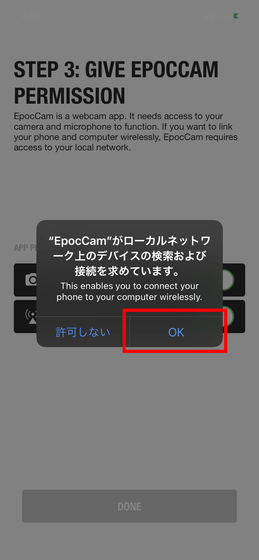 When you ask for permission to access the camera, the camera starts. The free version of Epoccom can only use the left / right inversion function and the back / front camera switching function, but the
paid version
of 980 yen can also use the zoom function, microphone function, and background cropping function.


When EpocCam was selected as the video capture device in the capture software
OBS
on the PC side, the video shot by the iPhone could be displayed on the PC as it was.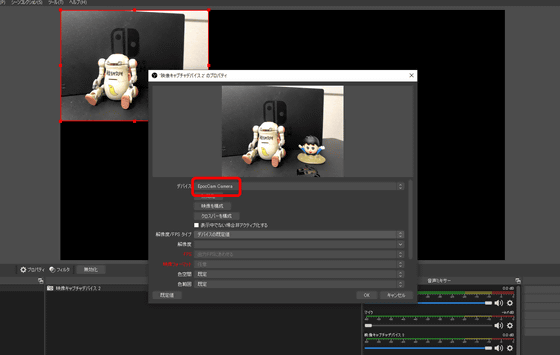 Also, by specifying 'EpocCam Camera' as the camera device, it could be used for video conferencing systems such as Google Meet and Zoom.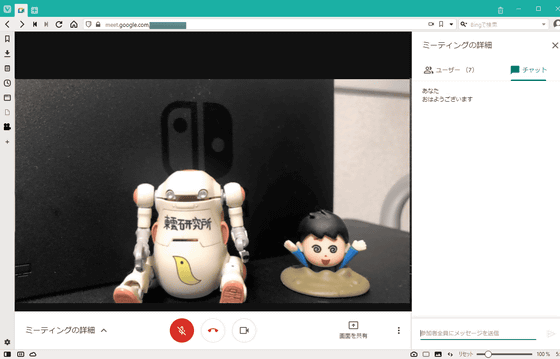 EpocCam was originally released as ' Kinoni ', but was acquired by gaming device maker Corsair on October 29, 2020, and was absorbed by capture device maker elgato.

Turn Your Phone into a Webcam --CORSAIR Acquires EpocCam Nasdaq: CRSR
http://www.globenewswire.com/news-release/2020/10/29/2116972/0/en/Turn-Your-Phone-into-a-Webcam-CORSAIR-Acquires-EpocCam.html